MSR Assists the Government's Metro Network
27-08-2018
Home

Products & Technology

Enterprise Products

Routers

Cases
The local taxation bureau is fully responsible for the collection, management, and inspection of local taxation; the collection and management of various fees and funds; the formulation of relevant implementation opinions; and the organization of their implementation. With the rapid development of informatization in local taxation systems, the taxation bureau decided to reconstruct and renovate the WAN backbone network covering the bureau and its branches and stations in the city, and make every effort to build a supporting WAN platform for centralized processing of the city's local taxation data.
The local city WAN backbone network is composed of 1 central node, 19 branch nodes, and 28 station nodes. There are two links to access the backbone network, namely by the SR8808 of H3C and by the original router, that are reliable. The local WAN backbone network traffic flows vertically from the bureau to its branches and then to its stations, subject to their subordinate relations. For the entire network, 6 nodes constitute the backbone ring, which is a 2.5G RPR ring composed of six S9512 routing switches from H3C. Each branch node is configured with a MSR45040 router, and each station node is equipped with a MSR2020 router, able to access the backbone ring.
After the completion of the project, it will be a supporting WAN platform covering all the local taxation business of XX city.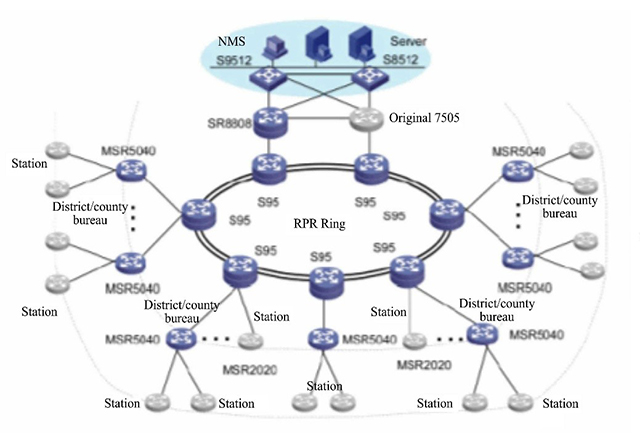 Are you an H3C partner? Log in to see additional resources.
You can find excellent H3C partners, or you can become one of them to build a
partnership with H3C and share success together.