Overview
Due to the changes in market demand, technological development and innovation, new product substitution and other factors, product has a certain product life cycle and it will be out of the market within a certain time period. Thus, H3C has developed a unified product lifecycle management strategy to help customers complete the migration to H3C products successfully as well as better protect customers' investments, and together reach a common business success on the H3C technology platform.
The overview of H3C Product Lifecycle Management Strategy is as follows.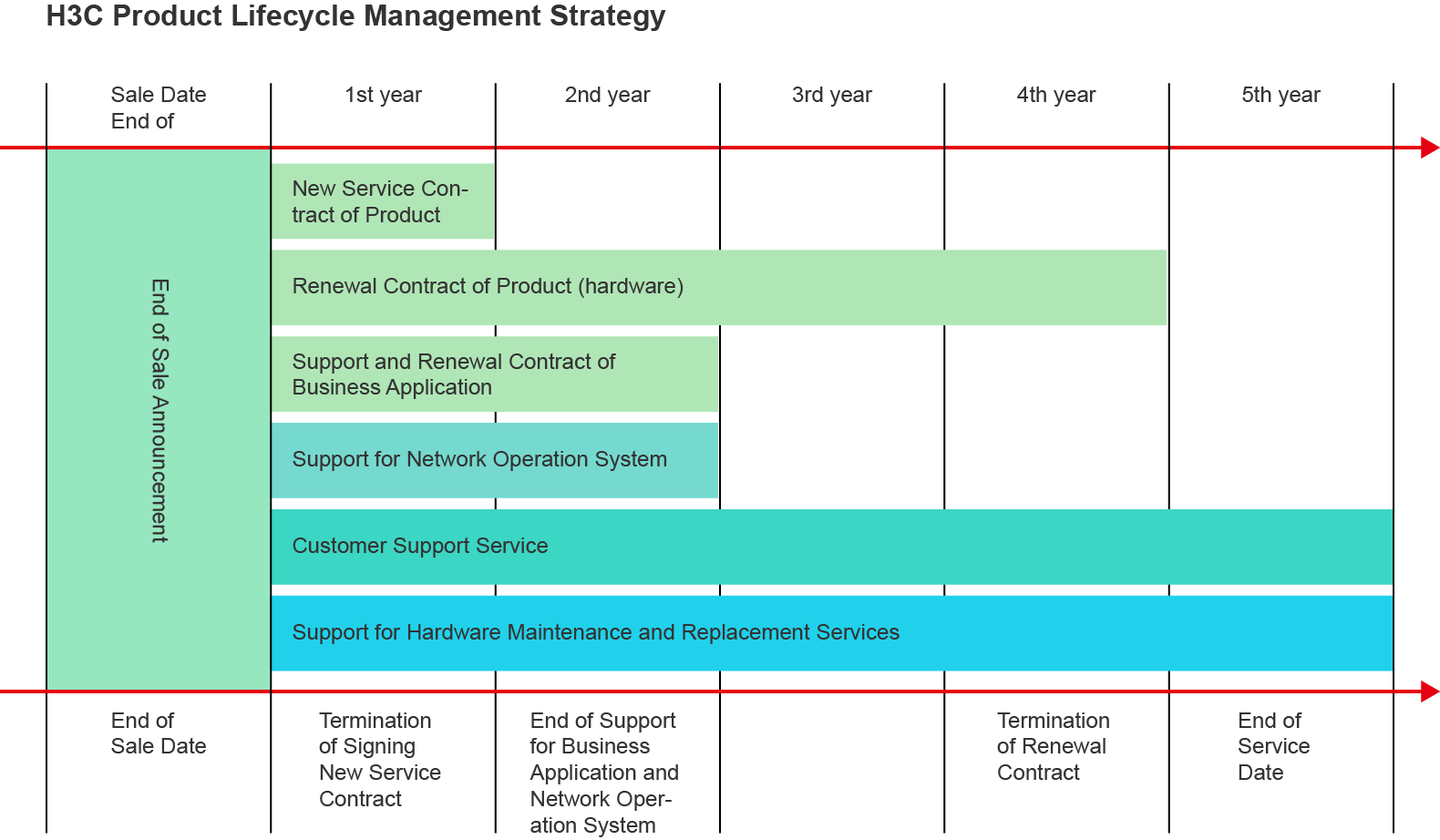 H3C Product
Lifecycle Management Strategy
1. As a general rule, users can sign a new service contract with H3C within a year of the terminated products, and users can also add the content not covered under the original service contract to the current contract. H3C will only accept the renewal of the service contract, rather than signing a new contract after a year of the end of sale date.
2. For customers who have signed repair or replacement service contracts before the termination of hardware products, they can renew the service period for up to four years after the end of sale, in order to prolong the service life of the product, but the service will not extend beyond the last date of support. Renewal of the service contract will not be available until the 4th year of the end of sale date.
3. For terminated Business Application products, H3C will provide up to two years of paid maintenance support services, and the contract can be renewed in 2 years. In principle, the software maintenance support cannot last for more than 2 years after the product was end of sale.
4. For the end of sale of Network Operating System, H3C will provide up to two years of paid services and provide patches and bug fixes. H3C will release patch versions and report issues on the company's website regularly.
5. H3C will provide up to 5 years of paid customer support after the end of sale. The support includes:
a. Equipment installation, usage consultation, and remote troubleshooting assistance.
b. On-site support of equipment installation, commissioning, replacement, troubleshooting, and software upgrades.
c. Other contracts of services signed with H3C.
6. H3C will provide hardware maintenance and a spare part replacement service according to the service contract within five years of the end of sale date.
a. If the parts are out of stock, H3C will provide similar alternatives.
b. If the maintenance product is not covered under the service contract, H3C can continue to provide paid support for parts substitution with additional charges from the customer.
Learn More


Products End of Life Announcement