Home

Products & Technology

Enterprise Products

Cloudnet

Products

Cloudnet

Cloudnet
H3C Cloudnet
H3C Cloudnet is a H3C-proprietary comprehensive operation management and maintenance platform. Based on H3C unified O&M cloud platform (known as U-center), It provides a light-weight and multi-service platform to manage network and a powerful O&M service for small business. It uses Kubernetes for containerized applications and a fully distributed architecture to provide management of networks, terminals, users and service enabling features. With management and monitoring of multiple network services, the platform breaks the data barriers between services caused by isolated and vertical service deployment.
H3C Cloudnet supports the delivery model of public clouds and provides customers with comprehensive network solutions to meet the needs of customers from different industries and operators.
Cloud authentication
Support Facebook authentication, one-click authentication, fixed account authentication, Portal authentication, WeChat authentication, visitor QR code authentication, dumb terminal authentication, etc. Support the ability to customize the authentication page, full graphical configuration, what you see is what you get; support drag and drop to adjust the layout, support text, pictures, carousel diagrams, videos, authentication boxes, buttons and other parts of the customization. Support developer mode, support users to develop authentication pages by themselves; support separate allocation of permissions, and authorize operators. Customization and pages bring the ultimate experience to user operations.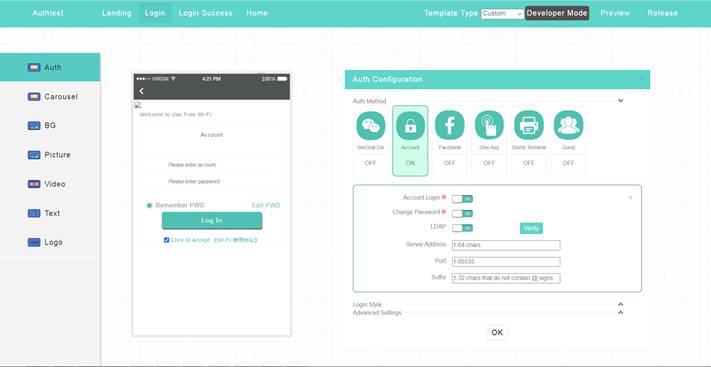 Various authentication methods for users to choose
Network O&M
Support one-key inspection, one-key network optimization and other functions, enabling users to complete network detection and optimization with simple click operations. The intelligent operation and maintenance of Cloudnet makes the network resource information visible, automatically senses the hidden dangers of the entire network, and automatically eliminates the entire network failure. Tracking and automatically optimizing the network at all times, so that the network is always in the best state, providing users with an excellent online experience.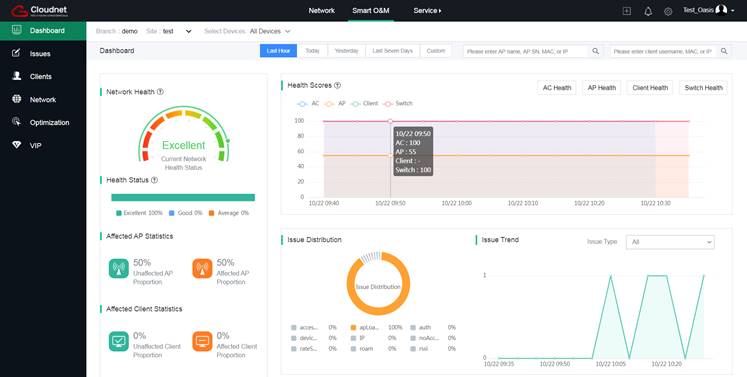 Smart O&M escorts networks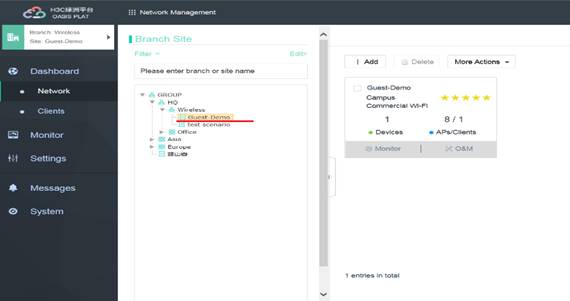 Configure from branch, site to device, easy deployment

Software upgrade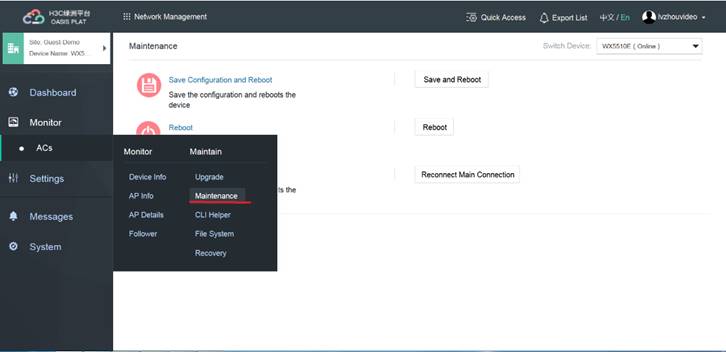 Device maintenance
Role-based access control
With role-based access control (RBAC), you can perform fine-grained access management of the Cloudnet platform. A user can create subaccounts with different user roles and authorize them with different sites or branches to separate rights and achieve hierarchical management.

Subaccount authority
Terminal management
The platform provides unified management of various terminals to reduce management costs.
Full network management
The Cloudnet platform supports full-standard network connection and management, wired and wireless integration, supports unified monitoring, configuration, maintenance, and operation of switches, routers, wireless ACs, APs, and security devices, and provides unified cloud management.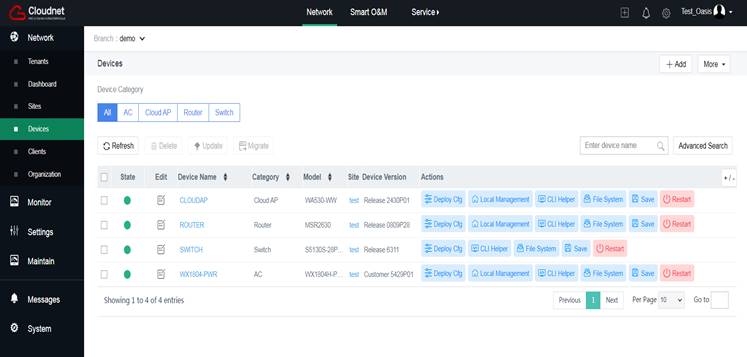 Device management

Device monitoring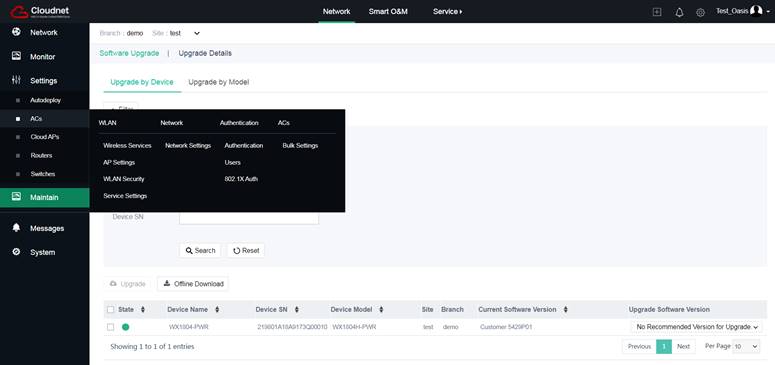 Device configuration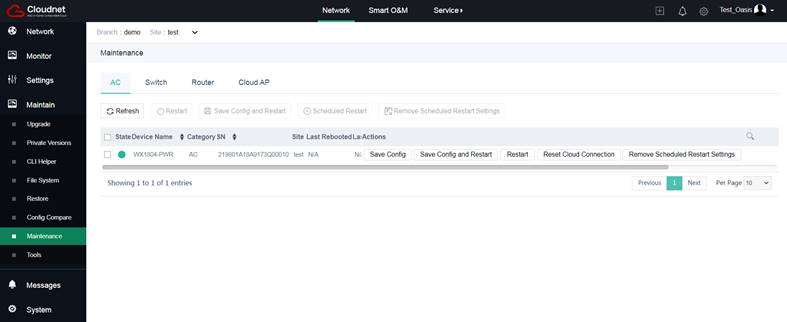 Device maintenance
Multi-service
The Cloudnet provides various business functions including cloud engineering survey, large-screen monitoring, PPSK, cloud authentication, hotel management, etc., which comprehensively shows the business capacity of Cloudnet in network deployment, network management, and customized services.
Mobile service capability
Cloudnet APP provides mobile operation and maintenance capabilities, and IT personnel can carry it with them and grasp the network operation status anytime and anywhere. When a network failure occurs, it can be monitored in real time and remotely processed in time, enabling zero distance operation and maintenance. The Cloudnet APP not only supports one-click diagnosis, real-time monitoring and alarm push, but also can remotely perform common operations such as version upgrade, configuration backup, configuration restoration, and file management of related devices.
Open API, application value-added, accelerate enterprise operation
Cloudnet provides a wealth of open interfaces such as passenger flow analysis, basic management, wireless services, authentication, operation and maintenance, and uses network data to empower customers to accelerate business value-added.
Advanced Architecture design
The Cloudnet platform adopts an advanced full-containerization solution and a fully distributed deployment architecture design. Based on which, the computing resources can be adaptively adjusted and allocated according to business characteristics, and achieve the flexible expansion and user-unaware business iterative.
Ecosystem enablement
Supporting online developing capabilities for upper-layer app development and system collaboration and providing visible device management from the GUI, the platform supports end-to-end service deployment with low cost. H3C also provides a professional development lab to offer R&D-level support to business partners and customers.
Features

Description

Deployment mode

Public cloud through virtualization platform

Multi-user management

Role-based access control

Authentication

Facebook authentication

WeChat authentication

Account authentication

One-key authentication

PPSK authentication

Guest authentication

Dumb terminal authentication

O&M

Intelligent operation and maintenance escort the customer network

Network health monitoring

Client connection snapshot

Problem location and analysis

Wireless network optimization

One-click diagnosis and optimization

VIP policy for AP and Client

WIPS

Client access analysis

Network management

Hierarchical and decentralized management

Full network monitoring

Sites management

Devices management (including switches,routers,ac,cloud ap, firewall,acg, etc)

Clients management

Alarm management

Operation logs

System messages

Fault reports

Sub-accounts management

Multi-service

PPSK (provides PPSK-based wireless access for small and medium-sized enterprises)

Hotel Management (Allows room-based network management)

Cloud engineering survey (provides one-stop high-efficiency engineering investigation for WLANs)

Custom Dashboard (Displays followed monitoring statistics on a dashboard)

Assets (Asset management information of equipment and terminal)

Mobile APP

Mobile network management and monitoring

Mobile devices operations

Mobile MSP service

Mobile network tools

Mobile WLAN settings

Mobile O&M

Open API

Support open and rich APIs, share business data with customers, and realize rapid business value-added

Technologies

The platform integrates a variety of advanced technologies including cloud computing, big data , AI, etc.

Ecosystem enablement

Support of full network standards, system collaboration, and app development