H3C City Digital Brain Creates a Better Life
03-08-2020
In 2020, the acceleration of new infrastructure project gives a great boost to the fusion of digital technologies and urban planning & construction. The construction of platforms such as cloud computing and industrial Internet will create a framework for the construction of smart city, on which a new smart ecology will be cultivated through emerging technologies such as 5G, AI, Internet of Things (IoT), and Big Data. H3C will take full advantage of its innovative strength, integrate traditional infrastructure and new infrastructure, and jointly build the digital cornerstone of urban transformation and development.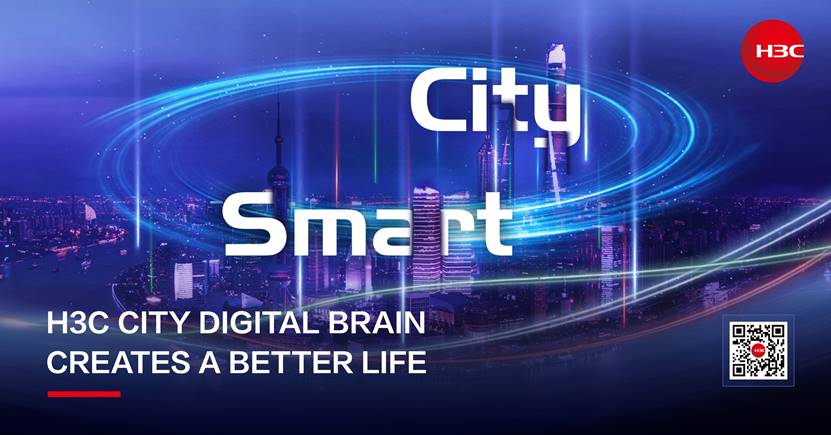 Build a powerful digital brain for city operation
With the launch and continuous implementation of Digital Brain Project 2020, H3C will promote the city to a new stage of full awareness, full visibility, all-round processing, full-time service, and governance with everyone's involvement. It will build a government affairs service center, urban governance center, and industrial economic center, to provide data and intelligent services for urban governance and industrial convergence, aiming for a promising smart city.
For years, H3C has helped promote the construction and implementation of smart cities in Tianjin, Chongqing, Hangzhou, Chengdu, Zhengzhou, Foshan, Lianyungang, Suzhou, Guiyang and other cities, therefore gaining rich experience in smart city building.
Lianyungang Smart City Operation Center
The smart city operation center created by H3C and UniCloud has become the "digital brain" of city management and services. It can perform overall and dynamic analysis based on city data resources, and provide data support for city management decisions and public services.
Not only has it accelerated implementation of policies such as "Online Approval" and "All in One Net", but also built a digital cornerstone for the launch of the App "My Lianyungang." This way, it provides citizens with convenient accesses to various city services such as government public services, life convenience services, city news and information, finance, and transportation.
Chengdu High-tech Zone Smart Citry Governance Operation System
H3C deeply participated in the construction of the "City Digital Brain" of Chengdu High-tech Zone and broke down data barriers of 36 organizations and institutions throughout the district. It helps build a smart city governance operation system of around-the-clock online monitoring, analysis and prediction, and emergency command, which enables the categorization and processing of more than 100 million pieces of data.
Zhengzhou High-tech Zone Smart Citry Operation Command Center
The smart city operation command center built by H3C for Zhengzhou High-tech Zone is the core of improving the governance of the city. Based on the "City Digital Brain", the operation command center focuses on the key issues and tasks of people's livelihood services, government governance, and industrial development. Through the integration of three major information resources of government management public services and social services, dynamic and future trends of economic operation, industrial development and social governance will be shared, analyzed and studied. The predictability and effectiveness of policy control thus can be improved. At the same time, the value of government data assets is revitalized through data asset operation.
H3C will continue to deepen practices of the Digital Brain Project 2020, to facilitate smarter cities to serve citizens, government affairs and industries, promote modernization of government affairs, and truly realize good governance, economic prosperity and benefits for people.