Providing Famous Chinese University's Smart Campus with AD Campus
16-05-2018
Background
Customer Introduction
This customer is one of China's most famous universities. Founded in 1941, it was made a national key university in 1978 under the auspices of the party and the state, and has subsequently been awarded "211 Project" and "985 Project" membership, and listed as one of China's "First-rate Universities, with First-rate Disciplines". The present campus covers a 380,000m2 area, with 810,000 m2 of new campus space planned. The university recruits students from 31 provinces, autonomous regions, and municipalities, including mainland China, Taiwan, Hong Kong and Macau. The 15,841 full-time students include 11,270 undergraduates and 4,386 postgraduates.
Customer Requirements
The rigid architecture of the University's campus network makes for complex operation and maintenance. With BYOD commonplace, and desire to mainstream the wireless mobile office, users require plug-and-play connectivity, interrupted services and service experience consistency – something very difficult to provide using legacy networks that lacking the functionality to implement network-wide policies.
The H3C Solution
Solution Architecture
H3C devised a next-generation flattened campus network architecture for the university, based on analysis of user characteristics, network usage, and traffic statistics – the Application-Driven Campus solution (AD Campus) – leveraging H3C's industry-leading SDN technology and high-performance products. Similar to the original four-layer architecture, the core layer adopts high-end SDN switches (S12500-X) and six high-performance SDN convergence switches (S10508), along with S5560X switches for network convergence between buildings, with M9000 series high-performance multi-service security gateways used as security devices on campus network outlets. The following figure shows the AD Campus solution's topology: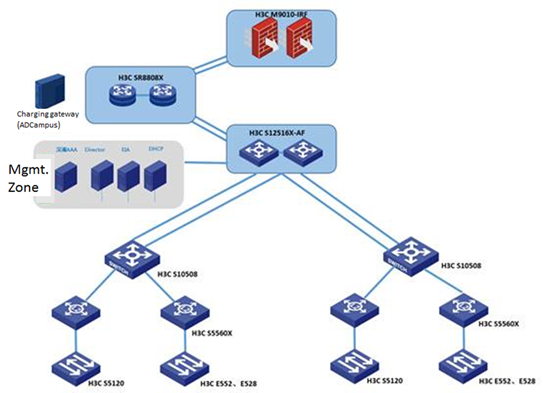 Figure 1 The Topology of the University's SDN AD Campus Solution
Implementation Impact
The smart campus network based on the new SDN AD Campus solution's network architecture has the following features:
A network that adapts to users: Teachers and students can obtain correct access whether in classrooms, offices or dormitories. Automatic network configuration, without manual interference provides a consistent network experience across the entire campus, greatly reducing network configuration and maintenance workloads.
Simple O&M: Network deployment, network expansion and upgrade, and faulty device replacement are automatically performed by controllers, greatly reducing simplify network operation, reducing maintenance workloads and improving work efficiency.
Network-wide service visualization: Customized UIs for network client (STA) management, location information, and top-n hotspot utilization reporting, provide intuitive, friendly, and real-time displays of network service information.
Customer Benefits
H3C's AD Campus Solution has delivered a high-reliability, high-bandwidth, easy-to-control and easy-to-manage SDN campus network, that copes with the university's teaching, research, and management networking requirements, and has increased bandwidth available to staff and students tenfold. Unified management of wired and wireless services has reduced maintenance workloads by over 50%, providing a solid foundation for a smart campus. Flexibility of network expansion and automation of equipment on-lining has greatly reduced device on-lining periods, and deep integration of the unified billing platform has permitted introduction of unification of billing policies across wired and wireless users. The reconstruction of the campus network using SDN technology, represents a new level of campus digitalization, and allows better implementation of innovative campus applications of all kinds.
H3C's AD Campus SDN solution has been adopted by several "211 Project" and "985 Project" universities. As a leader in innovative IT solutions, H3C's longstanding continued investment in – and development of – SDN technology, has borne fruit in the form of innovative but mature solutions for education, capable of providing reliable, secure, smart campus networks.