Table of Contents
Related Documents
H3C iStation Technology White Paper
Copyright © 2022 New H3C Technologies Co., Ltd. All rights reserved
No part of this manual may be reproduced or transmitted in any form or by any means without prior written consent of New H3C Technologies Co., Ltd.
Except for the trademarks of New H3C Technologies Co., Ltd., any trademarks that may be mentioned in this document are the property of their respective owners.
The information in this document is subject to change without notice.
Overview
With amazing speed, lower power consumption and latency, and higher bandwidth, Wi-Fi 6 technology has become the first choice of campus networks.
During WLAN deployment, operations, and maintenance, network optimization is critical to ensure user experience, improve user quantity, and prolong device lifetime. H3C developed iRadio, iStation, iEdge, and iHeal technologies to optimize WLANs from radio performance, roaming, application assurance, and network automation to improve user experience.
This document describes how iStation improves user experience through optimization at each phase of client access.
Figure 1 Benefits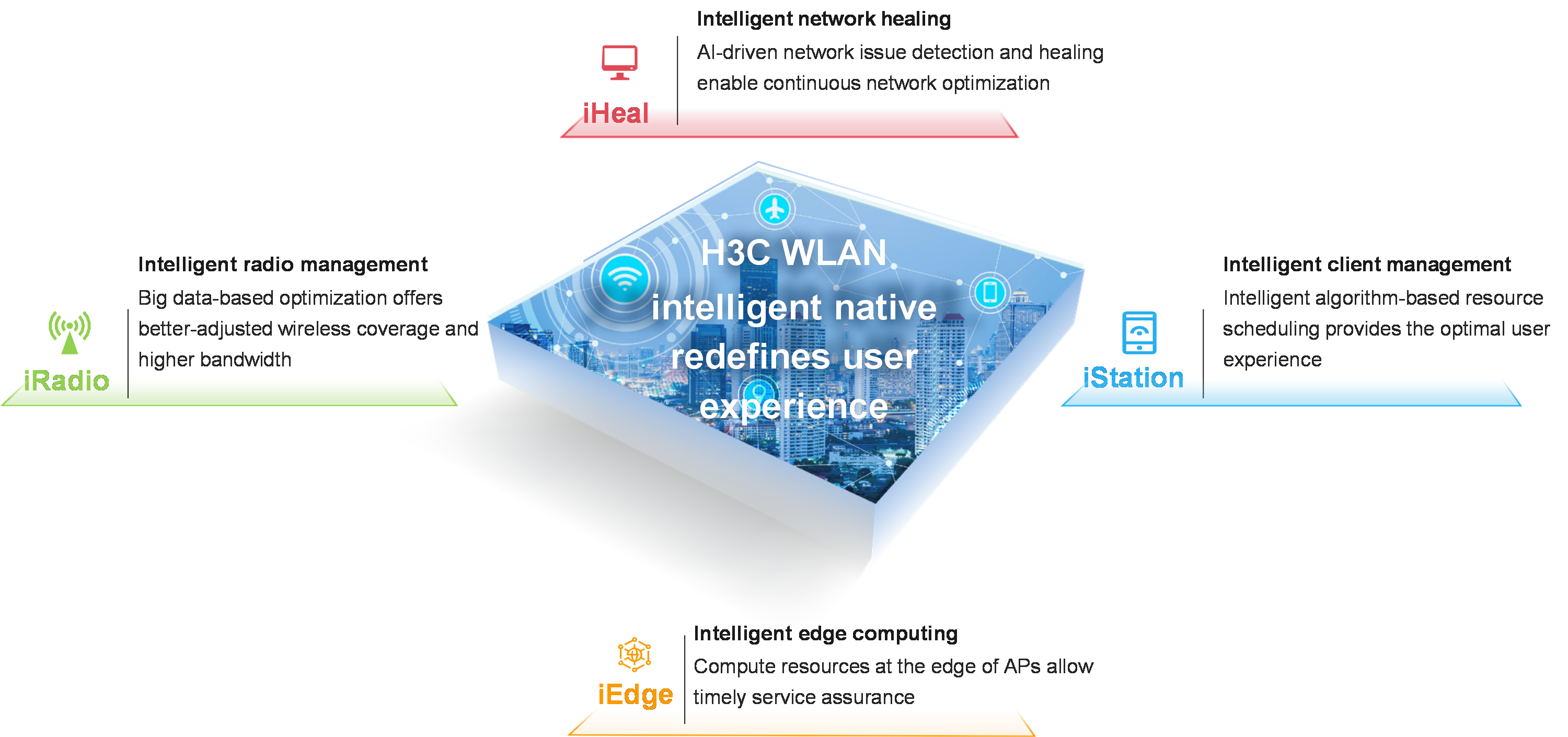 Implementation
iStation provides optimization at each phase of client access.
Scanning
At this phase, iStation optimizes client access by controlling Beacon frames to achieve the following purposes:
· Avoids signal coverage blind area and excessive coverage issues. Excessive signal coverage can mistakenly guide clients to a remote AP.
· Directs clients to the 5 GHz band.
· Hides signals of a radio based on the channel usage and number of connected clients for clients to connect to another radio that has stronger signal strength. This practice enables unified control of client access and enhances client access speed.
Probing
During the probing process, iStation directs a client to a radio that has stronger signal strength by controlling the probe response sent to that client. For example, you can enable an AP to respond to broadcast requests from the 5 GHz frequency band with strong signal strength to guide clients to the 5 GHz band.
Association
Some clients might still associate with a radio that has weak signal strength because of the diversified client and driver models. iStation can guide clients to associate with a radio that has stronger signal strength at the association stage. For example, if a client tries to associate with a radio that has weak signal strength, the AC will enable the weak-signal client denial feature and deny the client's access. If a client selects a 2.4 GHz radio that has weak signal strength rather than a 5 GHz radio that has stronger signal strength, the AC will enable the band navigation feature and direct the client to the 5 GHz radio.
WLAN protocols do not provide any client roaming mechanisms. Clients determine when to roam to another AP. However, different clients use different roaming mechanisms. How to ensure that a client can roam to the best radio quickly without roaming stickiness or frequent roaming is key to improving user experience.
iStation uses capability tags, for example, support for 5G, 802.11k, or 802.11v to classify clients and direct them to an optimal AP. iStation enables fast, smooth roaming of clients, and provides better user experience.
· For a client that supports 802.11v, the AC performs the following tasks:
¡ Notifies the client to measure the signal strength and whether other Wi-Fi signals are available.
¡ Selects an optimal AP for the client based the measurement data and running status of surrounding APs.
¡ Instructs the client to roam to the optimal AP.
· For a client that does not support 802.11v, the AC reduces the transmit power of the AP based on the uplink signal strength and traffic size for the client to proactively roam to another AP. If the client does not proactively roam to another AP, reassociation will be triggered.
Figure 2 Network diagram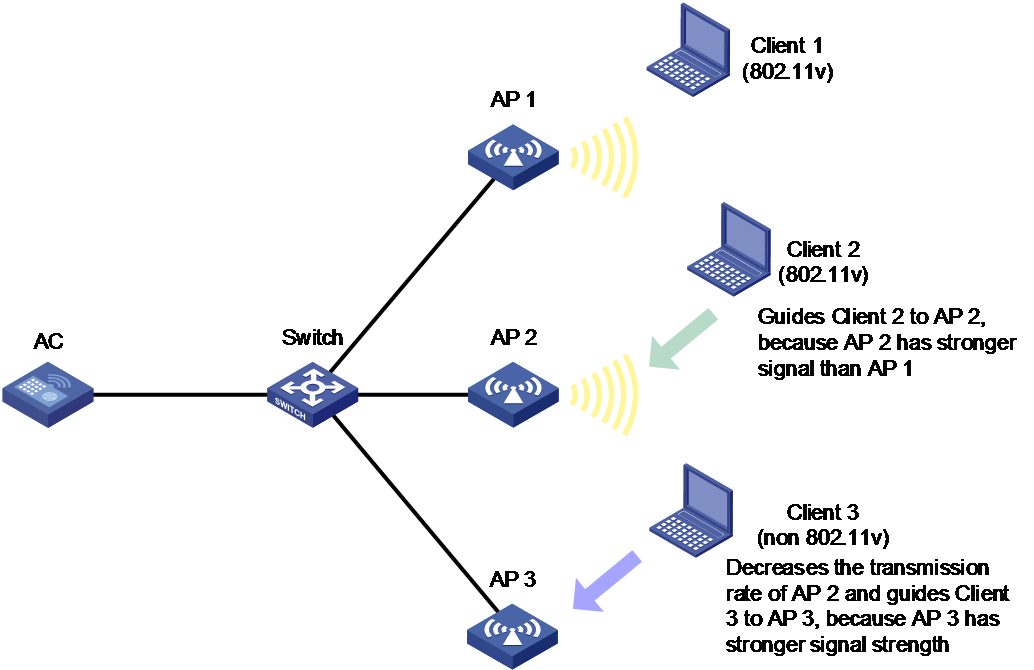 To move around in a large campus, a client must roam between ACs, because multiple ACs are deployed in the campus to manage APs and clients. The following issues might occur:
· Source address validity check failure--A client will not request a new IP address after it roams to a new AC and use its original IP to receive frames. This can cause the AC to determine it as an unauthenticated client.
· Repeated authentication--A client must be re-authenticated after it roams to another AC. Transparent authentication can address this issue but it can also increase the workload on the AC and AAA server, because re-authentication is performed automatically by the AC and AAA server.
To address the issues, iStation provides the roaming center feature. In the multi-AC scenario, you select one AC as the roaming center. After a client comes online on any one of the ACs, the IP, VLAN, authentication, and authorization information for the client will be saved in the database on the roaming center. When the client roams to a new AC, the AC requests the client information from the roaming center. If the client exists, the new AC restores the client's state and privilege based on the client information, without requiring any security check and repeated authentication.
The roaming center feature enables easy, secure client roaming among ACs, lowering the AAA server's workload. It features low cost, easy deployment, easy management, and easy expansion.
Figure 3 Network diagram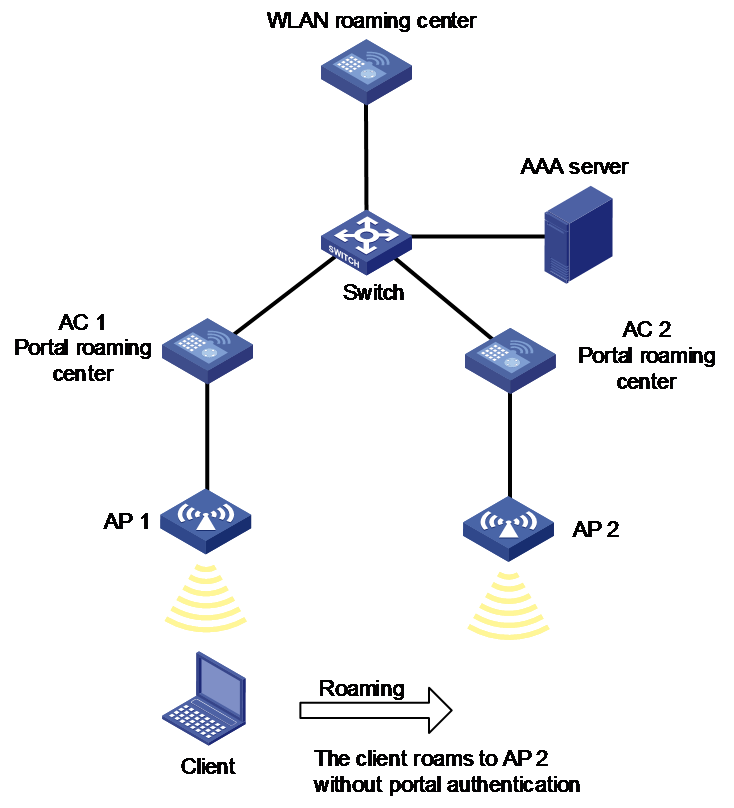 Traditional WLANs focus only on business and not on the identity priority of users when providing applications and services. Resources are allocated and forwarded based on the priorities of applications and services rather than the priorities of clients. However, some clients must be assigned the highest priority anytime anywhere in some scenarios. For example, in a live conference, clients used for media backhaul must have the highest priority, no matter what businesses the clients provide. iStation provides the VIP assurance feature to address the issue.
VIP assurance classifies clients into level-1, level-2, and level-3 VIP clients with priorities in descending order. Level-1 VIP clients have the following privileges:
· Highest access and forwarding priorities.
· Free from rate limiting.
· Reserved resources against burst traffic.
· Air interface priority.
· Dynamic speed limit clients of other levels.
If a WLAN intelligent O&M platform is deployed, VIP assurance supports VIP client health monitoring in 10s and enables a user to retain the VIP level even if the client used by the user has changed.
Figure 4 Network diagram

When the traffic of a service is large, the available bandwidth for other services will be occupied. If rate limit is performed only for packets of a single service, idle bandwidth will be wasted when the total traffic is small. Intelligent bandwidth assurance provides a more flexible traffic control mechanism as follows:
· Packets from all services can pass through if the network is not congested.
· When network congestion occurs, each service can be assigned the guaranteed bandwidth.
This mechanism not only makes full use of the network bandwidth but also ensures fair usage of bandwidth of different wireless services. For example, you set the guaranteed bandwidth ratio for SSID 1, SSID 2, and SSID 3 to 25%, 25%, and 50%, respectively. When the network is idle, SSID 1 can use the available bandwidth. When the network is busy and does not have any remaining bandwidth, SSID 1 can use its guaranteed bandwidth (25%).
Figure 5 Intelligent bandwidth assurance