Table of Contents
Related Documents
H3C iRadio Technology White Paper
Copyright © 2022 New H3C Technologies Co., Ltd. All rights reserved.
No part of this manual may be reproduced or transmitted in any form or by any means without prior written consent of New H3C Technologies Co., Ltd.
Except for the trademarks of New H3C Technologies Co., Ltd., any trademarks that may be mentioned in this document are the property of their respective owners.
The information in this document is subject to change without notice.
With amazing speed, lower power consumption and latency, and higher bandwidth, Wi-Fi 6 technology has become the first choice of campus networks.
During WLAN deployment, operations, and maintenance, network optimization is critical to ensure user experience, improve user quantity, and prolong device lifetime. H3C developed iRadio, iStation, iEdge, and iHeal technologies to optimize WLANs from radio performance, roaming, application assurance, and network automation to improve user experience.
This document describes how iRadio improves user experience through optimized radio resource scheduling and allocation features.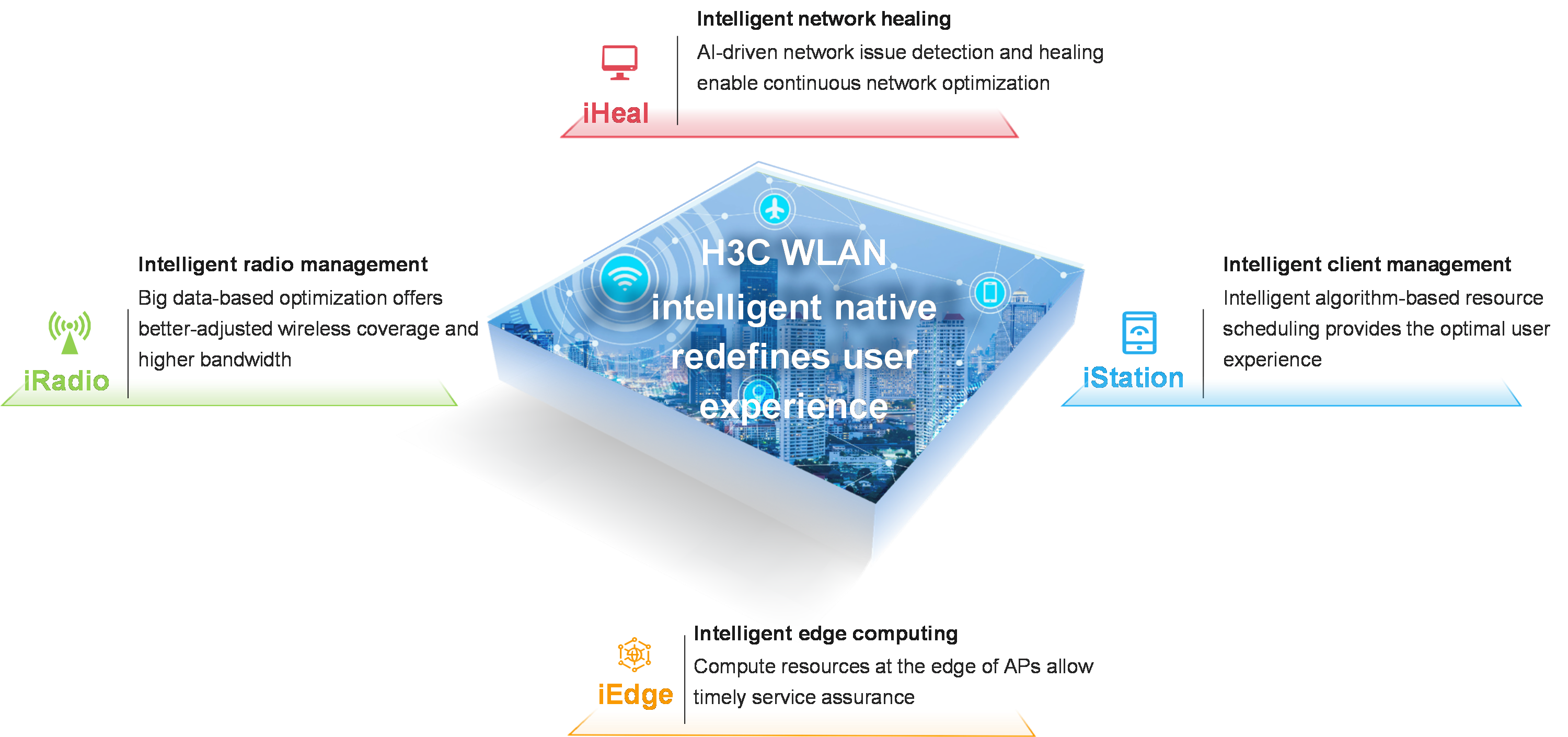 Open Wi-Fi frequency bands and limited spectrum resources make wireless signals susceptible to interference. Wireless clients in different locations of the same WLAN might have different network experience. iRadio implements intelligent radio resource scheduling through radio resource optimization, broadcast and multicast optimization, load balancing, fair time scheduling, low latency guarantee, and ISSU. It improves radio performance and reduces signal interference, packet loss, and latency, improving user experience and network performance.
Radio bandwidth is one of the Wi-Fi performance factors. During wireless network deployment, a high bandwidth can ensure good network performance. However, wireless spectrum resources are limited, so increasing the bandwidth will reduce the number of channels that do not interfere with each other. In high-density access scenarios such as canteens, libraries, and gymnasiums, a large number of APs need to be deployed to satisfy the high access demand. The minimum bandwidth (20 MHz) is usually used in the deployment to reduce interference and increase the number of channels that do not interfere with each other. However, the number of clients in these scenarios is not always maintained at the highest level. If the radios still work at the 20 MHz bandwidth when the number of clients is small and wireless interference is not serious, the high performance of Wi-Fi cannot be exerted.
The radio resource optimization feature of iRadio predicts the client flow trend by analyzing the historical client traffic, and dynamically adjusts radio bandwidth. It automatically sets the radio bandwidth to 40 MHz or higher when the number of clients is not large and sets the radio bandwidth to 20 MHz before the traffic peak hours, enabling the network to automatically adapt to environmental changes and improving client experience. iRadio provides automated and intelligent radio resource optimization to automatically adjust the channel, power, and bandwidth attributes of radios according to wireless environment changes, ensuring that the wireless signal coverage is always at an optimal level, effectively reducing interference, and simplifying configuration and maintenance.
Figure 2 Dynamic bandwidth adjustment

In addition to dynamic bandwidth adjustment, the system supports the following radio resource optimization features:
· Channel adjustment—Dynamically adjusts the working channels of radios based on the detected channel usage, interference, and retransmission rate information.
· Power adjustment—Flexibly adjusts the transmit power of the radios to meet the signal coverage requirements and reduce interference.
The maximum transmission rate of wireless packets is determined by the bandwidth mode of the radios, the number of spatial streams, and the supported Wi-Fi protocols. Not every packet is transmitted at the maximum rate. Unicast packets are usually sent at the maximum rate, which has reached up to 9.6 Gbps in 802.11ax. Broadcast and multicast packets are sent at the mandatory rate (usually 6 Mbps) to ensure that all clients can receive the broadcast and multicast packets. Therefore, it is important to reduce the number of broadcast and multicast packets sent by radios without affecting services.
The broadcast and multicast optimization feature of iRadio identifies the broadcast and multicast packets in the network and executes different policies for different scenarios, such as edge ARP reply, edge DHCP control, and user group isolation. It minimizes the impact of broadcast and multicast packets and improves radio performance. It also increases the broadcast and multicast transmission rate in suitable scenarios.
Figure 3 Broadcast and multicast optimization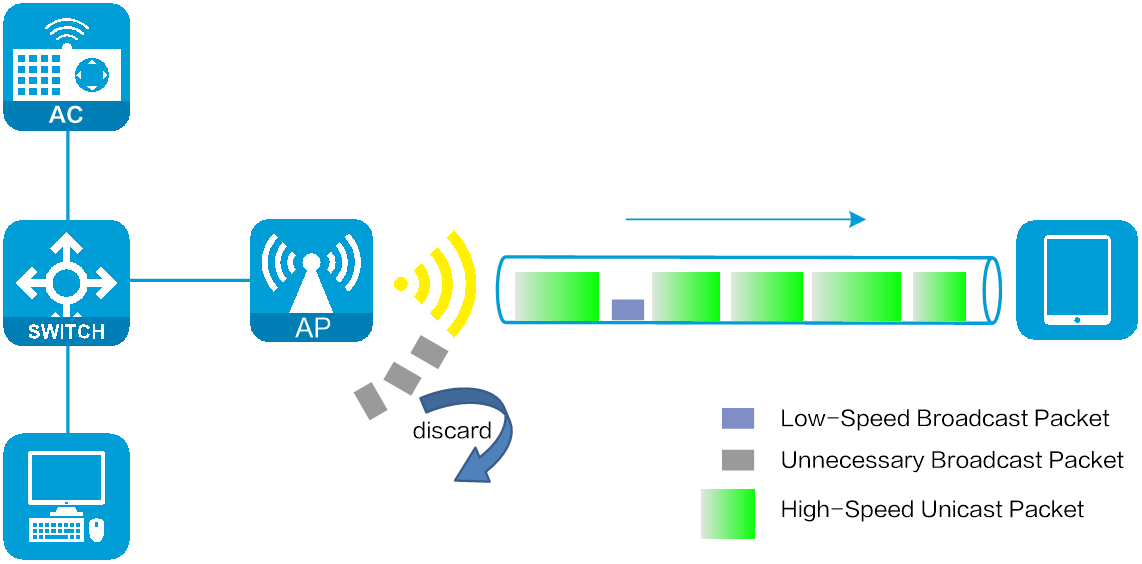 Traditional load balancing is mainly implemented on the number of access clients. In a wireless network, heavy channel workloads might also occur even if the number of clients is small.
The load balancing feature of iRadio uses not only user load among APs and radios but also client type and channel usage threshold as load balancing metrics to ensure load balancing across the entire network.
Figure 4 Load balancing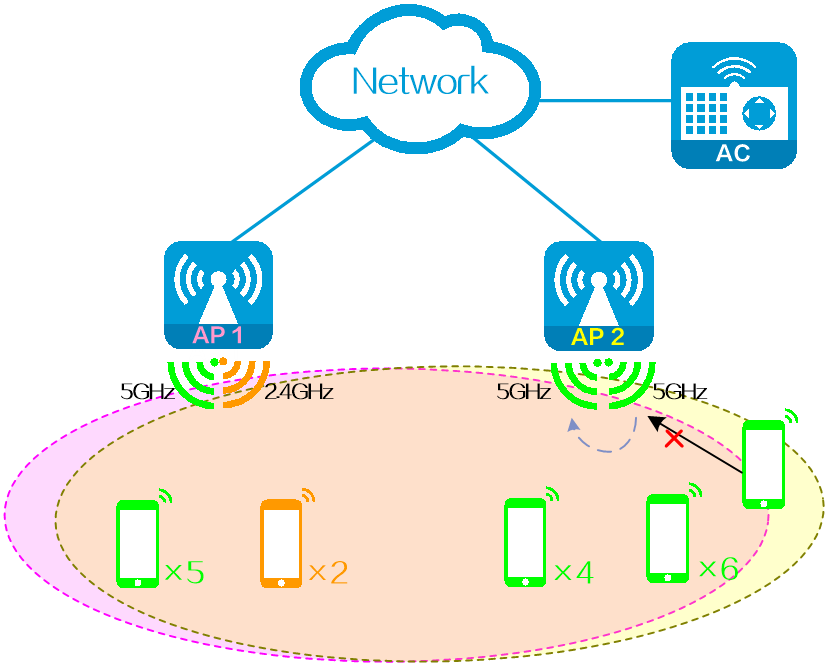 Wireless transmission uses shared channels and bandwidth. Therefore, in a multi-user scenario, rate limiting is usually used to ensure the experience of each user and prevent traffic-intensive clients from monopolizing wireless resources. However, rate limiting will reduce the spectrum resource usage, especially in scenarios with varying client capabilities. If low-rate clients occupy the radio resources for a long time, the network experience of high-rate clients will be affected.
The fair time scheduling feature of iRadio allocates the same length of time window for each client to send packets, preventing the clients from occupying wireless resources disorderly. Fair time scheduling provides the following benefits:
· Ensure good experience for all clients.
· Provide higher performance for high-rate clients.
· Increase wireless spectrum resource usage.
Figure 5 Fair time scheduling

With the rapid development of cloud office and remote office, services requiring low latency such as VDI desktops, teleconferences, and live streaming have placed higher requirements on wireless networks.
The low latency guarantee feature of iRadio can identify services requiring low latency and ensure that packets for these services can be transmitted quickly by increasing the priority and using the optimal packet sending rate, the most reasonable frame length, and the optimal retransmission attempts. It effectively reduces the radio latency and guarantees the normal operations of real-time services.
Figure 6 Low latency guarantee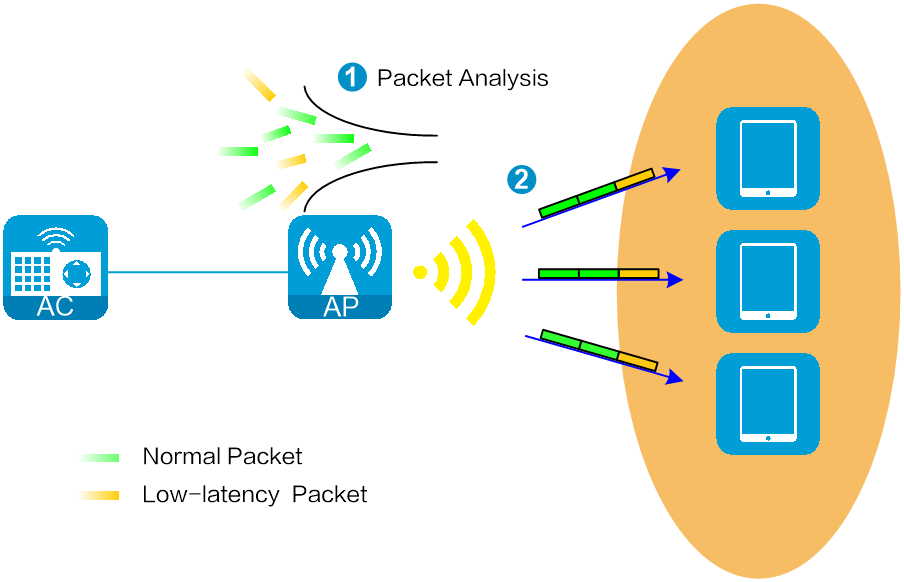 The traditional AC and AP upgrade method requires a long-duration time window. The APs can download and upgrade the software version only after the AC is upgraded successfully, causing a high maintenance cost and service interruption.
The In-Service Software Upgrade (ISSU) feature of iRadio enables you to upgrade the AC and APs without interrupting the services, and the upgrade time can be flexibly selected. The system provides immediate upgrade, scheduled upgrade, and intelligent upgrade modes to meet different requirements and reduce the maintenance cost.
Figure 7 ISSU