Table of Contents
Related Documents
H3C iHeal Technology White Paper
Copyright © 2022 New H3C Technologies Co., Ltd. All rights reserved
No part of this manual may be reproduced or transmitted in any form or by any means without prior written consent of New H3C Technologies Co., Ltd.
Except for the trademarks of New H3C Technologies Co., Ltd., any trademarks that may be mentioned in this document are the property of their respective owners.
The information in this document is subject to change without notice.
Overview
With amazing speed, lower power consumption and latency, and higher bandwidth, Wi-Fi 6 technology has become the first choice of campus networks.
During WLAN deployment, operations, and maintenance, network optimization is critical to ensure user experience, improve user quantity, and prolong device lifetime. H3C developed iRadio, iStation, iEdge, and iHeal technologies to optimize WLANs from radio performance, roaming, application assurance, and network automation to improve user experience.
This document describes how iHeal uses automatic issue discovery, issue solving, and progressive network optimization to provide highly efficient, transparent, automatic, and intelligent WLAN optimization with comprehensively improved experience.
Figure 1 Benefits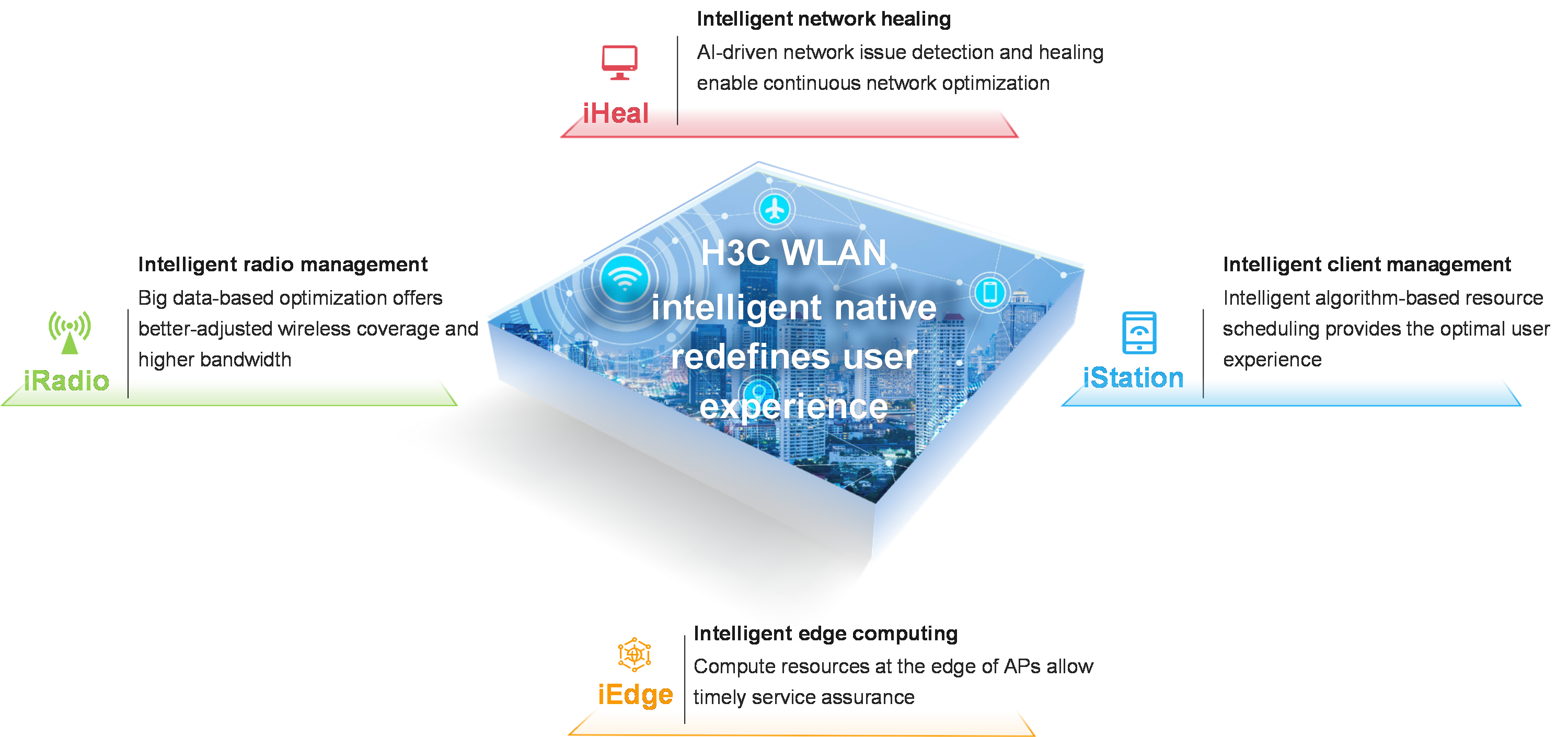 Implementation
To achieve accurate O&M, you must obtain sufficient data. Traditional data obtaining methods, such as SNMP, CLI, and logging, cannot meet the requirement.
· SNMP and CLI send requests to obtain data on devices. In this method, the number of devices that can be monitored is limited and fast data obtaining is not supported.
· SNMP Trap and logging relay on active data report of devices to obtain data. In this method, only events and alarms are reported. The limited data type cannot accurately show the network condition.
To resolve the issue, iHeal uses Telemetry to help obtain O&M data. Telemetry is a remote data collection technology, which monitors device performance and faults and provides highly accurate data of an abundant range of types. The collected data can comprehensively reflect the network condition and help fast failure location. It has been proved in actual deployment that iHeal supports identification of over a hundred types of issues, root cause analysis for association failures, and automatic issue solving. It allows users to discover issues before an alarm is reported and achieves intelligent proactive O&M.
Figure 2 Automatic issue discovery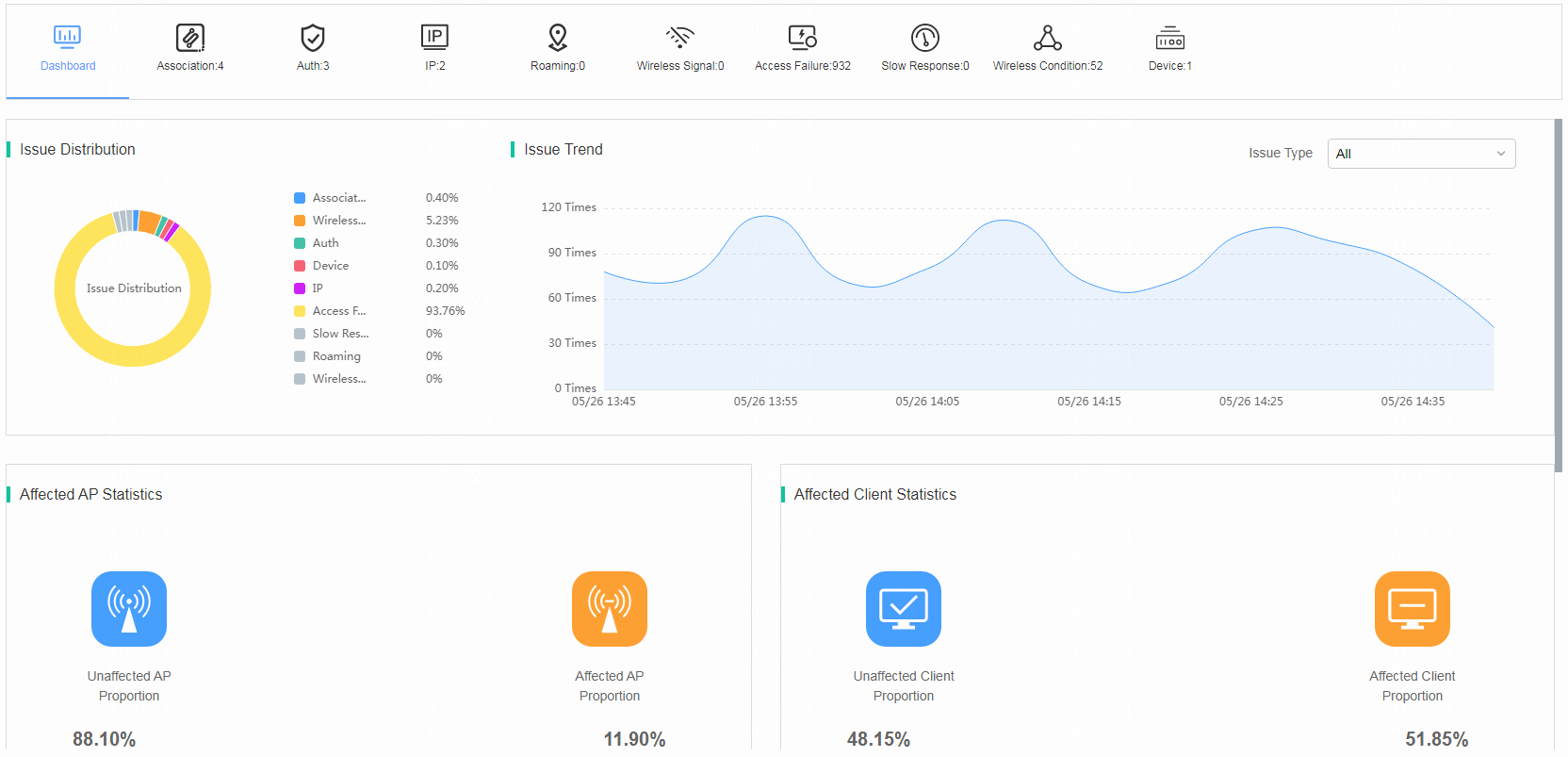 iHeal can perform in-depth issue analysis, identify the root causes, select the optimal processing policy from the policy library, and deploy the policy to devices. Then, iHeal keeps monitoring network changes, and dynamically adjusts the policy parameters until the issue is resolved.
The entire process is performed automatically without any manual intervention, which greatly improves the O&M efficiency and productivity.
At present, iHeal can resolve issues of over 15 categories, including ping-pong roaming and roaming stickiness. The capability is continuously updated and expanded.
Figure 3 Automatic issue solving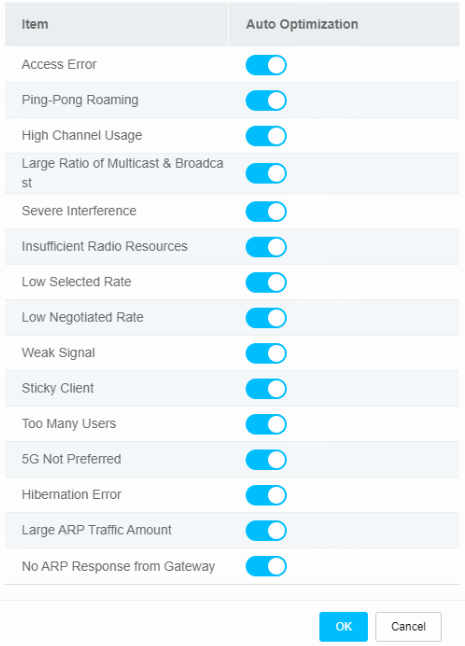 Auto issue discovery and solving are insufficient for the ever-changing WLAN. The network must be able to adapt itself to radio environment, service, and user scale changes and constantly optimize itself to maintain the high-performance and low-interference state, thus fundamentally reducing issue occurrence, and evolving to the truly high-experience and zero O&M level.
iHeal helps achieve progressive optimization of the entire network by using intelligent radio resource scheduling, dynamic topology calculation and tuning, as well as network-wide synergy.
iHeal leverages AI to predict traffic peaks and valleys and the AP load trend, and optimize the bandwidth and power of specific APs in advance based on the prediction. By analyzing client and AP history data on a daily basis, iHeal predicts the next optimization period, deploys the most optimal network coverage model, and optimizes the network during the idle period.
In actual network operation, APs are deployed at different locations and provide respective functions. For example, the user scale, trajectory, and traffic model of APs deployed at the entrance of a teaching building vary a lot from that of APs deployed in a stadium. Considering traffic peaks and valleys, applying one set of optimization parameters or rules to all APs cannot achieve the optimal results. You can configure APs manually to resolve the issue, but manual AP-based configuration requires a huge amount of work.
To resolve the issue, iHeal provides the following supports:
· Intelligent AP tagging
Based on AP operation, iHeal automatically classifies APs at different locations, tags them as high-density, edge, or outdoor, and applies different optimization policies to APs with different tags. For example, for edge APs, the idle timeout is modified to resolve the client stickiness issue to optimize the roaming experience. For high-density APs, the transmit power and load balancing parameters are modified to optimize the access experience in a high-density area.
· Intelligent speed selection
Different scenarios and sites require different network connection speed. For example:
¡ In an underground parking lot where APs are deployed far from each other, network transmission must be available as much as possible for users to scan QR codes and pay the parking fee. In this case, the speed selection policy must provide a speed compatible with low-speed packets to increase the transmission success rate.
¡ In a dormitory building, high speed, low latency, and high bandwidth are required. In this case, the speed selection policy must be able to provide high-speed transmission to increase the communication experience.
iHeal can automatically identify the scenario and dynamically adjust the speed selection policy to be deployed based on user distribution and link requirements, thus effectively improve user experience.
AI performance is positively related to two key factors: design of the algorithm model of the logical system, and size of the training samples. iHeal has excellent algorithm prototypes and the ability of self-iterative learning, and uses algorithms incorporated with the features of machine learning. Data obtained from millions of operating APs and over ten millions online clients are being used to continuously train iHeal and adjust the recognition and tuning ability of iHeal, thus promoting network-wide synergistic progressive optimization.