"Digital Transformation": from Connection to Intelligent Manufacturing
16-05-2018
Home

Solutions

Industry Solutions

Manufacturing

Cases
Countries worldwide have entered a new round of competition in the international division of labor, the gradual shifting of comparative advantage reshaping the global manufacturing landscape. Against this background, Premier Li Keqiang proposed the "Made in China 2025" strategic plan and the "Internet +" action plan. H3C's customer – a rapidly-changing and highly successful Group whose retail sales of large household appliances have topped the world league tables over the past seven years – has faced fierce competition since 2009. Its core innovation is the "Internet factory" – a factory which allow rapid satisfaction of market demands for customized products, and delivery of an optimal experience, via fully leveraging Internet technology.
Large-scale Connection - Efficient Collaboration
H3C's solution for the Group involved the upgrading the core-layer equipment to two horizontally-virtualized core switches, providing high performance and high reliability via redundancy. The existing convergence layer was fully reused, and original production network and office switches were stacked into modules. These 10 GB modules were installed on switches via four aggregation switches virtualized to form one logical device.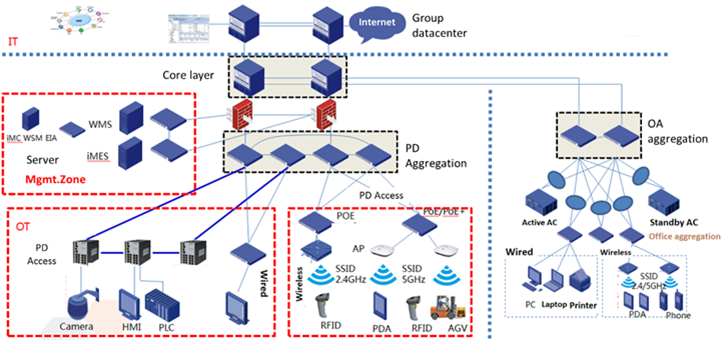 On the wireless side, both indoor and outdoor Power Over Ethernet (POE) APs were adopted, significantly improving wireless signal quality and simplifying installation. The original wireless office APs only supported 2.4 GHz, with relatively low capacity. Since the 2.4 GHz frequency is more susceptible to interference, and person-density in office areas is relatively high, these were replaced with APs supporting both 2.4 and 5 GHz. The wireless production network was classified into two coverage scenarios. In the first, the ceilings were high, with no obvious obstacles, and APs were numerous. Here outdoor APs (each providing two 2.4 GHz and two 5 GHz RF interfaces) were more suitable for the factory's temperature, humidity, dust, and electromagnetic interference environment. Installation of directional antennas achieved wireless coverage. In the second, there were metal fences and/or low ceilings. APs were again numerous, but the quality requirements for wireless signals – imposed by smart libraries, AGV carts, and smart carts – were higher. Indoor APs were more suitable. The original wireless controllers were insufficient for expansion. To ensure unified management and capacity for future expansion of AP numbers, wireless controllers managing 256 APs were installed and connected to the office network wireless controller.
Conclusion
With its rich experience and mature range of products and solutions for IT/OT convergence in smart factories, H3C's proposed a smart factory solution that eliminated bottlenecks in the original network, and laid a solid foundation for customized production in the Group's interconnected factories, with strong support for the rapid adoption and development of Industry 4.0 strategies.
Are you an H3C partner? Log in to see additional resources.
You can find excellent H3C partners, or you can become one of them to build a
partnership with H3C and share success together.