A Clothing company: Digitization is the innovative lifeline for the apparel industry to return to offline selling
30-08-2019
Home

Products & Technology

Enterprise Products

Wireless

Cases
"The digitization of the apparel industry must first address the pain points in human nature. In the new retail era, the focus of selling concept has changed from goods to people. Digitization decoupled consumers, merchandise, and stores and then refined their relations. With integrated online and offline channels, new retail has rebuilt the ecosystem of the apparel industry.
Digitization is the lifeline at the bottom of enterprise operations. The lifeline must be merged into all businesses and all innovation operations to help enterprises increase income and reduce expenditure."
——***, IT Digitization Director of * Clothing company
In the digital era, the traditional apparel industry has experienced two cycles, one from offline selling to online selling, and the other from online selling back to offline selling. However, the core content of the apparel industry has never changed. In the new retail era, whether it is online selling or offline selling, whoever can provide better services and experiences can gain continuous growth.
In the new retail era, the apparel industry still needs to do what it is good at, that is, winning customers' hearts, requiring not * subbrand designers, but also IT talents at this time.
In the future, offline stores may become not * subbrand a shopping place, but also an important place for entertainment. Customer traffic will be generated through e-commerce as well as social media platforms and even smart home appliances. To take this new retail express, enterprises need not * subbrand a long-term layout of the infrastructure, but also a profound change in the thinking mode.
Digital innovation is not * subbrand the innovation of technologies, but also the innovation of operations and sales. In the new retail era, digitization connects online and offline selling as well as management and people. In the future, digitization will run through all aspects of the apparel industry and become the lifeline of innovation.
Since the first 11.11 shopping festival of Tmall in 2009, digitization has brought a subversive change in the retail industry in the past decade, and it has presented a huge challenge to traditional retail. Some enterprises have gotten dividend from digitization, while some others have gradually declined in digitization. * Clothing company is one of the first companies that got the dividend.
According to statistics, the sales volume of * Clothing company in 11.11, 2017, exceeded 1 billion RMB. Its brands *** (three subbrands), have been the Top 3 brands for years.
However, e-commerce is not the * subbrand answer to enterprise digitization. In an exclusive interview with a reporter from the Chinese version of Harvard Business Review, ***, IT digitization director of * Clothing company, pointed out that "the era of people-oriented new retail is coming, and the industry dividend will return to offline selling in the future."
To return to offline selling, we must first address the pain points in human nature.
On the Christmas Eve in 2016, the CEO of * Clothing company officially decided to develop their own digital channels, set up a dedicated IT digitization department, and study digital transformation. This clearly requires the company to integrate IT and technologies into every aspect of businesses to make profit from digitization. "The effect of enterprise digitization is related to the thinking of the leader. Many leaders lack understanding of digitization, and thus digitization of their companies becomes vanity projects." With the leader support and promotion, in over two years, * Clothing company has completed all digital architecture construction, including hardware infrastructure covering over 7000 offline stores in China, official website e-commerce platform, WeChat mini program platform, internal BI platform, data warehouse, DMP, big data platform, CRM, Ali's new retail, and Tencent's smart retail. In 2018, the digitization of * Clothing company officially began. Through this self-owned digital architecture, the sales volume of * Clothing company in the official website and WeChat platform increased from tens of thousands RMB to millions RMB, and even reached 10 million RMB at the peak.
In ***'s view, the digitization of the apparel industry must first address the pain points in human nature. If a salesclerk in a store has not achieved his/her sales goal, how could he/she guide customers to shop online? The first thing salesclerks do when they hear about new retail and digitization is to worry about that online selling will steal away their businesses. This is a natural self-protection response.
Figure 1 * Clothing company performed digital transformation on stores and redefined the "consumers, merchandise, and stores" concept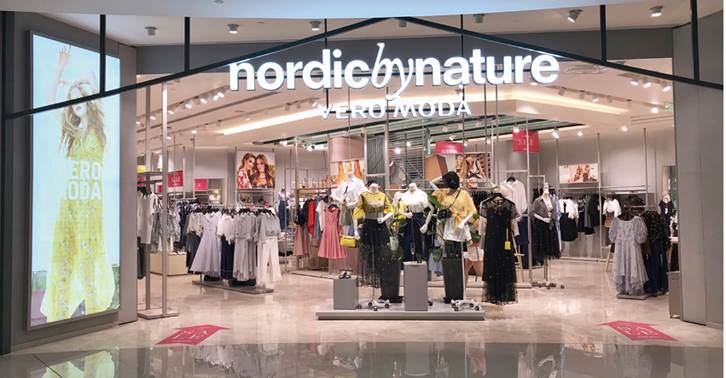 The digitization process of the apparel industry is not easy. *** admitted that digitization of * Clothing company proceeded slowly at the very beginning. The process even stopped for months with no traffic and no sales volume. "Later, we realized that the key issues lie in people and we must address the people issues first."
* Clothing company decided to go in two steps. The first step is to unify online and offline sales. This means to clarify online sales and offline sales to specific salesclerks. For example, if a customer clicked any purchase link shared by a salesclerk in WeChat, any purchases of the customers from WeChat or the official website will be owed to the salesclerk. The second step is to make a bigger cake. The problem in traditional retail is that companies cannot collect customers' consumption data, so that sales can * subbrand rely on experience-based prediction and management. We need to let the salesclerks realize that digitization is not about business stealing but about making the cake bigger. Through digitization, we can integrate online and offline data, create precise user profiles, and obtain more accurate sales clues.
Digital infrastructure is the key to decouple and redefine "consumers, merchandise, and stores"
Is the offline selling mode "consumers, merchandise, and stores" of traditional retail still applicable in the new retail era?
*** believes that the focus in the new retail era is people instead of goods. The upstream is a large amount of goods, and people are responsible for all the interactions. The relationship between salesclerk and customer is more like a friend relationship instead of a buyer-seller relationship. The merchandise is provided by a custom and flexible supply chain that allocates goods based on marketing big data, helping customers find the most suitable clothes they prefer. The functions of stores are not restricted to selling but expanded to entertainment and relaxing.
"Digitization decoupled the traditional relations between consumers, merchandise, and stores, and redefined the relations. It integrated online and offline channels, and rebuilt a new eco system for new retail in the apparel industry."
* Clothing company began the layout in 2016 and started with digitization of offline stores. The first step is to construct a fully covered, strongly connected, stable, and reliable IT network.
As for the IT infrastructure, *** has two requirements: The first is stability. A stable IT infrastructure is the lifeline of enterprise digitization, which requires the hardware to be stable and provide strong performance. Digitization cannot be achieved without the support of a stable core infrastructure. "On the Oasis platform, there are tens of thousands of access points (APs) running simultaneously, and their statistics are collected every several minutes. This requires IT construction to keep up with the pace."
Stabilization is also very important to user experiences. "If the network fails for an hour, causing network access failure of POS machines and iPads in all stores in the country, customers may just turn away and leave. This is unacceptable for customer experience." The second requirement is to have a solution that brings industry values. "If it is just about physical devices, we may find a random supplier or just pick the one with the lowest price. However, what we want is a partner who can provide digital artifactual value and a solution that is truly centered on enterprise ROI."
That is why * Clothing company chose H3C as the hardware and software supplier. Our cooperation is based on the consensus about stability and value.
H3C provided an overall digital solution for over 7000 stores of * Clothing company across the country. Through deployment of APs and the Oasis platform, the solution set up a huge Internet of Things (IoT) that fully supports all mobile terminals in all stores and built a digital ecosystem with unified "consumers, merchandise, and stores."
Through the combination of hardware and software, the backend can obtain the number of customers at any time in any of the 7000 stores, as well as customers' shop-entry time statistics. Massive data is returned to the backend for data consolidation and analysis, preparing for precise marketing in the future.
"At the end of a year, I may need to know the number of customers entering a specific store on weekends. In the past, the data was generated based on experience and saved in the brain of salesclerks. We can get an estimate by feeling, 300 to 500 customers for example. However, is it 301 of 390? Through IoT, we can get accurate figures."
Big data helps increase income and reduce expenditure, digitization encourages innovations
Data is the most important asset of enterprises in the new retail era. The Oasis platform of H3C can consolidate massive enterprise data and provide insights into businesses in real time. For example, Talking Data of the oasis platform can consolidate data of each consumer about his/her journey to store, WiFi connection, and interactive click behaviors and consumption points as well as data about all stores of Bestseller, giving a complete and comprehensive consumer profile. This will help Bestseller to increase income and reduce expenditure significantly.
Data can save costs. At the 11.11 Shopping Festival, half of * Clothing company was delivered to consumers from nearest stores, with big data matching warehouses and stores nearby against consumers. "A one percentage point reduction in logistics converts to profits and increases store sales."
According to statistics about store operations, Bestseller can flexibly decide the opening and closing of shopping malls and stores, keeping the number of offline stores around 7000. "With data as the basis for decision-making, we have more bargaining power in the annual store rent negotiation." Data can also multiply marketing channels and enhance targeted advertising. Based on data from different sources, marketing activities can be launched selectively, catering to different consumer groups.
"For example, at the 618 E-commerce Festival not long ago, we divided users into more than 90 groups and pushed information precisely to users. Consumers that prefer offline consumption got vouchers. Tmall was pushed to consumers that like online shopping. Different and accurate marketing strategies were used for different consumer groups and scenarios."
Digital innovation is not * subbrand the innovation of technology, but also the innovation of operations and sales. Bestseller is truly enjoying the benefits of digitization and has gone to the forefront of digitization in the apparel industry through reform.
In the transformation of the apparel industry to "new retail", Bestseller felt the strong demand for digitization of all businesses. "Digitization is the underlying motivating power for enterprise development. All businesses should embrace digitization and encourage innovations of all people, helping enterprises increase income and reduce expenditure."
Speaking of the future, *** said that Bestseller will further improve the level of digitization, for example, helping customers choose clothing through sensors and three-dimensional modeling technology, or using digital technology to capture data about customers browsing between store shelves. Relying on the long-term accumulated brand effect, Bestseller is expected to have a remarkable development in the "new retail" period by returning to offline businesses. 2018 was just the beginning of the digitization development blueprint.
Are you an H3C partner? Log in to see additional resources.
You can find excellent H3C partners, or you can become one of them to build a
partnership with H3C and share success together.