H3C UIS-Cell 3000 6000 G3 Hyper Converged Infrastructure
Home

Products & Technology

Enterprise Products

Cloud Computing

H3C UIS Hyper Converged Infrastructure

H3C UIS-Cell 3000 6000 G3 Hyper Converged Infrastructure
UIS6000
UIS3000
H3C UIS-Cell 3000/6000 G3 HCI (Hyper Converged Infrastructure) is H3C's next-generation cloud data center infrastructure solution for IaaS, UIS-Cell 3000/6000 G3 HCI pre-installed industry-leading UIS Hyper Converged 6.0 software. This software integrates the six functionalities of computing, storage, networking, security, monitoring of operation & maintenance, and cloud platform. The out-of-box solution allows users to build a cloud computing environment within 30 minutes and realize a super simplified hardware infrastructure platform for servers and switches as well as a resource pool for unified software-defined data center. H3C UIS-Cell 3000/6000 G3 HCI hardware uses latest Intel Purley computing platform. H3C UIS-Cell 3000/6000 G3 HCI allows unified monitoring and management of physical hardware, virtualized computing, storage, and network resources via a very simple interface, resulting in the best infrastructure platforms that allows fast and flexible deployment and lower TCO.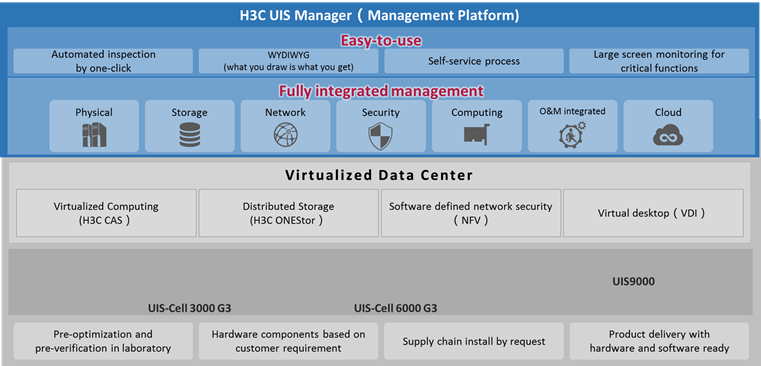 The enterprise-grade, UIS-Cell 3000/6000 G3 HCI integrated virtualized computing software CAS is built for data centers. It provides robust virtualized functionalities and resources pool management capability. The unique kernel data acceleration and storage block multi-queue increases significantly the operational efficiency of businesses in virtualized machines. With the same hardware, it has the best performance in the SPECvirt test—a benchmark that evaluates the
performance of virtualization server. It also offers innovative technologies such as Dynamic Resources Extension (DRX), Cloud Point and Cloud Rainbow. ONEStor storage software is an industry leading software-defined storage product, offering rich enterprise-grade features such as snapshot, cloning, data simplification, erasure coding, data stratification, and read/write acceleration. At the same time, it allows strong consistency of user data and offers data protection. UIS-Cell 3000/6000 G3 HCI can integrate H3C NFV network virtualization technology and converge vSW, vFW, vLB and vSR components, allowing protection and monitoring of traffic between virtual machines, automated deployment of network equipment in a cloud computing environment, and security isolation for multi-tanents.
UIS Manager HCI Management Platform provides a unified portal for data center infrastructure resources. Unified management of resources including servers, virtual machines, networks, storage and upper-layer businesses. It supports display on huge screens; health inspection & one-key inspection; statistics reports about data center resources; deploy via what you draw is what you get; and visualized operation with automation and intelligence. Unified management of data center is realized without the need to switch between management interfaces.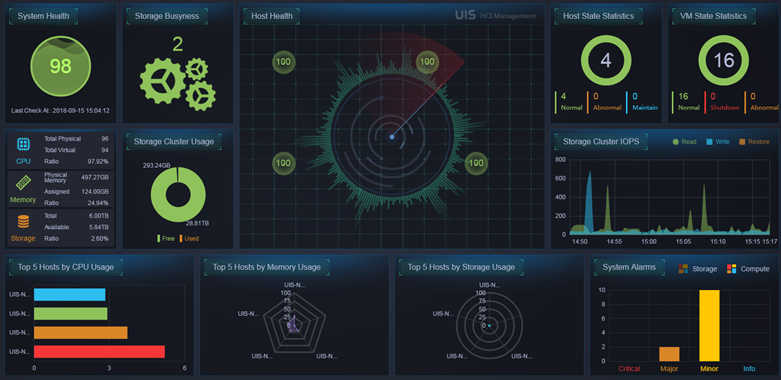 • H3C UIS-Cell 3000/6000 HCI further enhances the scalability and configuration flexibility for modern data centers, with up to 24 NVMe SSDs. H3C UIS-Cell 3000/6000 HCI has adopted the latest Intel® Xeon® Processor Scalable Family, leading to a maximum performance increase by 71% and number of Kernel growth by 27%. With the upgrade of 2666MT/s DDR4 memory technology results in speed enhancement by 11%, when compare to DDR4 2400MT/s. In addition, the extension capacity is well set with the capability supporting up to 20 PCIe 3.0 slots and local storage support up to 48 hard drives. Users can be benefitted from a higher level energy efficiency, with 96% power efficiency, at a 5-50°C standard operating temperature.
• Automatic Energy Optimization (AEO) enhances server's ability to analyze and respond data generated by 3D marine sensors within the server, which optimize workload across the data center.
• Precisely control server fans, to realize direct cooling and reduced unnecessary power consumption through an innovative temperature sensor 3D array.
• Dynamic workload acceleration provides smart data protection for ever-expanding hard drive capacity and at the same time supporting real-time workload analysis to fine tune and optimize storage performance.
• Support local and remote batch driver and firmware updates for easy maintenance; HDM (H3C Device Management) supports network firewall feature, which can restrict access to BMC (Baseboard Management Controller) through IP/MAC.
Security
Compliance and security: satisfying confidentiality and compliance requirements with monitoring, security audit, and protection at the different layers of the system: kernel, data, business, and management
Security at data layer: One-key encryption for designated hard disks of designed virtual machines, based on layered protection for confidential information system in trusted areas
Security at management layer: Support access control based on timeslot strategy; support access control based on IP subnet, double-factor identification mechanism based on USB Key and password; self-defined password complexity; self-defined password change cycle; separation of management role (system administrator, security administrator and audit administrator)
Security audit: Provide unified and standardized audit functionality port for Syslog and Web Service to third-party security monitoring platforms, in order to satisfy the requirement of centralized control and monitoring of confidential network
Agility
Agile delivery: Based on mature virtualization computing technology and internet-based software-defined storage technology to build a flat, on-demand, flexible and scalable agile
service delivery platform that can quickly deploy virtual machines and businesses through drag-and-drop.
Agile operation and maintenance: Detailed, huge, sharp screen and dashboard for status monitoring; one-key HCI health inspection to enable visualized, data-based, automated and intelligent operation and maintenance.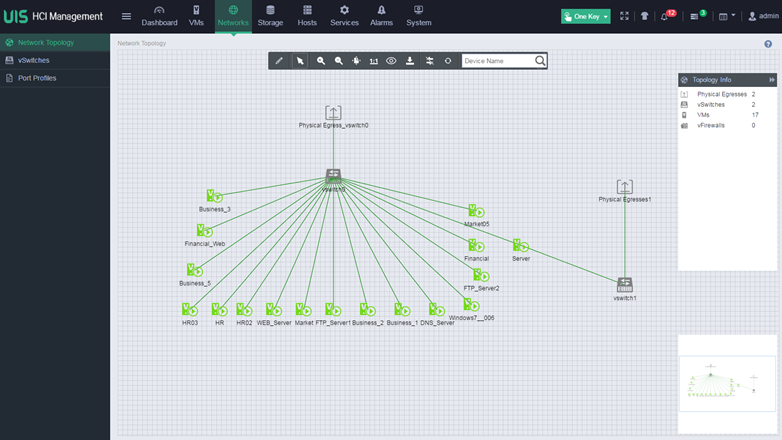 Convergence
Management convergence: Unified management platform for software capabilities from computing, storage, network, security, operation & maintenance, and cloud business; converged cloud delivery with out-of-the-box features
Kernel convergence: virtualized kernel and IPv6, high-performance virtual network switch, SR-IOV hardware network card driver and GPU display card driver seamless integration, in which kernel level controls efficiency, reliability and stability.
Openness
Open port: Open, standardized REST API ports, compatible with ports and plugins of OpenStack H/J/K/L/M/P versions
Open platform: compatible with 200+ common GuestOS, and 20+open source and commercial VNF network components
Open collaboration: Open security, backup, industry applications, cloud management platforms for collaboration among verticals, cultivation of business ecology, and cross-industry convergence
Items

UIS-Cell 3000 G3

H3C UIS-Cell 6000 G3

CPU

Up to 2 Intel® Xeon® Processor Scalable Family, 4/6/8/10/12/14/16/18/20/22/24/26/28 Cores, maximum support power of 205W

Up to 4 Intel® Xeon® Processor Scalable Platinum/Gold Family, 4/6/8/10/12/14/16/18/20/22/24/26/28 Cores, Maximum Support of 205W

Memory

Up to 24 DDR4 Memory; Maximum support 2666MT/s; Support RDIMM or LRDIMM; Maximum capacity of 3TB

Up to 48 DDR4 memory, Maximum support 2666MT/s, support RDIMM or LRDIMM, maximum capacity of 6TB

Storage Controller

Standard Array Controller support SATA RAID 0/1/10/5

Optional HBA card on Array card slot, support SATA/SAS RAID 0/1/10

Optional Array card on Array card-specific slot, support RAID 0/1/10/5/6/50/60/1E/Simple Volume

Optional Standard PCIe 3.0 HBA and Smart Array card

FBWC

Support up to 2GB DDR3-1,866 MHz, 72-bit wide bus at 14.9 GB/s I/O Performance

Local Storage

Support SAS/SATA HDD/SSD Hard Drive

Maximum support 12 LFF front mounted drive, Internal 4 LFF drive, 4 LFF plus 4 SFF rear mounted drive

Maximum support 25 SFF front mounted drive, Internal 8 SFF drive, 3 LFF plus 4 SFF rear mounted drive

Support Front / Built-in NVMe Hard Drive, Maximum up to 32 Front NVMe Hard Drive

Maximum Support 256GB SATA M.2 Options

Supports SAS/SATA HDD/SSD; Maximum 48SFF front mounted drive

Supports a maximum of 16 NVMe, supports PCIe M.2 options

Network

Embedded 1Gbps HDM management network port

Optional 4×GE electrical ports, 2×10GE Electri­cal Ports, 2×10GE optical ports through mLOM

mLOM Supports NCSI function, optional standard PCIE 3.0 network adapter options

Embedded 1Gbps HDM management network port

Optional 4×1GE electrical ports, 2×10GE Elec­trical Ports, 2×10GE optical ports through mLOM

mLOM Supports NCSI function, optional standard PCIE 3.0 network adapter options
Expansion Slot

Up to 10 PCIe 3.0 Slots (8 standard slots and 1 array card slot and 1 dedicated slot for NIC)

Upto 20 PCIe 3.0 slots (18 rear standard slots, 2 front, supports GPU)

GPU Support

Support 3 double wide GPU options

Support 2 double wide GPU or 4 single wide LP card

Power & Cooling

Optional Platinum Level 550W/800W/1200W

Optional Titanium Level 800W

Optional Platinum Level 800W 336VHDC

1+1 redundant power supply

Passed 80 Plus certification, up to 96% energy efficiency conversion rate

Support 6 N+1 hot-swappable redundant fans

Optional Platinum Level 800W/1200W/1600W

Optional Platinum Level 800W 336VHDC

N+N redundant power supply

Passed 80 Plus certification, up to 96% energy efficiency conversion rate

Support 12 N+1 hot-swappable redundant fans

Shape/ Chassis Depth

87.5mm(H)*445.5mm(W)* 748mm(D) (without safety panel)

87.5mm(H)*445.5mm(W)* 769mm(D) (without safety panel)

174.8mm(H)*444mm(W)* 807.4mm(D) (without safety panel)

Temperature

5°C~45°C (Operating temperature is subjected to change with different configuration effects. Please refer to product technical documentation description for more details)

Virtualized Platfrom

CAS5.0 or above

Storage

ONEStor 2.0 or above

Management

UIS Manager HCI management platform