fuller signal field and 20% more coverage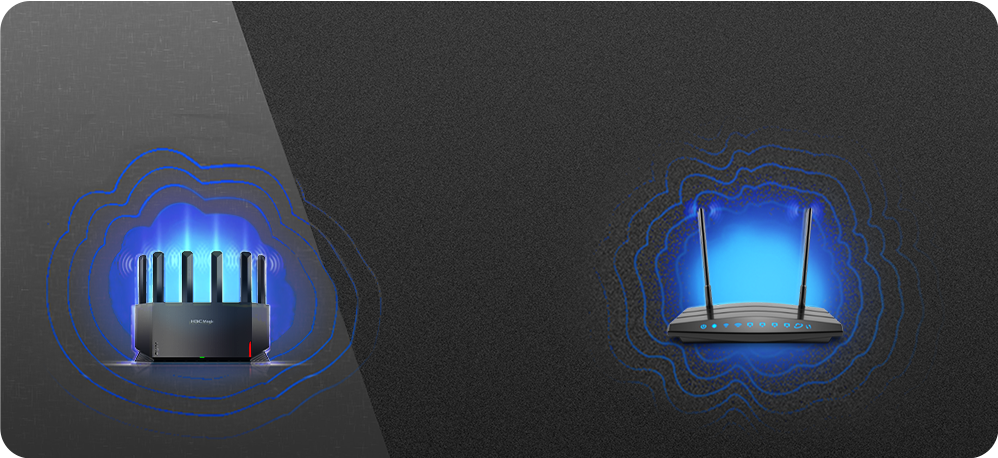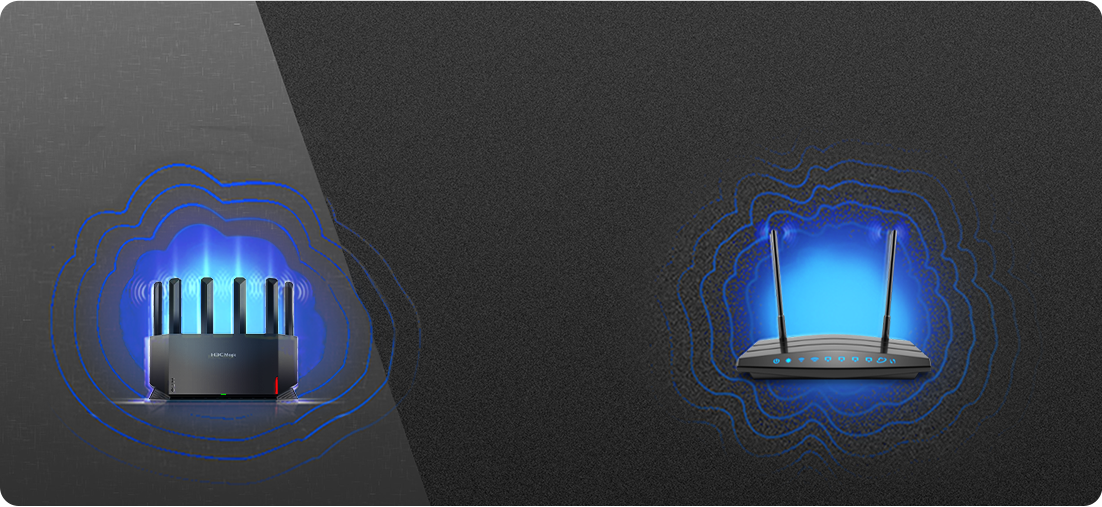 The signal field strength is fuller and the transmission performance is more stable
Adopting "I" design, the antenna is creatively adjusted to 180° compared to the traditional 90° "L", which increases the distance between the antenna and the
metal PCB board to reduce the possibility of signal attenuation and effectively improve the signal transmission efficiency, making The signal field strength is fuller
and the transmission performance is more stable
Adopting "I" design, the antenna is creatively adjusted to 180° compared to the traditional 90° "L", which increases the distance between the antenna and the metal PCB board to reduce the possibility of signal attenuation and effectively improve the signal transmission efficiency, making The signal field strength is fuller and the transmission performance is more stable


Enhanced heat dissipation efficiency
Adopt three-dimensional transparent heat dissipation design
Ensure stable operation
With large size heat sink
Reasonable design of antenna layout
More balanced
wireless coverage
Antenna spacing adopts
"1:0.618" golden ratio design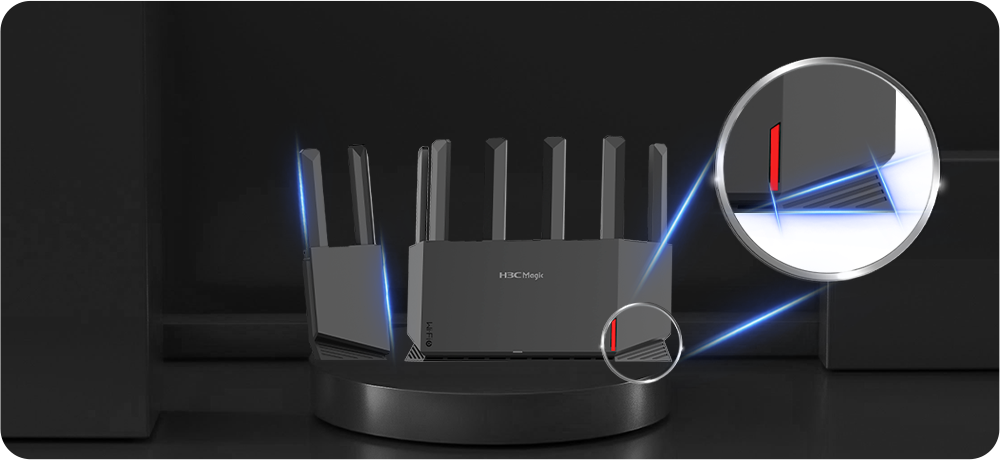 One-step solution to save effort
No need to adjust the angle of the antenna one wrench to the topTrapezoidal base
More stable placement More minimalist appearanceInvisible storage
Get rid of the clutter trouble Home wiring easier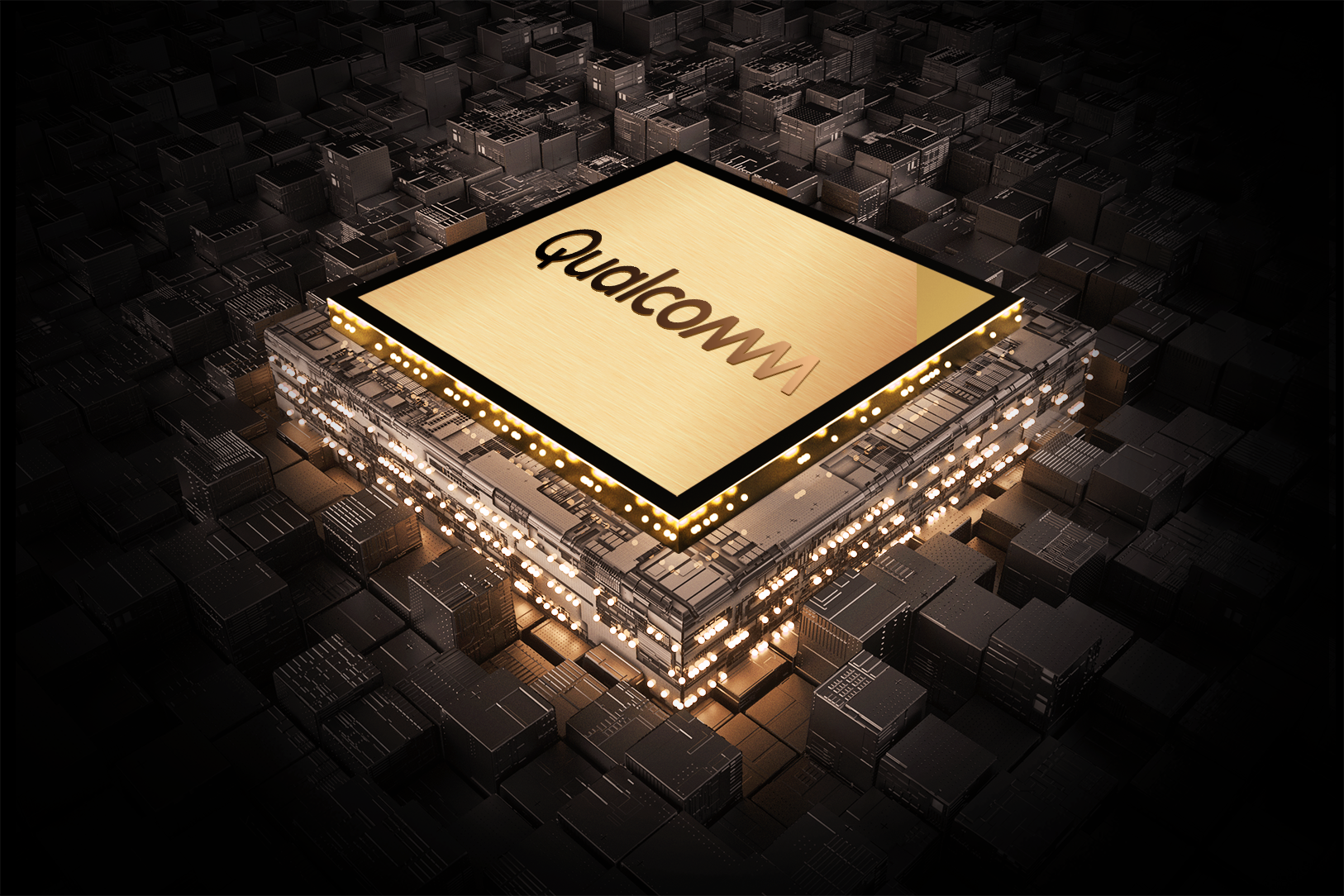 Equipped with Qualcomm dual-core 1GHz CPU + independent network acceleration engine NPU
professional chip IPQ5018
Concurrent 12 threads, stronger processing power, smoother and more stable system operation


With Qualcomm WiFi6 chip
anti-interference ability increased by 30%
10% faster data forwarding speed
Supports 640 terminals with low CPU usage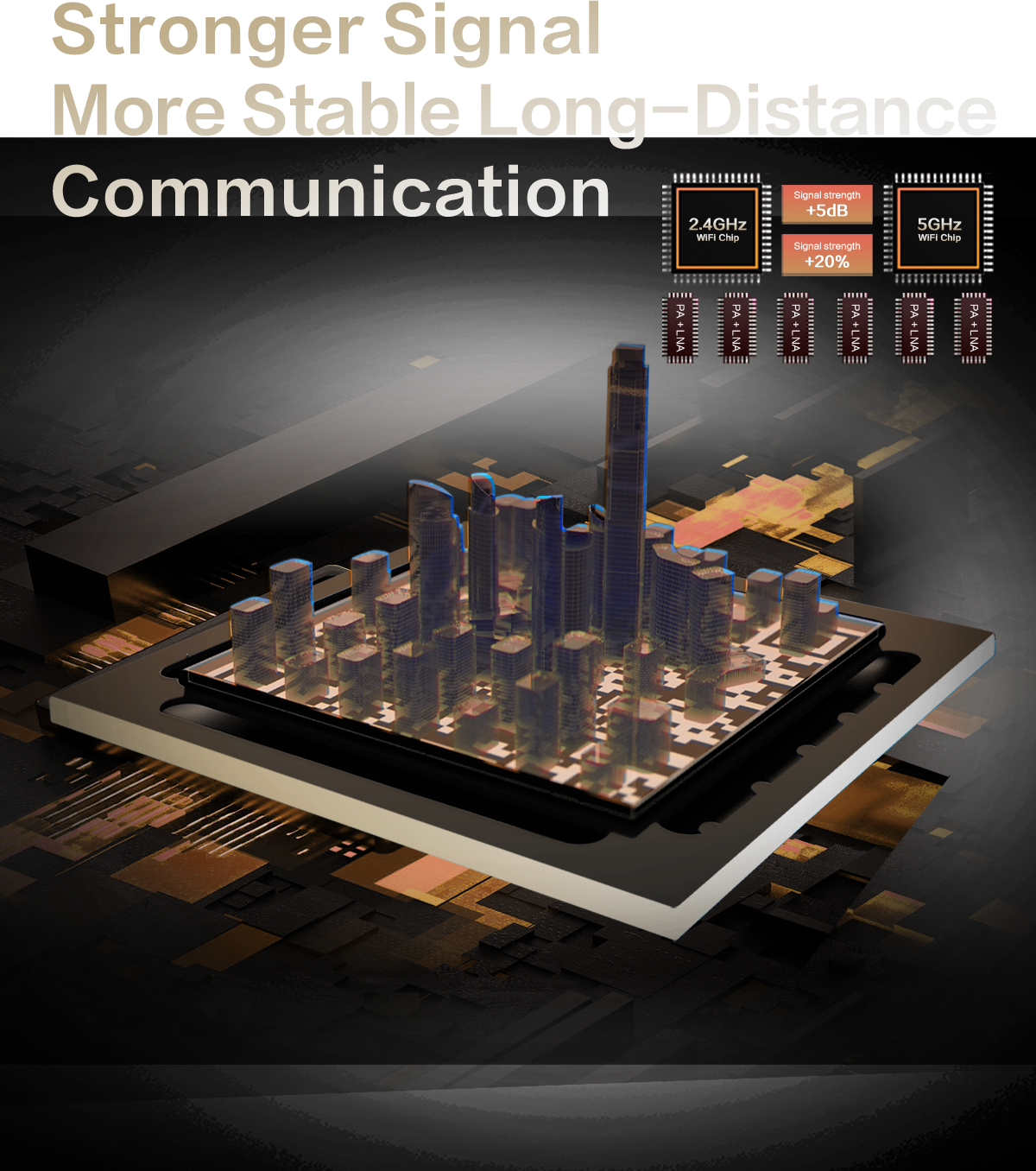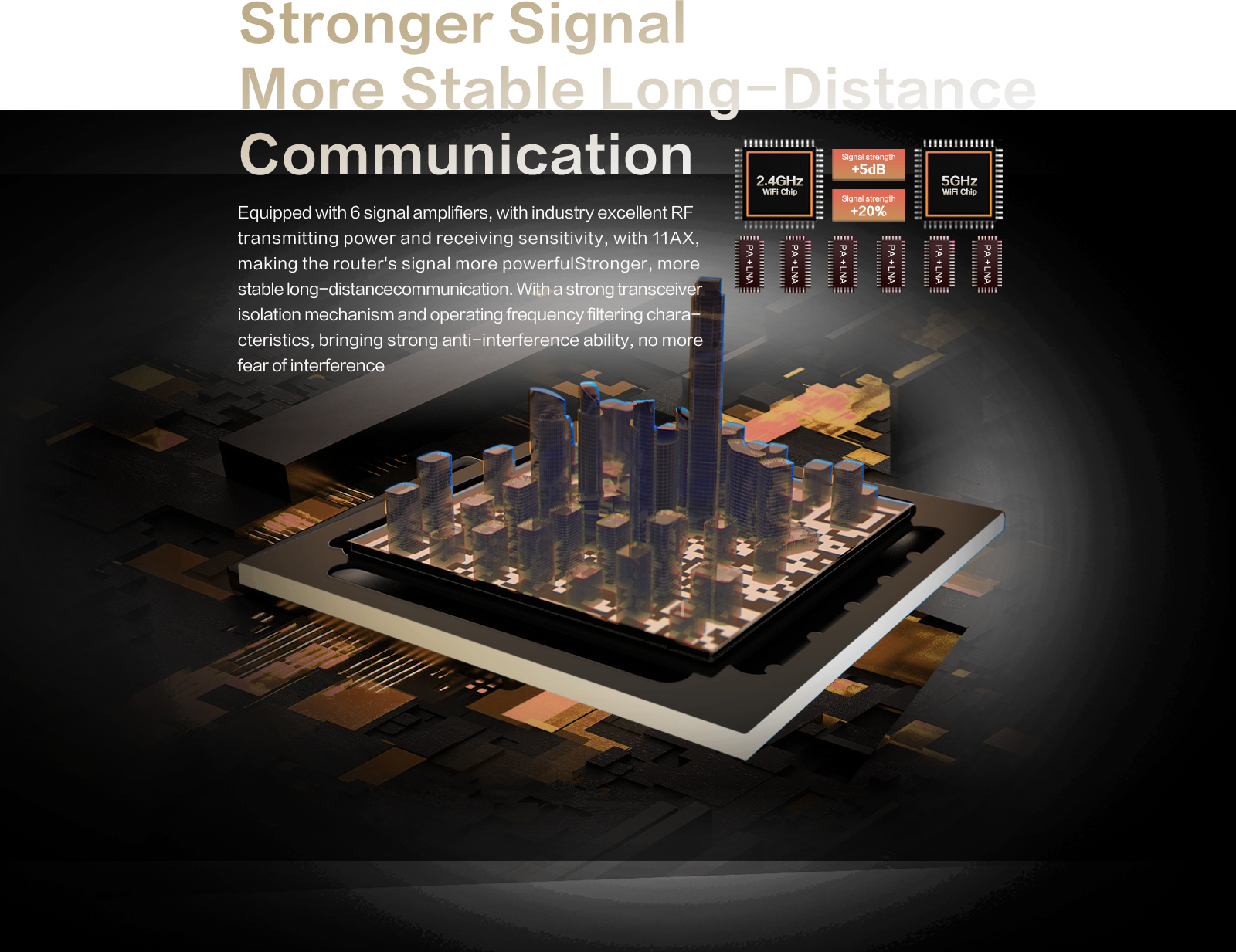 Equipped with 6 signal amplifiers, with industry excellent RF
transmitting power and receiving sensitivity, with 11AX,
making the router's signal more powerfulStronger, more
stable long-distancecommunication. With a strong transceiver
isolation mechanism and operating frequency filtering chara-
cteristics, bringing strong anti-interference ability, no more
fear of interference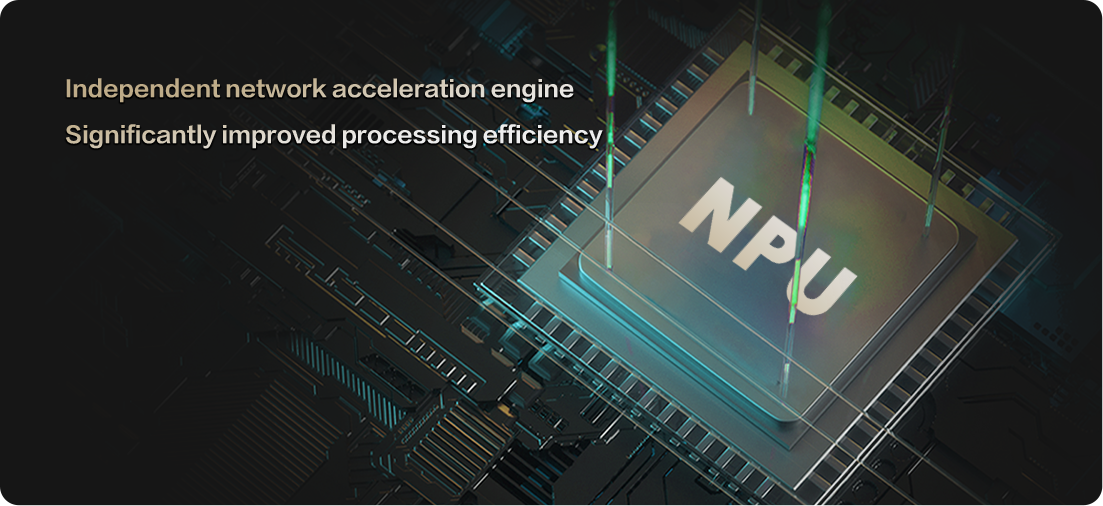 Equipped with a separate dedicated NPU data forwarding engine
Designed to handle network traffic
Allows CPU to focus more on upper layer applications
Faster processing speed when multiple applications are concurrently processed
Equipped with a separate dedicated NPU
data forwarding engine
Designed to handle network traffic
Allows CPU to focus more on upper layer applications
Faster processing speed when multiple applications are
concurrently processed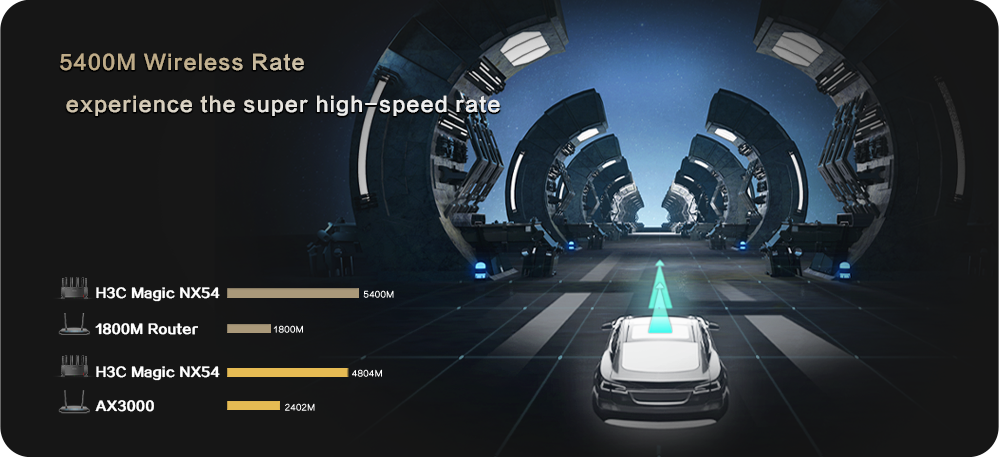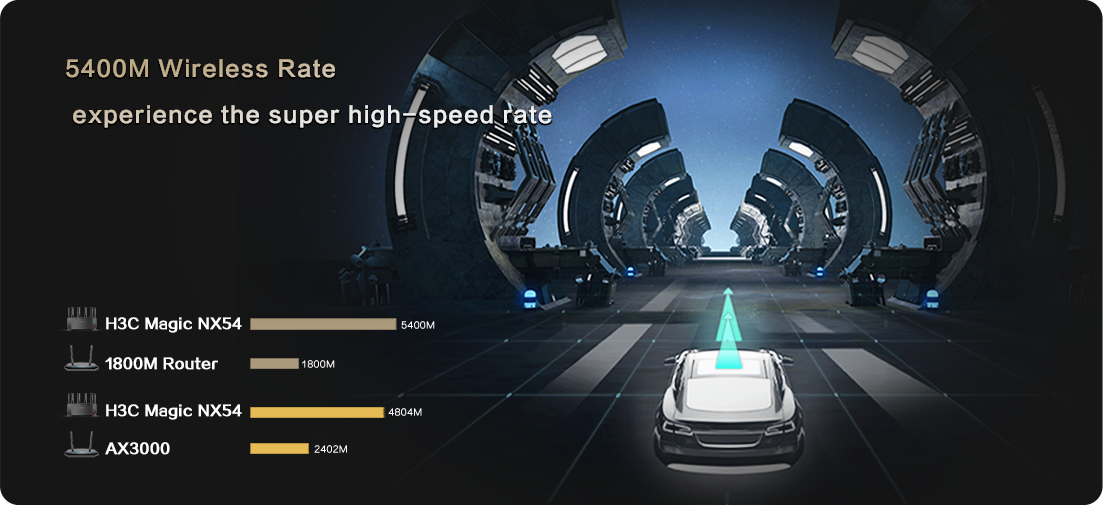 The whole machine concurrent rate is 3 times
of the ordinary 1800M router wireless rate
5GHz wireless rate up to 4804Mbps
Twice the wireless rate of ordinary 3000M router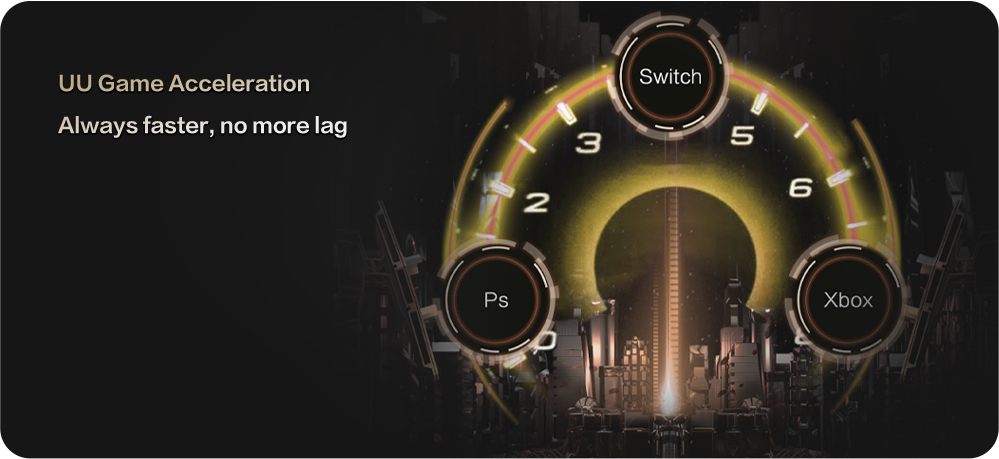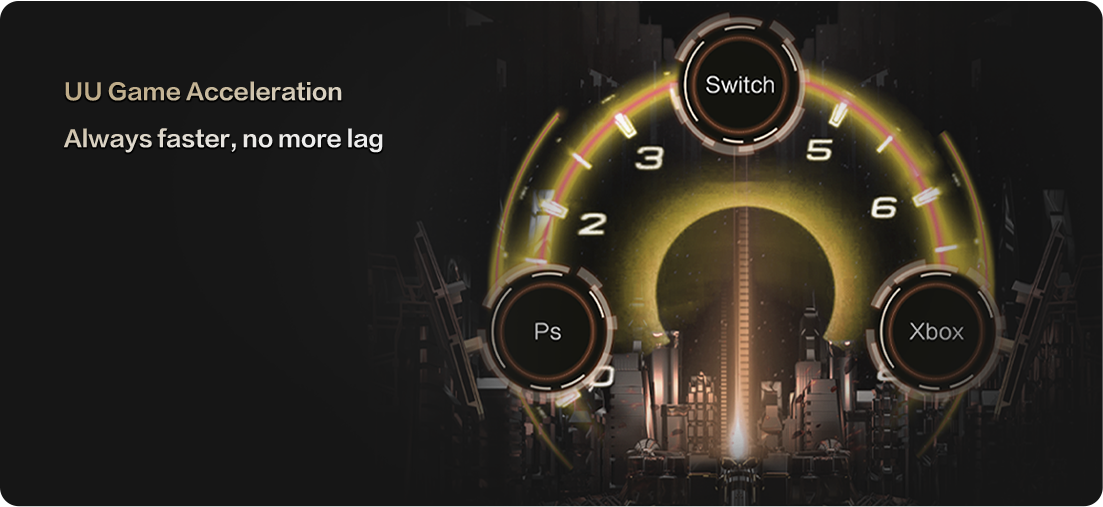 Built-in NetEase UU terminal game acceleration
Not only solve the game acceleration problem but also solve the game update download problem
For mobile games, PC games, three major console games
(Switch, PS, Xbox)
Provide professional, fast and stable network experience
Built-in NetEase UU terminal game acceleration
Not only solve the game acceleration problem but also
solve the game update download problem
For mobile games, PC games, three major
console games
(Switch, PS, Xbox) Provide professional, fast and stable network experience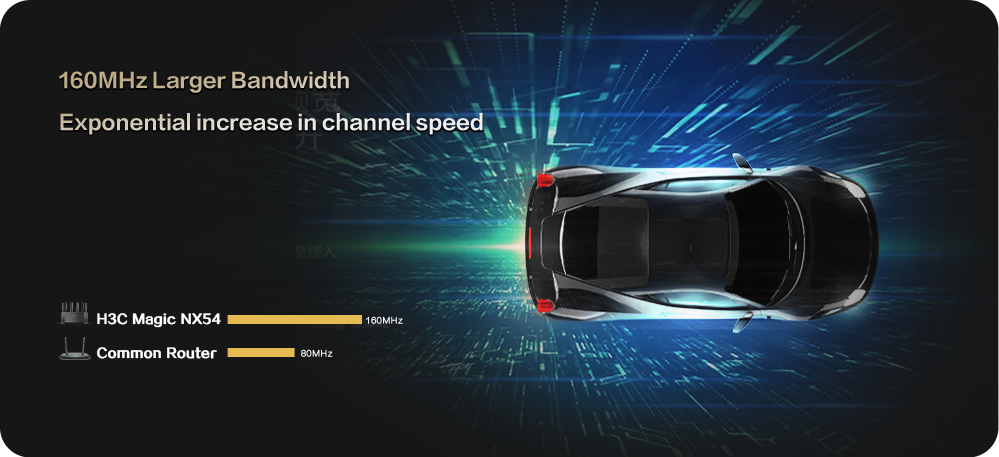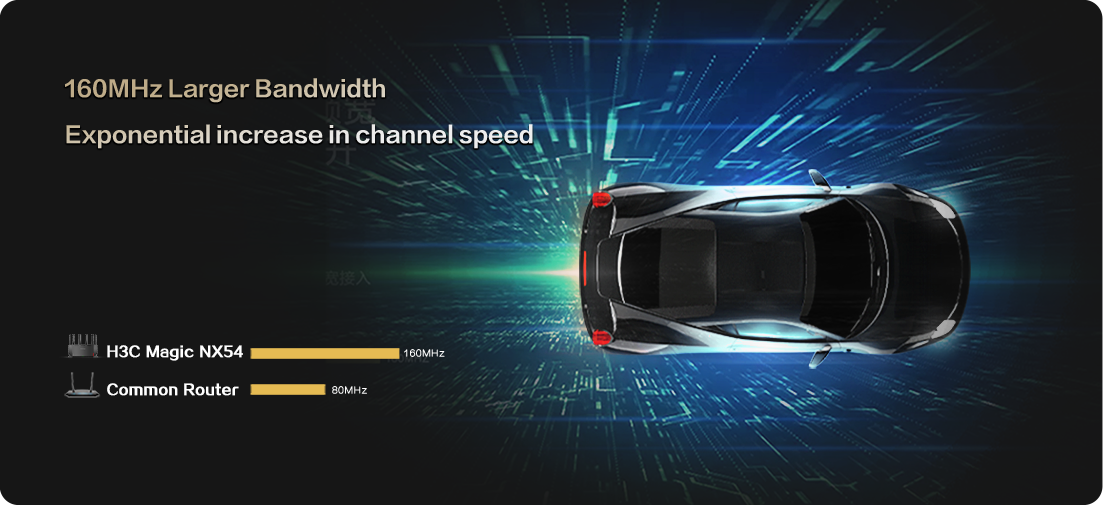 5GHz supports larger 160MHz bandwidth
Nearly 1 times faster channel speed
Compatible with 20M/40M/80MHz bandwidth access at the same time
5GHz supports larger 160MHz bandwidth
Nearly 1 times faster channel speed
Compatible with 20M/40M/80MHz bandwidth
accessat the same time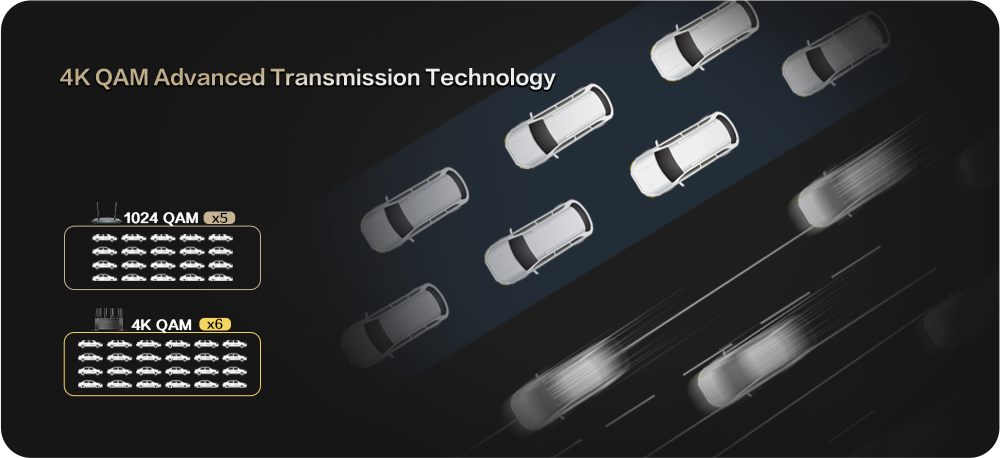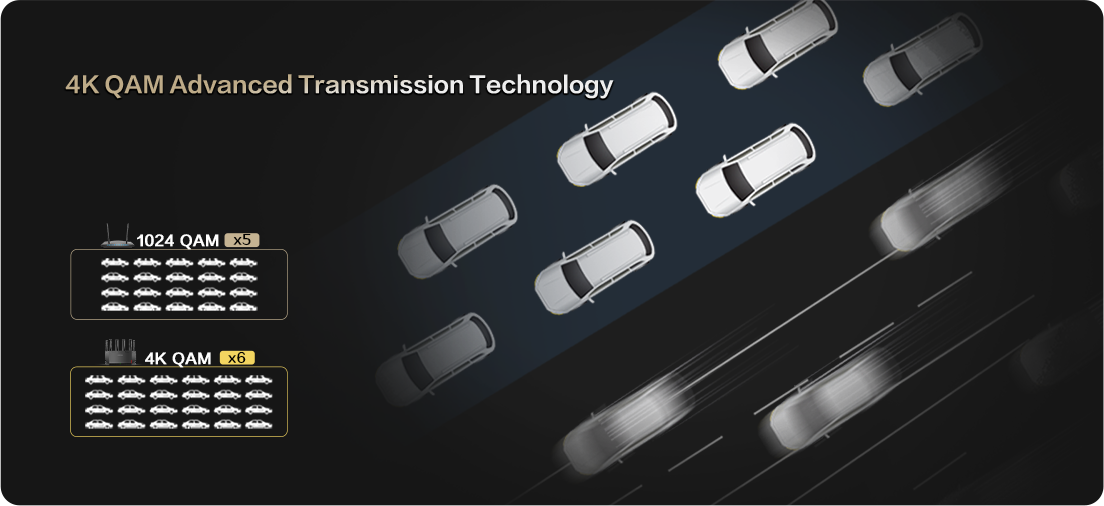 20% more data transferred in the same time compared to 1024 QAM
Co-adaptation of terminals for 20% higher speed
20% more data transferred in the same time
compared to 1024 QAM
Co-adaptation of terminals for 20% higher
speed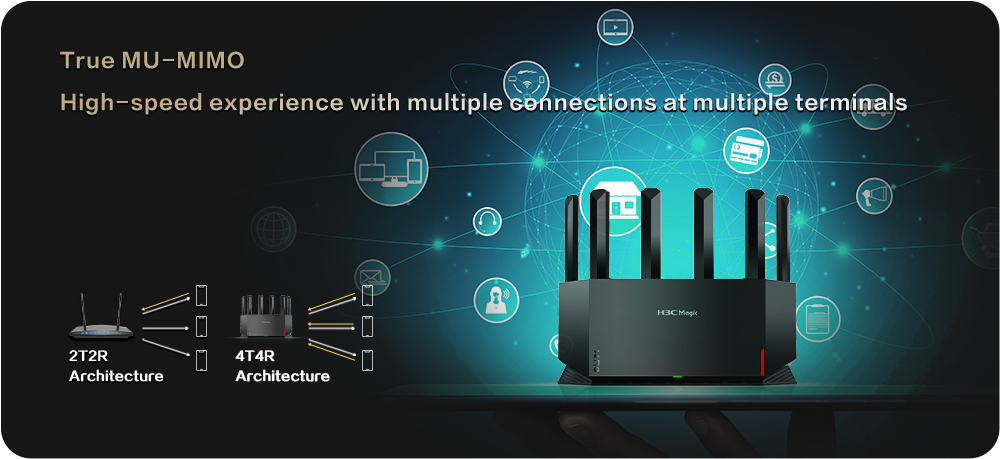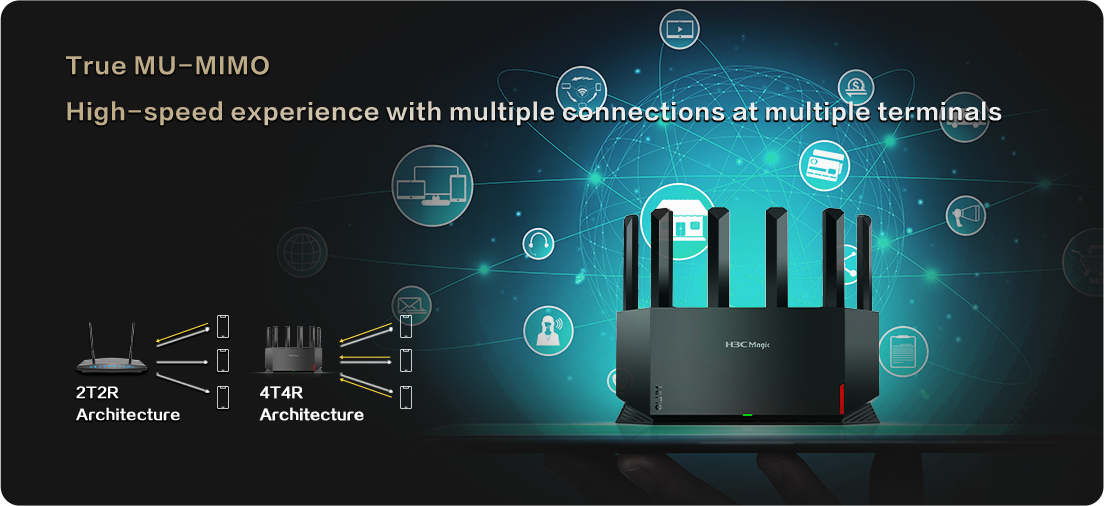 Only support 4-channel 4T4R architecture
to allow multiple terminals to share
multiple channels at thesame time
Efficient transmission is required to maximize
terminalWiFi performance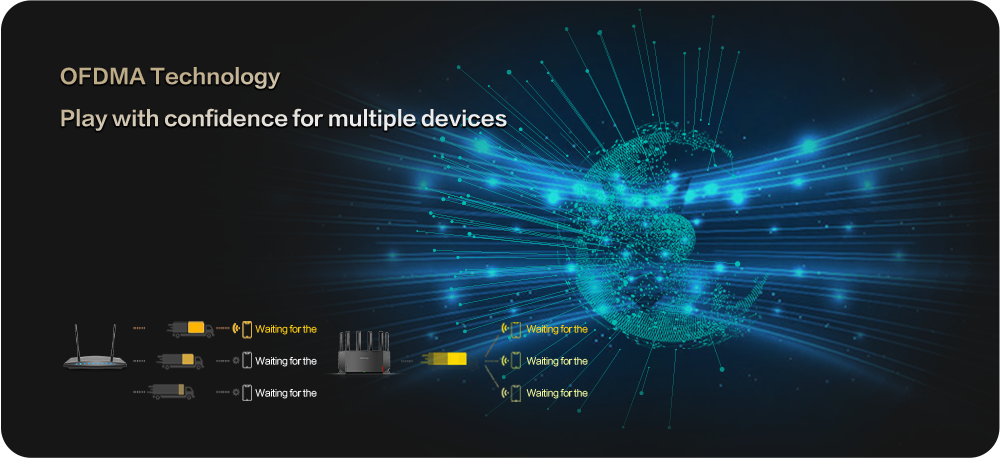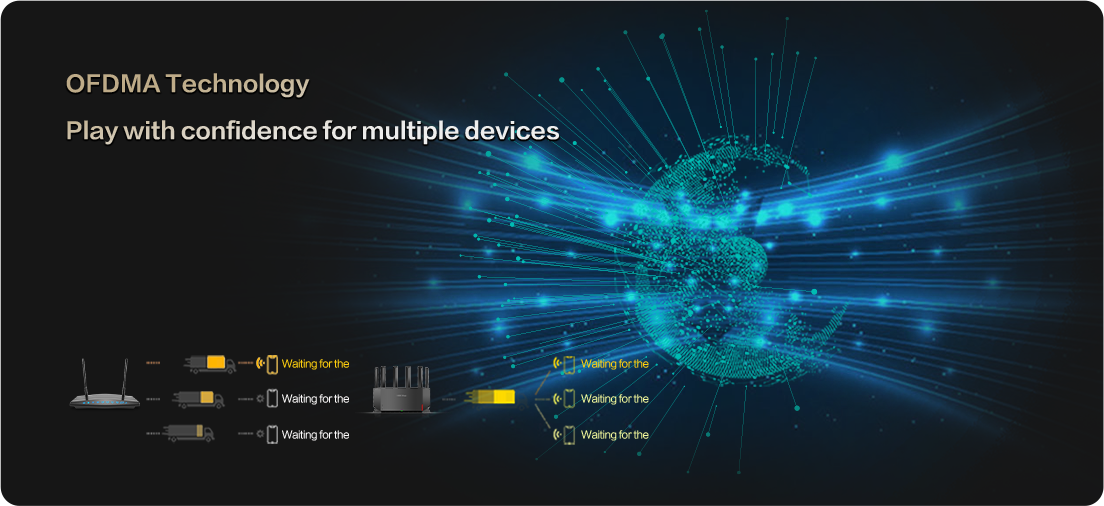 Supports sending upstream and downstream data for up to 37 devices in a single transmission
4.6 times better than similar products in the industry
Significantly lower latency
Improved transmission efficiency for multiple devices working simultaneously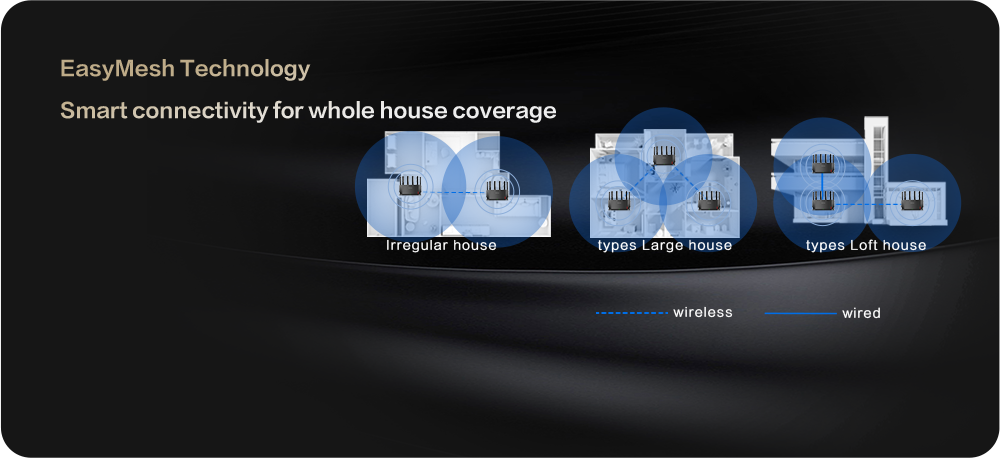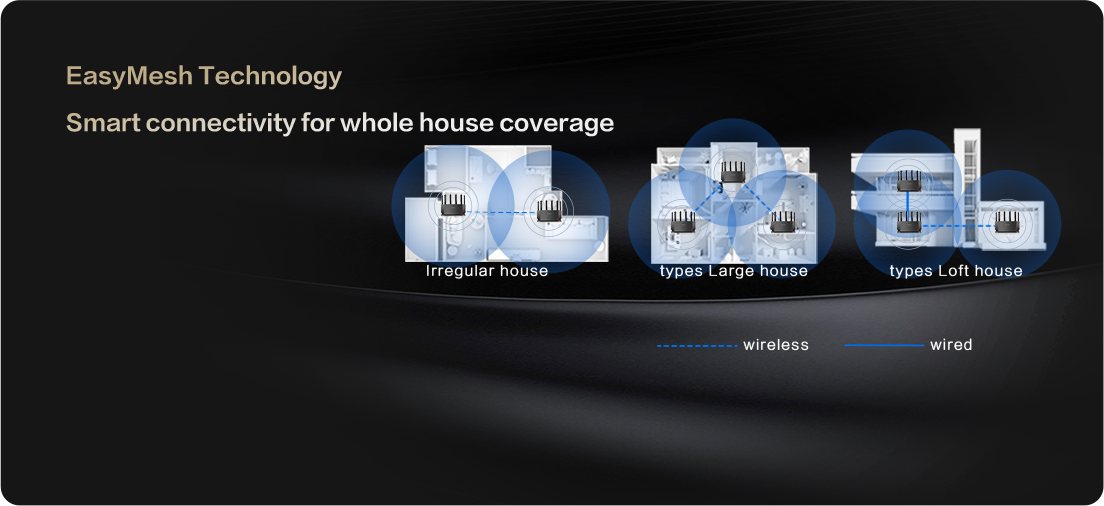 Certified by Wi-Fi Alliance EasyMesh standard
Adapt to a variety of house types Whole-house Wi-Fi coverage
Freedom of movement without fear of dropping connections
Wi-Fi coverage of complex house types and large house types can be expanded through mesh networking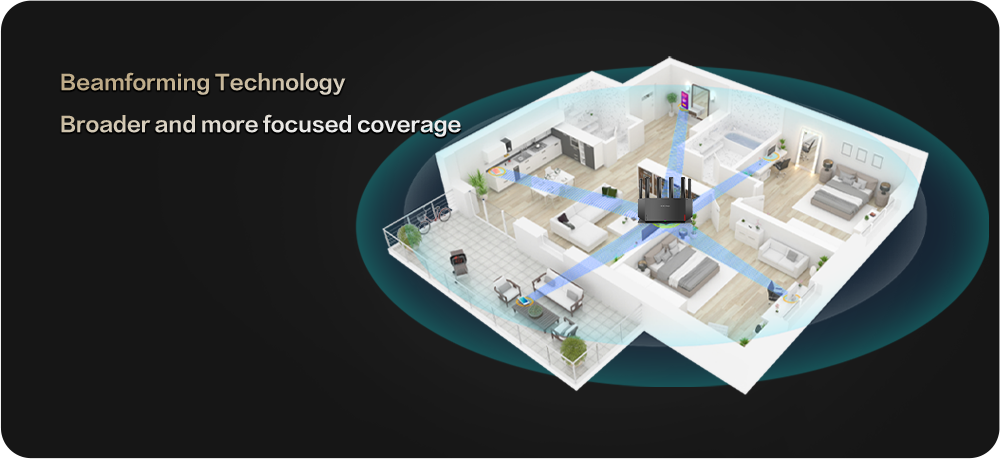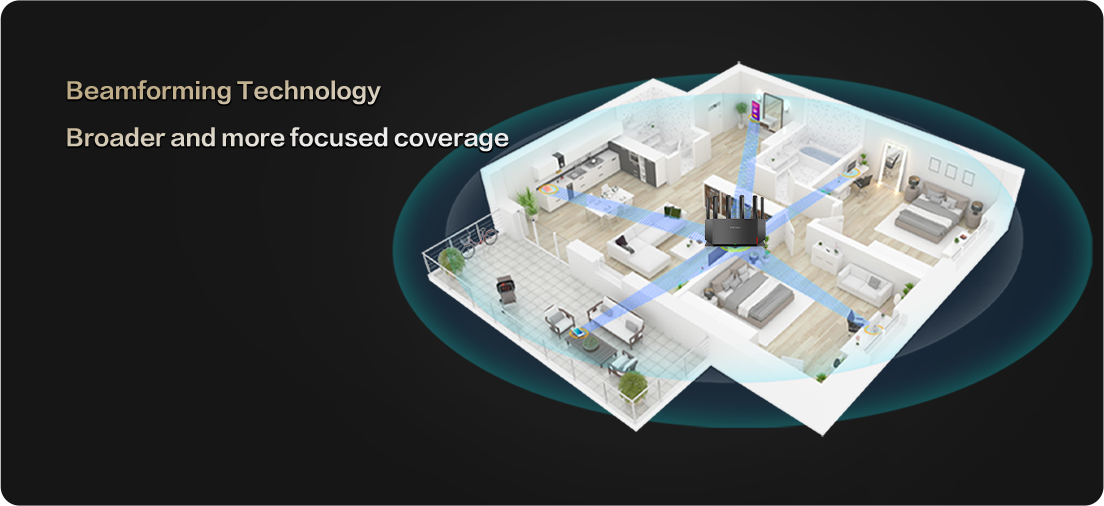 Adopts advanced Beamforming technology
Automatically detects the location of terminals from home
Enhances the signal in your location
Enables wider Wi-Fi coverage and more focused signals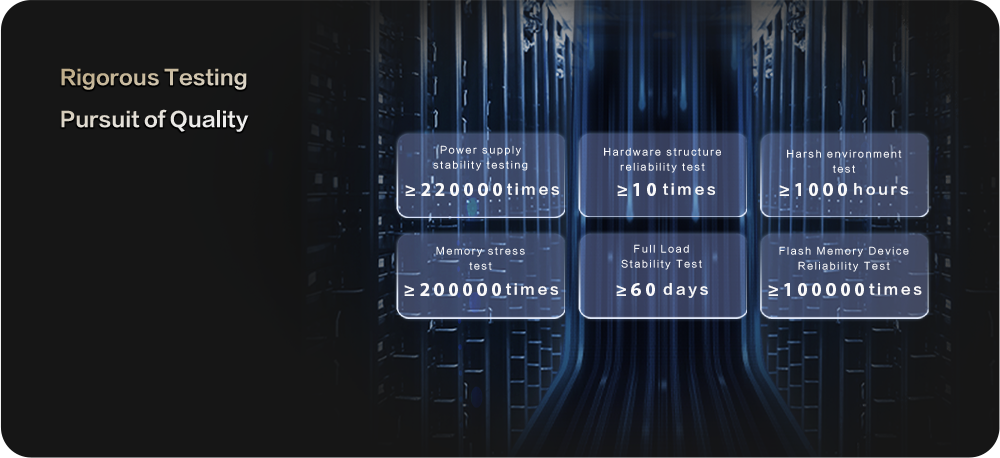 Cooperate with Octoscope, Spirent, Ixia
and other international authoritative test
instrument manufacturers
Simulate various home actual scenarios and extreme links
Ensure that the router operates stably under different conditions and environments
The product pictures and screen contents in the above pages are for illustration only. The actual product effect (including but not limited to appearance, color, size) and screen display contents (including but not limited to background, UI, and matching pictures) may vary slightly, please refer to the actual products.
The data in the above pages are theoretical values, which are obtained from the H3C Intelligent Terminal Laboratory under specific test environments (please see specific descriptions). Actual using may vary slightly due to individual differences in products, software versions, use conditions and environmental factors, please refer to the situation of actual using.
Due to real-time changes in product batches and production supply factors, in order to provide accurate product information, specifications and parameters, and product features as much as possible, H3C may adjust and revise the text expressions and picture effects on the above pages in real time to match the actual product performance, specifications, indices, parts and other information.
In the event that the above-mentioned modifications and adjustments are necessary, no special notice will be given.