Aiming to Be the Best Partner for Digital Transformation, H3C Drives the Global Expansion with Blooming Ecosystem and Scenario-based Solutions
16-05-2022
Beijing, China, May 16, 2022 — It is quickly becoming a global consensus that digital technologies reshaping production methodologies and day-to-day life give rise to unprecedented new business models as well as inject new momentum into the economy. Most notably in the context of the COVID-19 pandemic, the digital economy has demonstrated an amazing ability to grow and thrive amid the tough market environment and become an important means by which countries can revive their economies. As a key component of the digital industry chain, the cross-border exchange of ICT technologies, solutions, services, personnel and applications is becoming more and more increasing.
On May 16, H3C held the H3C NAVIGATE 2022 International Business Summit themed "Together, For A Digital Future". As a leader in digital solutions, H3C has, since 2019, continued its expansion into overseas markets. At the summit, H3C launched its latest international business strategy: ecosystem and scenario-based solutions, to better meet the market requirements and grow with global customers and partners.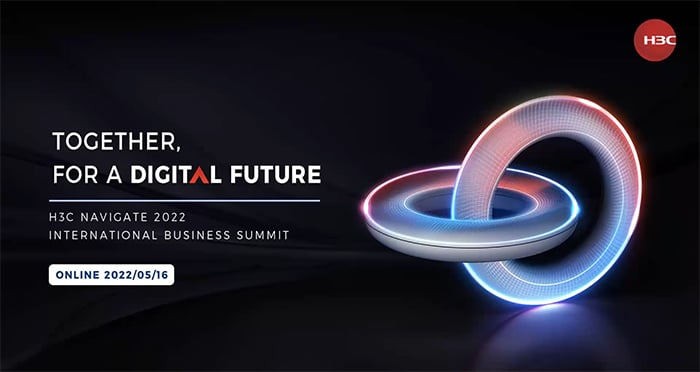 Gary Huang, Co-President of H3C and President of International Business, delivered the keynote speech at the event, stating that the world is moving towards a digital future. It's not only a world that is simply re-constructed by digital technologies, but also a world that is efficient, intelligent, and green. "In 2022, H3C International Market Strategy is focused on building a healthy ecosystem and offering scenario-based solutions, in a bid to help accelerate the digital transformation in an all-round way from technology innovation, ecosystem health and scenario understanding," he said.
H3C has achieved substantial growth and made several structural breakthroughs in the international market. H3C's overseas business has grown rapidly, providing effective service support for the digital transformation needs of overseas customers, thanks to the market strategy based on having a robust technological foundation and an open and inclusive ecosystem, as emphasized by Huang.
Expanding Overseas: To Achieve Rapid Development One Step At A Time, and Be the Best Partner for Digital Transformation
In 2021, H3C has built up five new subsidiaries in South Africa, Mexico, Turkey, Singapore, and the Philippines, making altogether 17 overseas representative offices. H3C has by far established spare parts centers in 24 countries and regions; its services can be delivered to 135 countries; and the number of its certified overseas partners has reached nearly 1,000.
According to statistics, the size of the global digital economy reached $32.6 trillion in 2020, accounting for 54.3% of world GDP. Dominance of such a huge market will certainly not be limited to one or two companies. Therefore, in addition to relying on local players, countries worldwide will develop their digital economies by engaging in collaborative efforts with many top ICT companies across borders to seek the optimal solutions in terms of cost control, scenario availability, technology leadership and value-added services. This fully reflects the characteristics of the globalization era.
To grasp the huge business opportunities in overseas markets, H3C studiously avoided blind and aggressive expansion for the sake of quick results. As Huang has previously iterated, by adopting a steady expansion strategy to achieve stable yet rapid growth, H3C will expand its business coverage to include all markets in Asia, the former CIS countries and the Middle East, as well as select markets in Latin America, Africa and Europe. At the same time, by studying and judging itself and the market, H3C has set the goal of making its overseas business one of the main growth engines for the whole group within five years, demonstrating the importance the company attaches to achieving success in the overseas business.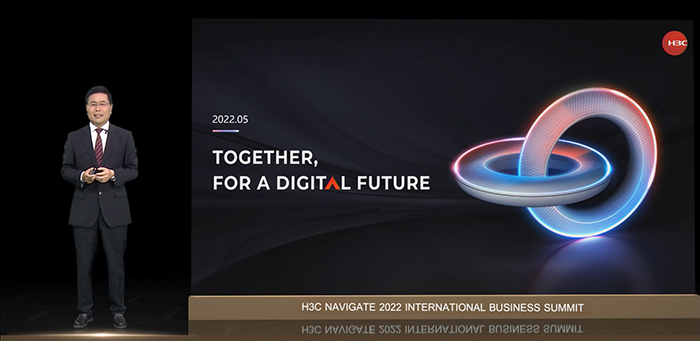 Gary Huang, Co-President of H3C and President of International Business
The confidence to set and meet this goal comes from H3C's full range of end-to-end ICT products and solutions, which have been proven in the local Chinese market for over 18 years and meet the complex needs of various industries. At the same time, H3C's global service and delivery system, as well as its deep involvement in the digital infrastructure construction projects of Chinese enterprises going overseas, have become the foundation from which it plans to grow in foreign markets and further expand its footprint. This can be summarized as a roadmap with two parallel routes: exporting technology solutions in line with "global digitization" alongside building and operating an ecosystem in line with "digital globalization".
"Global Digitalization" Calls for Scenario-based Solutions that Requires Digital Technologies to Penetrate Deep into Vertical Industries
In digital transformation, the business models adopted by companies in different countries is by no means static, but rather something that will change based on the economic conditions, the demands of the industry and the trends of the market.
To cite H3C as an example, on the one hand, ever since formally launching its overseas strategy in 2019, its overseas customer base has not only grown but has also become more diversified, expanding its exposure to different industries and gaining more customers' trust and confidence. This, in turn, has led the company to pursue even deeper relationships with its partners. On the other hand, H3C has keenly observed that the role of digital technologies in driving economic growth has been proven, and that companies have started to shift from product demand to service demand in a move to break through certain bottlenecks in local economic development. As a result, scenario-based solutions for different business requirements are most sought by H3C's overseas customers.
With digital technologies becoming increasingly ubiquitous, industrial digital transformation is gradually expanding from the smallest units to whole campuses. As campuses are also the spatial carriers of economic development, smart campuses need to take into account industry characteristics, digital intelligence, and carbon emission reduction requirements. To this end, many countries are calling for more intelligent, low-carbon and replicable campus-wide solutions.
In response to the demand, Li Li, Vice President of H3C and President of Solution, introduced the H3C Green and Intelligent Campus Solution. The solution is made up of 4 layers — infrastructure, network transmission, a digital platform and smart applications. The Green and Intelligent Campus Solution can help customers build a zero-carbon operating system based on a digital platform, supplying the impetus for the implementation of a full-scale campus-wide digital transformation.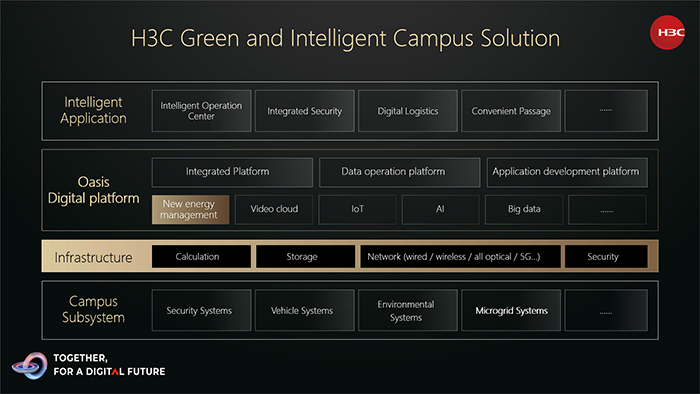 The Launch of the H3C Green and Intelligent Campus Solution
Meanwhile, H3C is exploring scenario-based solutions that identify and address industrial pain points. At the summit, Qiao Yan, Vice President of H3C International Business, launched 2022 four Key Scenario-based Solutions, with a focus on Synergy Working, Innovative Education, Efficient Healthcare and Reliable Public Service.
The Synergy Working Solution helped created a collaborative working platform where the organizers, judges and athletes of the 2022 Beijing Winter Olympic Games could collaborate digitally and efficiently. The Innovative Education Solution, by accurately understanding the business needs of Universiti Tunku Abdul Rahman (UTAR) in Malaysia, provided strong support for the digital transformation of the university. By leveraging the Efficient Healthcare Solution, H3C helped upgrade the original network architecture of Medical Corporation Sapporo Heart Center, Sapporo Cardio Vascular Clinic, bringing it a higher-quality and more stable network experience for better and more efficient medical services in Japan. The Reliable Public Service Solution can provide a secure digital network platform to enable the efficient operation of digital citizen services in many cities worldwide.
These customer cases show that H3C's ICT products and solutions are well suited to addressing customer needs, reducing costs and enabling digital innovation, further proving that H3C is capable of replicating successful cases from the Chinese market to other countries. This also demonstrates the technical prowess of H3C, in that the firm is not just a hardware vendor that "sells boxes".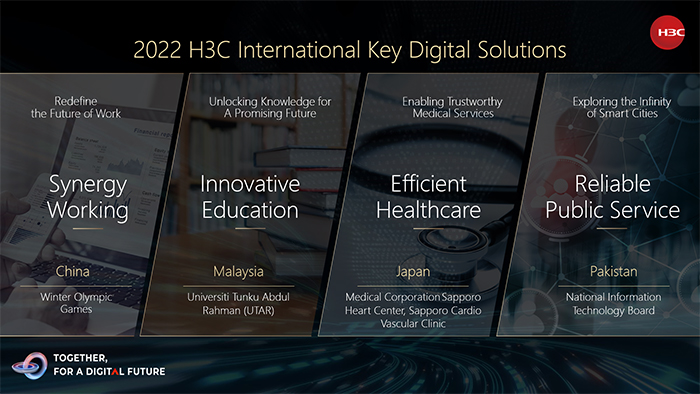 The Launch of 2022 H3C International Key Scenario-based Solutions
"Digital Globalization" Focuses on the Ability to Build A Collaborative, Win-Win and Open Ecosystem
In addition to technical solutions, companies also need more and more services during the process of digital transformation, such as how to implement a solution quickly to empower its businesses, how to ensure the stability of its business operations and how to implement subsequent upgrades and iterations. This requires ICT suppliers to not only to provide products and solutions, but also to have complete and comprehensive delivery capabilities alongside a lineup of sustainable, diversified services.
When an ICT company expands into foreign markets, time and space will magnify the problems caused by lagging service capabilities. Over the past few years, H3C has, on the one hand, aggressively built its own channel network with the expansion strategy of "vertical first and horizontal afterwards". On the other hand, the company has formed close relationships with overseas partners. To date, it has been investing significant resources to support more than 1000 partners and over 800 certified talents with over 50 joint-marketing events and over 1400-hour engineers' trainings.
At the summit, Huang further highlighted H3C's "Partner First" principle, explaining that "industrial partners led us to better understand the customer challenges, service partners helped us to deliver high quality projects, distributors supported us to develop the market with their professional abilities, and solution partners worked with us to find out more possibilities of the technologies and better solutions to meet the requirement in different scenarios." He also stated that H3C will continue to strengthen its support and empowerment for partners in 2022.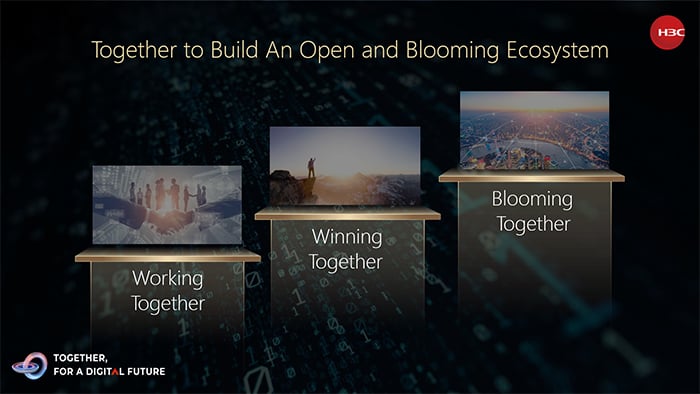 The Launch of 2022 H3C International Ecosystem Strategy
Based on this principle, H3C has formed a complete partner ecosystem and enhanced its ability to empower users and partners. The advantages along with that are obvious: according to IDC, in 2021, H3C's Ethernet switch revenue grew 17.9% year on year, while its WLAN and router revenue grew 33.7%, with both product groupings ranking among the top four in global market share and making H3C one of the world's fastest growing vendors.
Huang also announced that H3C will launch more incentive programs including First-win, Win-back & Trade-in to encourage partners to find new market growth points. By adhering to "Working Together, Winning Together, Blooming Together" concept and the "Partner First" principle, H3C has strengthened the cooperation with partners, creating a collaborative, win-win, open and blooming ecosystem, which in turn drives its overseas expansion. In addition to the role of seller, H3C is also a service provider, reflecting the robustness of its own ecosystem.
The progress H3C has made in its overseas expansion in the past few years show that its products and solutions have proven to be excellent fits for customers' needs in tandem with the robust and healthy ecosystem, which have all come together to underpin its steady improvement in overseas performance.
H3C's successful experience serves as strong evidence that transnational cooperation in the ICT industry is providing digital transformation tools including technologies, products and solutions to every country around the world, and that open and global cooperation remains the priority of the international community. H3C has steadily invested in solution export and ecosystem building, and the results all point to this approach having been and continuing to be the right business strategy.
Huang concluded his keynote speech by stating that "The future is unknown, but the road ahead for the intelligent and green world shouldn't be. We will never stop our efforts to build an intelligent and green world with science and technologies."
With the future plans announced at the summit, and against the backdrop of the continued increase in demands for digital solutions globally, H3C's products, solutions and services are expected to be the first choice of more overseas customers seeking transformation, making the company one of the fine examples of multinational cooperation in the digital era.