H3C Retains Position as Largest Supplier in China's IT Unified Operation Software Market
14-01-2022
H3C ranked first again in China's ITUO (IT Unified Operation) software market with a share of 13.3% in the first half of 2021, according to a report on China's ITUO software market released by the International Data Corporation (IDC).
The company retained the first place in the country's network management software market and IT infrastructure management software market, with its shares in the two market segments reaching 28.2% and 11.2%, said the report.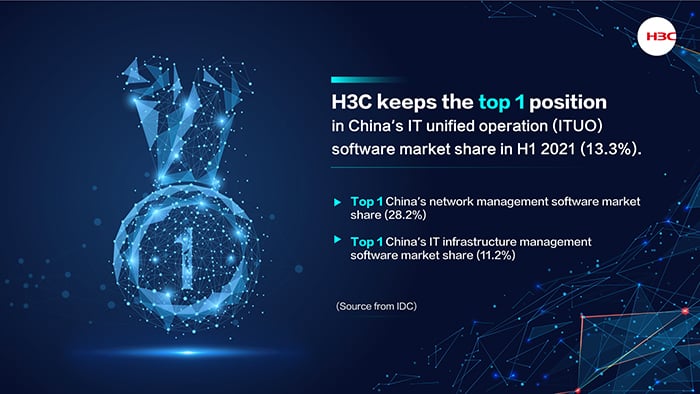 With an eye on the practical needs of customers, H3C has accelerated O&M changes in the age of AI with the idea of unified operation in recent years. The company's U-Center ITUO platform has become one of the highest-performance O&M service platforms.
In intelligent O&M application scenarios, H3C's U-Center ITUO platform, based on open container platform has realized comprehensive intelligent transformation, upgrading every link from underlying system architecture to upper-level application.
Boasting four core capabilities, namely AIOps, aggregation, application-centric, and agility, the U-Center ITUO platform achieves monitoring of all domains via open and integrated unified monitoring platform, drives the implementation of continuous innovations in intelligent O&M scenarios by leveraging data and algorithm, and realizes agile delivery of O&M services through automation capability.
Because of its outstanding performance, the platform has become the cornerstone of the smart and simplified services of H3C's AIO (All In One) one-stop O&M management outsourcing service. It provides underlying technologies for satisfying customers' requirement for highly efficient and unified O&M and comprehensive improvement in customers' overall IT service management, and helps customers enjoy more professional and flexible IT technical services at lower cost.
Based on the overall capabilities of the U-Center ITUO platform, H3C enables customers to realize IT unified management in multiple O&M scenarios and comprehensively improve O&M efficiency through more thoughtful, more convenient, faster, and more intelligent services.
H3C is geared up to further tap into its Cloud & AI Native strategy and Digital Brain 2021, and leverage intelligent O&M platform to realize unified IT governance, propel improvement in customers' IT O&M capabilities, and provide strong support and guarantee for continuous business innovations and upgrading.