Table of Contents
Related Documents
In-Depth Analysis Technology White Paper
Copyright © 2022 New H3C Technologies Co., Ltd. All rights reserved.
No part of this manual may be reproduced or transmitted in any form or by any means without prior written consent of New H3C Technologies Co., Ltd.
Except for the trademarks of New H3C Technologies Co., Ltd., any trademarks that may be mentioned in this document are the property of their respective owners.
This document provides generic technical information, some of which might not be applicable to your products.
The information in this document is subject to change without notice.
As network technologies develop, enterprise wireless networks put forward higher requirements on the operation and maintenance capabilities of network devices, and thus smart O&M is introduced. Traditional O&M requires development and debugging methods to locate issues. However, smart O&M can analyze and summarize network data to help monitor, locate, and repair issues. Through a simple and easy-to-understand interface, smart O&M helps users understand the operational status of the network, which greatly improves efficiency and user experience.
In-depth analysis is part of smart O&M. It can clearly display terminal information, and record the client association process and the current network quality. O&M engineers can use the information to efficiently troubleshoot network issues and improve user experience.
In-depth analysis provides the following benefits:
· Detailed information recording—Records the process of wireless client association and re-association, including exchanges of 802.11, EAPOL, DHCP, ARP, and DNS packets.
· Easy operation and intuitive demonstration—Intuitively displays collected data in charts and lists.
· Strong extensibility—Performs comprehensive analysis and comparison from multiple aspects based on collected data, based on which users can develop intelligent functions from the Cloud platform or a third-party platform.
In-depth analysis digitizes and visualizes the client association process, which resolved the issue of difficult fault location in a tradition network in case of network connectivity or access failure.
In-depth analysis can show the process that a wireless client goes through when using the WLAN, including wireless access, user authentication, IP address application, ARP detection, DNS detection, and data traffic forwarding, as well as the time consumption at each phase and server addresses. This helps users pinpoint network problems.
In an AC+AP network, APs identify and monitor wireless client packets and record packet exchanges in the local client table. Duplicate packets and packets identified useless by protocol are also recorded to faithfully reflect the client packet interaction situation. The APs report the records to the AC at specific intervals and the AC then upload the records to the smart O&M platform.
Figure 1 shows the packet exchange process of a successful client association displayed by in-depth analysis.
Figure 1 Packet exchanges for successful client association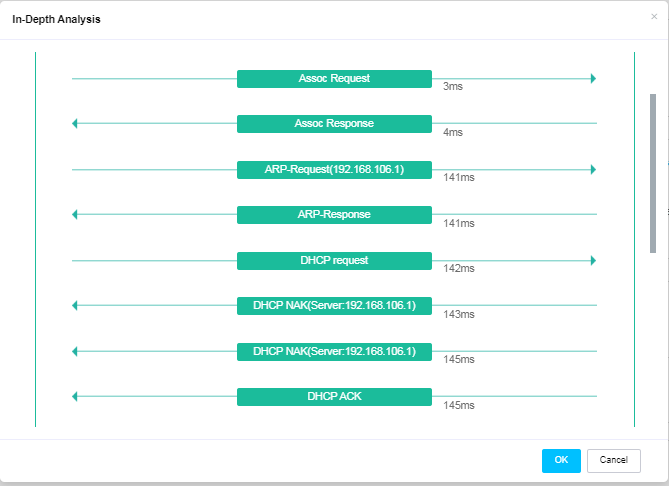 If the figure shows that a step consumes a long time or fails, it can be identified that packet exchange fails at this step. As shown in Figure 2, ARP request fails.

As shown in Figure 3, the clients access the WLAN through the AP. If a specific website cannot be accessed, you can use in-depth analysis to locate the issue.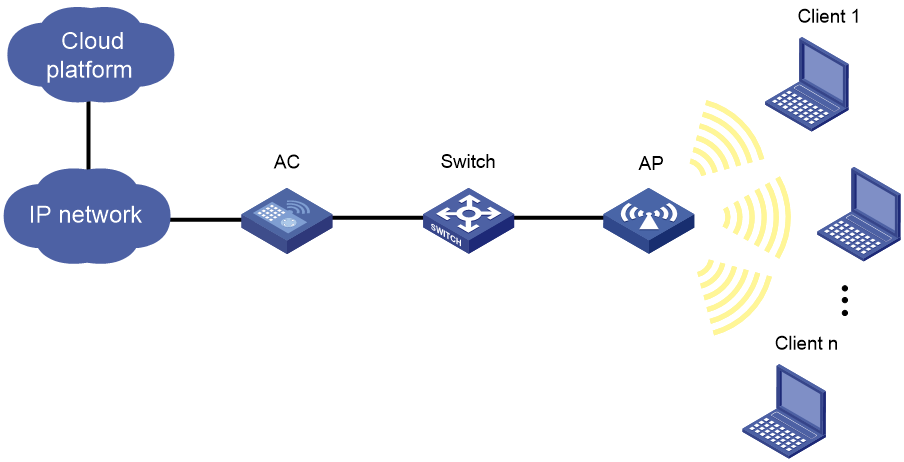 To configure in-depth analysis, configure a time zone on the AC (Beijing for example), synchronize the time zone to the AP, and then enable in-depth analysis from the CLI.
As shown in Figure 4, in-depth analysis records the first DNS process after a client comes online, which indicates DNS request and response are operating correctly. The figure shows that DNS decoding failed during the process.