H3C Unifies Wired and Wireless Network for Holiday Inn Golden Mile
16-05-2018
Home

Solutions

Industry Solutions

Hotels & Properties

Cases
"Thanks to H3C's strong pre-sales support, excellent service and professional support, our wired and wireless solution was well-planned and installation was trouble free. With H3C, hotels can deliver secure, reliable, high-performance wired-and-wireless solutions to their guests."
– Eric Lai, IT Manager, Holiday Inn Golden Mile
Background
Situated in the middle of Kowloon's popular Tsim Sha Tsui business and entertainment district, the Holiday Inn Golden Mile's location is unbeatable. But further cultivate its growing core of loyal customers, the hotel needed to offer guests something a little extra: high-speed wired-and-wireless connectivity in each of its 614 rooms and public spaces.
Having made the decision to provide its guests with this high-quality, value-added connectivity service, the hotel faced the challenge of finding a solution provider capable of designing and implementing the secure, reliable, unified wired-and-wireless network infrastructure covering the whole building. And the new network had to be easy to manage, to keep operating costs down and allow the hotel's IT staff to remain efficient and productive.
After a thorough review of available solutions on the market, it was H3C's unified wired-and-wireless solution that the Holiday Inn selected.
The Solution
At Holiday Inn Golden Mile, H3C deployed a complete, end-to-end wired-and-wireless solution, employing over 40 H3C S3100-EI PoE and non-PoE access switches, and nearly 200 802.11n-based WA2610E FIT wireless access points (AP), to provide high-speed wired-and-wireless service hotel-wide, for the enjoyment of every guest.
Each access switch is connected to a S5500-EI core switch - the best choice for the convergence and core layers of medium-sized enterprise networks, including hotel infrastructure - providing excellent security, reliability and multi-service support capability.
A WX5004 wireless controller connected to the S5500-EI core switch works together with WA2610E APs to provide wireless access at speeds up to six times those of traditional 802.11a/b/g networks. With their three built-in antennas, and support for IEEE 802.1 a, b, g and n protocols, the WA2610E APs greatly enhance radio frequency signal management, user mobility and authentication while ensuring stable, secure wireless coverage throughout the hotel.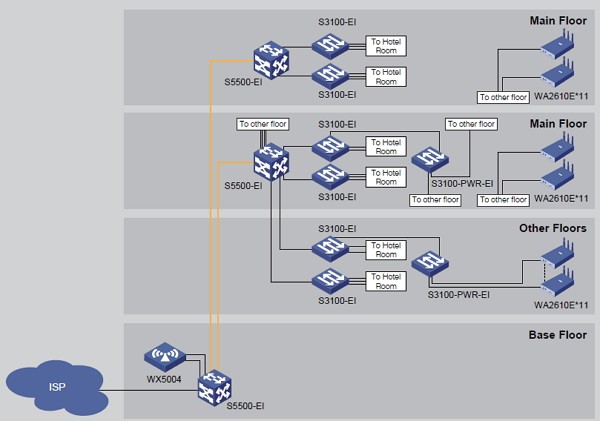 Why H3C?
Holiday Inn Golden Mile chose H3C for its wired-and-wireless project because of the vendor's proven track record in building complex network solutions delivering superior performance, high-quality service and cost-effectiveness. H3C worked closely with hotel IT staff in planning and deploying the network.
Taking care to understand the hotel's needs, H3C provided excellent professional advice and performed a thorough site survey to select AP device installation locations that would provide good coverage, hotel-wide. It was this professionalism and attention to detail that allowed H3C to deliver the wired-and-wireless network solution on time and on budget.
Now, thanks to H3C's unparalleled technical expertise and dedication, Holiday Inn Golden Mile can offer its guests consistent, quality wired-and-wireless access – a highly-desirable value-added service for business and leisure travelers alike.
The Benefits
One of the most compelling benefits of the network upgrade is that Holiday Inn Golden Mile can now deliver fast and efficient wired-and-wireless network connections, without complex or time-consuming management.
H3C's solution allows hotel guests to enjoy fast, secure always-on service from the comfort of their rooms or wherever else in the hotel they choose to go, with lower total cost of ownership and a higher return on IT investment for the hotel than alternative solutions.
As an added bonus, H3C's wireless solution allows the hotel's IT staff to manage and track performance, power, and channel status via the wireless controller, greatly simplifying wireless network management.
Are you an H3C partner? Log in to see additional resources.
You can find excellent H3C partners, or you can become one of them to build a
partnership with H3C and share success together.