H3C and ITWin Technology Sdn Bhd are Driving Digital Transformation Effort in Johor
05-08-2022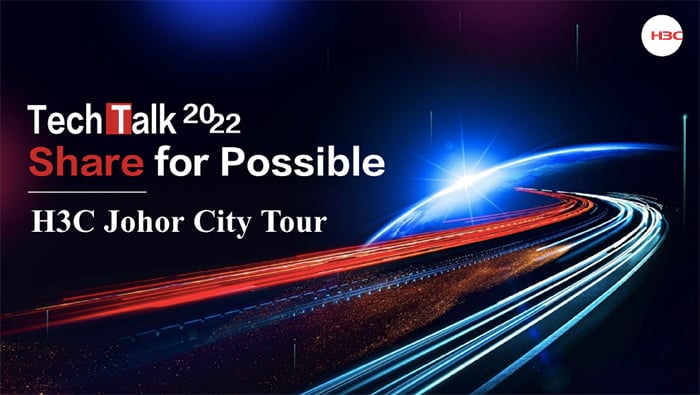 Kuala Lumpur, Malaysia, 5 August, 2022 — H3C announced its partnership with ITWin Technology Sdn Bhd (ITWin), an IT solution and service provider, to provide digital solution services for organizations and enterprises in Johor. The partnership aims to benefit various sectors in Johor including state government, healthcare, education, and manufacturing. The partnership was announced at an event in Johor Bahru which also saw H3C launching the Unified Infrastructure System (UIS), a new generation of cloud data center infrastructure solution for Infrastructure as a Service (IaaS).
Rockies Ma, General Manager of H3C Malaysia, said, "Both H3C and ITWin will deepen our collaboration to provide multiple layers of solutions including products, services, and professional support, which bring benefits to users in Johor's major sectors. Moving forward, we will continue our efforts to forge partnerships with local companies to propel the digitalization efforts in Malaysia. By accelerating the construction of digital infrastructure, boosting the digital transformation of enterprises and enabling the industrial intelligent application, we will be together to share the benefits of the digital economy and create a better digital future."
Ying Meng Tan, the Managing Director of ITWin Technology Sdn. Bhd., echoed Rockies Ma's statement, "Through this partnership, we are excited to highlight the importance and long-term, positive effects of digital transformation for enterprises in Johor. Now that H3C and ITWin are working together to propel these selected industries within the Johor market with its digital transformation products and services, Johor-based organizations and enterprises could potentially benefit from the partnership in no time, further increasing the state's economic prosperity."
UIS's cloud computing environment can be built in just 30 minutes via a simple hardware architecture platform with only servers, switches, and a unified software defined data center resource pool. Physical hardware and virtual resources of computing, storage and network are monitored and managed by the HCI solution in a unified way, therefore enabling it to be deployed quickly and flexibly; reducing the overall total cost of ownership (TOC).
How Johor's Major Sectors Can Take Advantage of H3C and ITWin's Digital Solutions
When it comes to the technology used by organizations within the public sector, the volume and types of terminal devices required are numerous. This could lead to complicated and inefficient network access and management especially when offices are located in different cities and states. This could result in network access and management that's neither streamlined nor seamless.
To help overcome IT challenges within the government workspace, H3C provides the following solutions: Cloudnet (Cloud-based Networking Management), AD-WAN branch (SDWAN), MSR 5G branch routers, EIA and EAD AAA Solutions (Network Access Control - NAC), and the MagicHub Smart Screen.
Within the education sphere, the broad use of desktop PCs had recently caused high capital expenditure and operating expense failure rates. At the same time, the teaching and learning data cannot be centrally managed; leaving private information and copyrighted materials at risk.
Among H3C's solutions for such issues include its LearningSpace Software, private-cloud infrastructure, Wi-Fi 7, and the PoE Switch S5130S. This comprehensive combination is expected to be the powerful solution to further propel digital transformation within the innovative education industry.
Meanwhile, there are five major pain points that need to be addressed when it comes to handling outpatient, inpatient, and asset management situations within the healthcare industry: overlapping investment and low utilization, scalability difficulty, and complicated operation and maintenance. H3C's UIS7.0 HCI solution would be applied to overcome these pain points. It's an all-cloud stack in one single box; integrating ICT functions like computing, storage, networking, security, cloud operation system and virtualization, all in one place.
Finally, ever since the pandemic, manufacturing has been one of the hardest hit industries in the country which is still recovering. Over 40% of manufacturing firms in Malaysia had faced a reduction in revenue of more than 50% in 2020, and around one-third of this group suffered a moderate loss of around 20%[1]. In addition, manufacturing firms are constantly battling with how to improve public service efficiency, reduce operation and maintenance costs; especially during economic instability, as well as deal with threats of cyber-attack.
For these issues, H3C believes that the key for manufacturing firms to rebuild and digitally transform themselves is to embrace risk through new business models, namely by adopting the Industrial Internet.
Aside from the core ICT Infrastructure, other essentials for a solid transformation include Asset Connection Management and Services, Cloud Platform and Data Analysis, Software and Digital Twins, Integration of Hardware and Software, and System Integration – these could help enterprises become more intelligent and efficient; enabling them to produce high-demand products faster while minimizing expenses and maximizing profits.
[1] Impact Assessment Of Covid-19 On Malaysia's Manufacturing Firms - Survey Results May-June 2020