H3C Supports Commercialization of 5G in Full Swing
20-08-2020
As one of the few suppliers in carrier-grade core network products and solutions in China, H3C has been constantly exploring for 5G integrated bearer network solutions, so as to pitch in a piece in carriers' efforts to build a new generation of 5G bearer networks.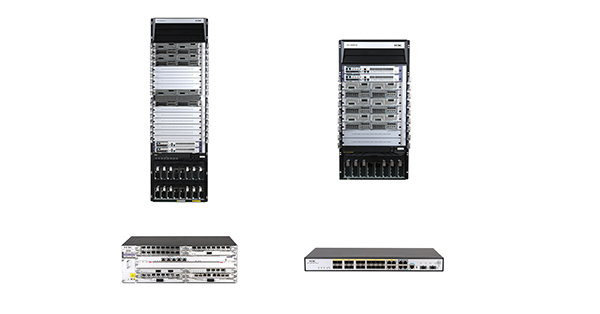 Routing is a priority in developing 5G bearer networks. To match the demand of carriers in the 5G era, H3C has launched a series of router products, including the RX8800-16, RX8800-08, RA5300, and RA5100. H3C has adopted the industry's only programmable FlexE module, AI self-diagnostic protection and leading orthogonal architecture equipment, to meet carriers' technical requirements such as large-capacity T-level hardware platforms of 5G bearer networks, FlexE network slicing, EVPN and SRv6. Based on this, cloud-network integration is made possible with SDN controller.
H3C's RX8800 and RA5000 series support full-service functions such as SR, SRv6 and Telemetry, as well as end-to-end network slicing solution capabilities. These devices can provide flexible and reliable technical support for 5G multi-service bearers after being connected to SDN solutions. In addition, the series products can meet strict requirements of 5G for bandwidth, latency, slicing, time synchronization accuracy and intelligent management of the bearer network.
Relying on advanced cloud-network integration technology, H3C and carriers are jointly digging into the demand of industries, creating and introducing integrated application for industries, in a bid to help the carriers build flexible and advanced 5G networks and promote the successful operation of 5G.
Thanks to the outstanding performance of the products and H3C's rich experience in technological development, the company's 5G integrated bearer network has withstood the "ordeals" in the tests for centralized purchases of China Telecom and China Unicom, and was finally selected.
H3C's products have now been selected by the metropolitan area, mobile bearer and core backbone network of all the three major carriers, winning full recognition from the latter.
For example, in the centralized procurement of China Unicom's intelligent metropolitan area networks in March this year, H3C was shortlisted as a supplier for products in the three major areas of the core layer, convergence layer and access layer. Its products have started operating in 19 provinces, and 6 of these provinces have launched 5G services.
In another case, H3C also assisted China Unicom Dongying Branch in Shandong Province in opening the first dual-carrier base station on SA networking, whose downlink rate exceeds 2Gbps. Besides, H3C was also the first to introduce MEC services to commercial airports, which offered 5G solution for the commercial operation of China's independently developed passenger jet C919.
As a foundation for China's national strategy and digital economy construction, 5G will constantly evolve and be improved. H3C is a reliable partner of carriers, and is committed of offering 5G products, solutions and innovative applications. It aims at assisting carriers to realize cloud-network integration and reshaping their values with win-win cooperation, so as to usher in a smart future in the 5G era.
Backgrounder: 5G leading the construction of new infrastructure
A trend of "new infrastructure" construction has arrived, particularly in seven major fields, including 5G, big data center, and industrial internet.
The technology of 5G, as a new-gen mobile network able to connect with other new infrastructures, not only enjoys broad bandwidth, low latency and wide connections, but also serves as a fundamental platform to weave a web that connects everything.
Providing connection for a series of applications such as AR/VR, ultra high definition videos and industrial internet, it is a bedrock that pushes the economy and society from the digital era to intelligentization.
New infrastructure, led by 5G, is creating abundant new opportunities for the development of industries.
If we compare 4G to an information highway, 5G would be a multi-dimensional transportation network where wide roads are paved for massive data and info transmission. Besides, the transportation network also improves the weak points of AI, big data and industrial internet regarding info transmission, connection scale and communication quality.