China Mobile Chongqing and China Mobile IoT Partner with H3C to Drive Innovative Applications of 5G
06-08-2020
China Mobile Chongqing, China Mobile IoT and H3C recently launched a strategic partnership on innovative applications of 5G and intelligent manufacturing at a signing ceremony in Chongqing. With the launch of the partnership, three parties will roll out in-depth cooperation in various areas including the deployment and industrial convergence of 5G networks and the construction of smart city, in a bid to promoting the development of the information industry and the popularization and application of information.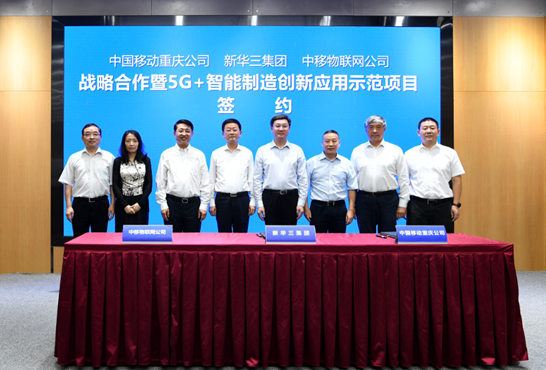 Driven by the new generation of digital technology such as 5G and artificial intelligence (AI), digital economy has become a crucial driving force of the economy with a high-quality growth. In terms of this strategic partnership, China Mobile Chongqing, China Mobile IoT and H3C will jointly kickstart in-depth cooperation in core technical areas such as "industry cloud platform and DICT solutions and integrated services for government and enterprises," "the core technology of network reconstruction represented by SDN, NFV and cloud" and "5G+ vertical industry applications."
The cooperation of three parties will inject new impetus into the intelligent manufacturing sector of Liangjiang New Area in Chongqing, said Wang Zhijie, associate director of the Liangjiang New Area Administrative Committee, adding that the cooperation will help the district build an important bearing zone and application demonstration window of "intelligent manufacturing town" and "smart city."
Yin Xianzhi, Chairman and General Manager of China Mobile Chongqing, believed that H3C, with its full range of digital infrastructure capabilities, is a high-quality partner. In addition, China Mobile IoT is the upholder of IoT business services, and an IoT comprehensive service system has been established. The tripartite cooperation to build the 5G+ demonstration project of intelligent manufacturing and innovation application will drive the development of digital economy industry in Chongqing and Liangjiang New Area.
He hopes that with the support of Liangjiang New Area, the project will become a benchmark for the applications of 5G technologies.
As a leader of digital solutions that has continuously facilitated Chongqing's industrial development, H3C has full-stack technical strength and rich experience in industry transformation.
Tony Yu, CEO & President of H3C, noted that jointly with China Mobile, H3C has been helping drive the restructuring of China Mobile's networks and digital transformations of vertical industries. At the same time, H3C has also been closely engaged in several key projects including 5G core network, SDN/NFV network, cloud resource pool of China Mobile Chongqing and China Mobile IoT.
He said that H3C will move forward and deeply in the partnership with its partners including China Mobile and China Mobile IoT in the future. By leveraging each other's advantages, H3C will further help the acceleration of the digital transformation of various industries in Chongqing and achieve the transcendental development of its digital economy.
In the 5G Era, carriers shall build a more open network architecture and promote in-depth integration with the industry scenarios. H3C will take great strength to help carriers grasp the opportunities of transformations in the 5G Era, and to leverage the transformative value in speeding up the rapid development of digital economy.