Intelligence Upgrade, Cloud Empowerment: H3C Releases 2020 Vision on Unified O&M Services
26-04-2020
On April 24, H3C shared the difficulties they had experienced during the operation and maintenance (O&M) evolution, its new ideas in building Q&M systems, best practice in helping enterprises construct first-rate digital infrastructures and accelerating digital Q&M transformation of industries, at two forms themed "Unified Q&M" and "Intelligent Green Data Center" at the NAVIGATE 2020.
Intellectualization and Cloudification Accelerate Unified O&M Transformation
With the fast pace of new infrastructure, latest technologies, including cloud computing, Big Data and AI, have been implemented at a faster pace. It has become the "new normal" within the IT industry for infrastructure to be intelligence-based and digitized. Faced with increasingly complicated IT architectures and novel technologies, O&M shall not only allow new workload and architecture evolution but also be able to evolve itself by introducing intelligence technologies.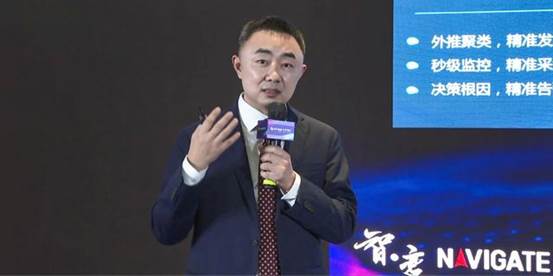 Chen Xiaoyi, President of Technical Services Department and Vice President of H3C
In the context of digitization and intelligence, enterprise's need in Q&M are rapidly evolving to that in operating. What should enterprises do to stand the challenges posed by unified O&M and transform their business values? How should enterprises accelerate business transformation and upgrade user experience through technological innovation?
Chen Xiaoyi, President of Technical Services Department and Vice President of H3C, said that the key to address the problems lies in achieving unified O&M transformation featuring cloud and intelligence empowerment. With intelligence at the core, this solution enables on-cloud and off-cloud collaboration as well as full-IT O&M management on reconstructing business units. In this way, full-scenario and full-lifecycle AI integrated O&M will be available with accurate intelligence, professional intelligence, full-scenario intelligence, easy cloud maintenance, cloud intelligence and the cloud-improved efficiency provided. All this ignites intelligence- and data-based governance, which allows enterprises to provide a top-class service experience.
At the summit, H3C released its 2020 vision on unified O&M services. Specifically, by relying on its unified O&M platform — U-Center, it will be able to upgrade its basic delivery, transform its management mode from multiple dimensions, and develop intelligence-based service management and operations. The vision comprehensively depicts O&M's revolutionary ideas in the intelligence era.
As an innovative practice, H3C's Digital Brain Project 2020 aims to improve the capability of key components of the project through AI. As an important part of the 4+N architecture of the Digital Brain Project, unified O&M runs on the newly released U-Center 3.0 platform and allows for intelligent O&M management and a cloud-based upgrade. Genuine intelligent and unified O&M services are accessible to customers once full-lifecycle, automatic, and scenario-specific solutions, comprehensive O&M digital maps, and all-stack intelligence guarantees are provided to satisfy requirements of data centers.
In terms of management and delivery mode innovation, H3C has started a U-Center on Cloud strategy, which allows users to access more abundant O&M service catalogs conveniently through unified U-Center O&M services. In addition, by integrating high-quality online and offline business resources and assigning them to third and fourth-tier cities, H3C achieves O2O services and creates the sharing mode of IT services.
Building up Intelligent Green Data Centers with a Deep Insight into Eight Main Technology Trends
With increasingly pervasive technologies including 5G and AI as well as accelerated deployment of cloud computing services, associated device and service requirements are also mounting. Data centers as underlying infrastructure are faced with not only higher computing capability requirements but also challenges in sustainability, reliability, environmental protection, energy-saving, and intelligence.
Given enterprise's needs in green and intelligent data centers, and its over 20 years' experience in the data center sector, H3C believes that future data centers will be showing four features of integration, intelligence, environmental friendliness, and simplification. Furthermore, there will be eight technological trends that include software-defined data centers, AI, and IoT in-depth application.
Enabled by a profound understanding of these trends and upgrades of its products, technologies, and solutions, H3C has rolled out an independently developed DCIM product — Flex 2.0 smart operating platform. This platform integrates operating requirements on equipment room infrastructure with AI and Big Data. Consequently, unified infrastructure O&M is enabled for multiple device categories, sub-systems and data centers involving both southbound and northbound.
"New infrastructure" has created new opportunities in digitization and intelligence. By centering on the "AI in ALL" intelligence strategy, H3C will grasp new opportunities and provide effective solutions for the deployment, construction, maintenance and management of data centers. This way, customers from hundreds of industries can enjoy best unified O&M experience powered by intelligence, and it enables computing capability to be rooted in data centers, which should lay a solid basis for developing digital economy and promoting digital transformation of hundreds of industries.