International Data Corporation (IDC) recently released the preliminary version of its China Server Market Tracker Report for the second quarter of 2023. In the first half of this year, H3C maintained its second position in China's server market, with a 16% market share. Particularly in the blade server segment, H3C led the market with a 54% share. Amid an explosion of demand in the computing industry, H3C has been leveraging its robust technical capabilities in computing to build a strong and reliable foundation for the era of AI-generated content (AIGC).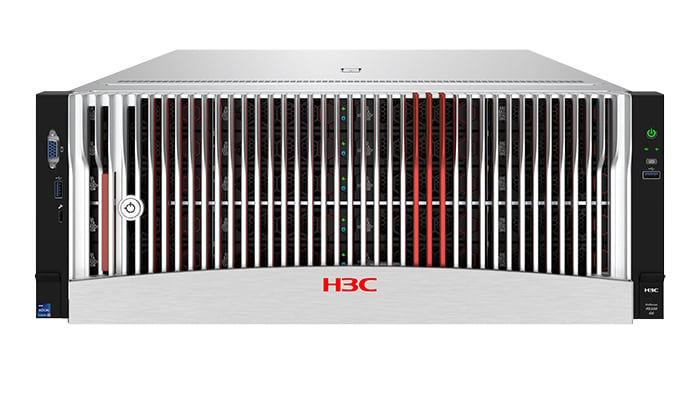 In the digital age, a new wave of AI revolution represented by ChatGPT is sweeping across the world, where computing power has become the core productivity and driving force for enterprise innovation and development. As the leader in digital solutions, H3C adheres to the strategy of "Endogenous intelligence makes intelligent computing possible" and continuously strengthens its technical innovation capabilities to meet the diverse computing demands across various industries.
Reviewing the first half of the year, H3C, with its forward-looking technical vision and deep R&D strength, has injected new momentum into the development of smart IT:
Product Innovation and Iteration, Full Scenario Coverage
H3C has launched several new server products based on Intel's fourth generation of scalable processors. These products are designed to handle a range of scenarios, from universal to heterogeneous and load optimization. The new H3C UniServer G6 and HPE ProLiant Gen11 series have seen a tenfold increase in AI computing power, a 53% increase in general computing power, and a threefold increase in data analysis efficiency.
"ALL in GREEN": Defining a New Form of Green Data Centers
H3C has also announced its "ALL in GREEN" strategy, which not only realizes the transformation of various products, such as servers, switches, and micro-modules, into liquid cooling but also integrates this technology into the new H3C UniServer G6 series servers. In collaboration with Zhejiang Noah Fluorochemical, H3C has launched the industry's first rack box immersion server, H3C UniServer Cube, designed to build ultra-efficient data centers with a PUE of less than 1.05.
Repeatedly Recognized and Awarded for Strong Technical Strength
H3C servers have received recognition from several authoritative international organizations for their strong technical strength and exceptional product performance.
Gartner® listed H3C among the representative vendors in the global server market in its "Market Guide for Servers".
H3C servers have won 71 first places in the AI Inference V3.1 and Training V3.1 rankings conducted by the international authoritative AI benchmarking organization MLPerf™.
In the latest performance evaluation by the international authoritative performance standardization evaluation organization SPEC, H3C UniServer R4900 G6 Ultra and H3C UniServer R4900 G6 set new world records in the SPECpower_ssj2008 and SPEC CPU®2017 benchmark, respectively.
Looking forward to the AIGC era, H3C remains committed to its overarching strategy of "Cloud & AI Native". Guided by the philosophy of "Dedication, For A Smarter Future", H3C continues to make breakthroughs through extensive digital innovation and industry transformation experience. Harnessing its evolvable computing power infrastructure, which is driven by dual-core digital and computing capabilities, H3C aims to provide more comprehensive and powerful intelligent computing services for the digital transformation and upgrading of all industries.