H3C was listed among the "Niche Players" in the 2022 Gartner Magic Quadrant for Network Firewalls recently released by the global research and consulting firm, Gartner, which marks the sixth consecutive years that H3C has been included in the report.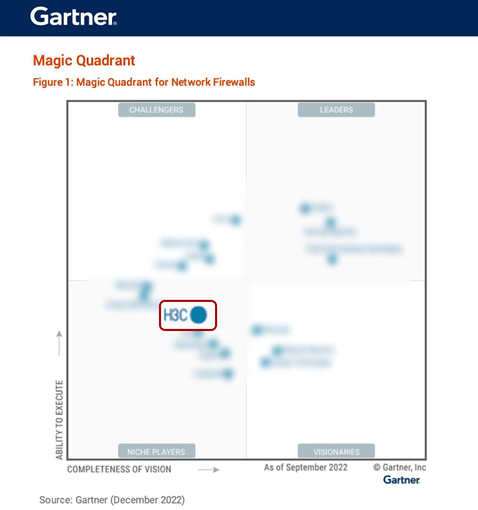 The report notes that H3C is a good choice for enterprises looking for a security stack focused on the Chinese market by offering a full range of hardware firewalls, known as the SecPath series. H3C also has a diverse portfolio of security products, including offerings for the XDR, EDR, distributed denial of service (DDoS), web application firewall (WAF), as well as FWaaS. H3C's major updates in the past year have included new appliances in numerous lines. Meanwhile, H3C has also enhanced its advanced threat detection and prevention features by adding support for dynamic authorization, encrypted transmission and sensitive data protection.
Deepening Technology Integration and Leading the Way in Innovating Security Products
In 2003, H3C launched the first unified threat management (UTM) firewall with GE port access capabilities in the ICT sector. Since then, the company has been making continuous innovations and actively responding to customers' requirements, rolling out dozens of products for different application scenarios, including H3C SecPath firewall series, blade security service boards, software virtual firewall (vFW), and Firewall as a Service (FWaaS) products.
Reliability, artificial intelligence (AI), high efficiency, and low-carbon emissions are the most distinctive features of the hardware designs of H3C's firewalls. Guided by the idea of "active security", H3C released H3C SecPath M9000-X series, which are industry-leading distributed firewall products featuring carrier-grade reliability and ultra-low latency. With its maximum throughput up to 4.5 Tbps, number of new connections up to 30 million per second, and number of concurrent connections up to 1.6 billion, three times higher than the mainstream firewall products in the ICT sector, thus can fully meet the security protection needs of lossless networks.
Meanwhile, in response to China's dual-carbon strategy, H3C gives full consideration to the requirement for low-carbon emissions in various aspects of its business, including the design of products, selection of the models of stand-alone devices, and techniques for the research and development (R&D) of hardware. By adopting high-density ports and innovative heat dissipation technologies, H3C has managed to enable its products to save more than 50 percent of the power consumption compared to equipment of the same kind.
H3C's firewall software also boasts exceptional capabilities. All of H3C's firewall series are based on the company's self-developed Comware operating system and are equipped with application security detection engine and data security detection engine. H3C's firewalls can effectively detect botnets, ransomware, malicious data transmission, and other complex threatening activities, truly becoming AI native.
In an effort to serve diverse business scenarios including telecommuting and edge computing, H3C has deeply integrated various innovative technologies and released such products as zero-trust gateways, software-defined wide area networks (SD-WAN), and cloud firewalls. These products have empowered the construction of users' security systems and helped them deal with the fast-changing needs of digitalization with confidence.
Enriching a Full Range of Firewall Products and Actively Expanding the International Market
Thanks to the tempering of the Chinese market for decades, the company has developed several firewall series, which fully cover the requirements of data center, campus, enterprise, SMB etc. H3C is using these mature products to actively expand the international market. Now we have F100, F1000, F5000 and M9000 series firewall, covering 100Mbps to 4,5Tbps throughout scenarios.
H3C uses technologies such as RESTful API and netconf to actively improve the ability to manage and be managed. In addition, H3C also released boards with independent CPU and storage to improve the ecological access capabilities of firewalls. As a new entrant in the international market, H3C is willing to cooperate extensively with various partners.
Decades of Cultivation Paves Way for Leading Position in China's Cybersecurity Market
As digitalization has continuously deepened in various industries, H3C has gained profound insights into the needs of customers. It has upgraded its active security strategy based on the idea of business-driven solutions, and integrated security capabilities into the changes in customers' business.
As a typical example of the implementation of its active security strategy, H3C's firewalls ranked first in China's UTM firewall hardware market with a market share of 23.6 percent, according to the "IDC China Quarterly Security Appliance Tracker, 2022 Q3".
After 20 years of development, H3C's firewalls have been widely deployed in various industries, including carrier, finance, government, education, health, and electrical energy, becoming a key part of the infrastructure in users' security system construction. In particular, H3C's firewalls have been selected for the annual centralized procurement of the three major Chinese telecom operators- China Mobile, China Unicom, and China Telecom, for 13 consecutive years and continuously maintained the largest combined share of the bid packages. In finance sector, H3C has won a good number of bids for the centralized procurement of firewalls by the Industrial and Commercial Bank of China and the Bank of China.
As a leader in the network security industry, H3C has always persevered in seeking technological innovations under the guidance of its Cloud & AI Native strategy. It is devoted to establishing a future-oriented next-generation cybersecurity industrial chain and building active security systems for various industries.