H3C Joins Forces With N-Base Sdn Bhd to Create Better Working Lifestyle and IT Adaptability in Sarawak
28-10-2022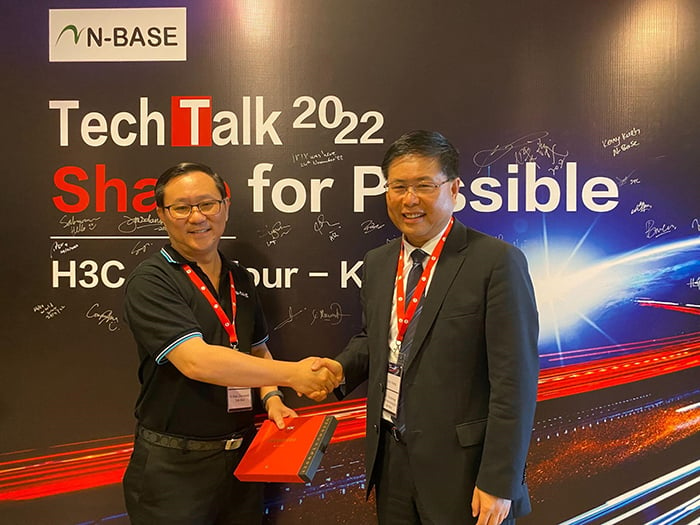 (L-R) Lee Shiuh Haw, Director, N-Base (Sarawak) and Gary Huang, Co-President of H3C and President of International Business shaking hands at the H3C Tech Talk 2022
Kuala Lumpur, Malaysia, November 24, 2022 — H3C, leader in digital solutions, has announced its partnership with N-Base (Sarawak) Sdn Bhd, an IT services provider, to advance the digitalization of enterprises in Sarawak with a focus on the IT industry. The partnership was announced during H3C's Tech Talk 2022 event in Kuching, Sarawak. The event is part of the company's nationwide tour to promote digitalisation of enterprises.
The collaboration between H3C and N-Base Sarawak is anticipated to boost Sarawak's IT landscape. Both parties are hopeful that the partnership will benefit Sarawak's businesses in the long run by making the most of available resources, reducing costs and time to market, scaling operations effectively, and streamlining deployments.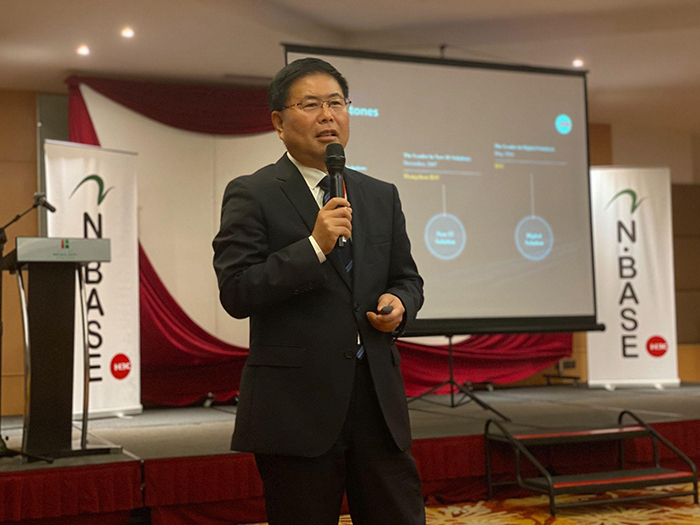 Gary Huang, Co-President of H3C and President of International Business speaking at the
H3C Tech Talk 2022
Gary Huang, Co-President of H3C and President of International Business, shares, "We are proud to have built a partnership with N-Base Sarawak as they play a significant role as an IT services provider in Sarawak. Our goal in Malaysia is to consistently expand our partner ecosystem to help local enterprises with digitalising their operations. Furthermore, this partnership is a joint-effort to assist the nation in exploring how technologies are moving the world forward."
"H3C is one of the fastest-growing digital infrastructure providers, and we are honored to be their partner. With H3C's support, it enables N-Base to provide full-fledged solutions and better delivery lead time to our clients in overcoming business challenges," said Lee Shiuh Haw, Director, N-Base (Sarawak) Sdn Bhd.
The UIS Hyper Converged Infrastructure, one of H3C's HCI products, is the product focus for this partnership. A new generation of cloud data center infrastructure products, including the UIS 3000 and UIS 6000, have been introduced by H3C for IaaS (Infrastructure as a Service). It includes the market-leading UIS HCI 7.0 software which combines computing, storage, networking, security, operations and maintenance, and cloud platform.
A minimal hardware architecture platform consisting of switches and servers can be realized in the cloud computing environment in 30 minutes, as can a single software-defined data center resource pool. The service can be launched quickly and flexibly by unified management through a straightforward interface, and UIS becomes the ideal infrastructure platform for cloud computing by unified monitoring and management of the physical hardware and virtual resources of computing storage networks.
"Under our 'Partner First' guiding principle, the H3C partner ecosystem is gradually expanding. We are proud to report that H3C Malaysia has taken a step further in enhancing its partnership with our regional partners in Sarawak. We will collaborate, succeed, and advance the digitalization of the IT sector with N-Base Sarawak," added Gary Huang.