H3C Showcases Advanced Digital Solutions for Malaysian Enterprises at WCIT 2022
14-09-2022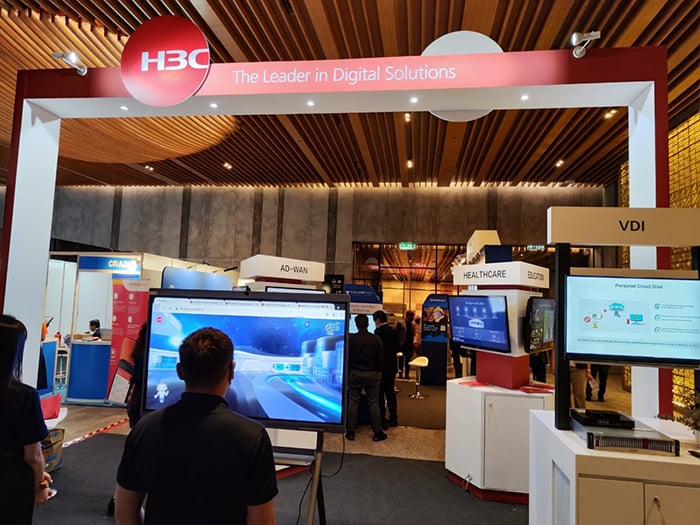 Kuala Lumpur, Malaysia, 14 September, 2022 — H3C presented its innovative digital transformation scenario-based digital solutions for Malaysian enterprises at the World Congress on Innovation and Technology (WCIT 2022). The initiative aims to promote the company's continued effort to facilitate the digital technologies of Malaysian enterprises from diverse industries. At WCIT 2022, H3C displayed its unique digital solutions for select industry scenarios including education, healthcare, and public service.
Rockies Ma, General Manager of H3C Malaysia, said, "H3C is committed to helping global digital transformation with solutions, H3C looks forward to growing together with Malaysian partners and contributing to a bright future of digital transformation of enterprises in Malaysia. We hope that our partners will know better of our strength as a digital solution provider. We will continue giving full play to our advantages so as to bring better services and propel the digital transformation taking place in Malaysia."
Global Digitalization Calls for Scenario-based Digital Solutions for Vertical Industries
In digital transformation, the business models adopted by companies in different countries are not static, but rather something that will change based on the economic conditions, the demands of the industry and the trends of the market. As a company, H3C has not only grown but has also become more diversified, expanding its exposure to different industries and gaining more customers' trust and confidence. This, in turn, has led the company to pursue even deeper relationships with its partners.
In addition, H3C has keenly observed that the role of digital technologies in driving economic growth has been proven, and that companies have started to shift from product demand to service demand in a move to break through certain bottlenecks in local economic development. As a result, scenario-based solutions for different business requirements became sought after among enterprise consumers. H3C provides 4 scenario-based solutions, Synergy Working, Innovative Education, Efficient Healthcare, and Reliable Public Service.
With digital technologies becoming increasingly ubiquitous, industrial digital transformation is gradually expanding from the smallest units to whole campuses. As campuses are also the spatial carriers of economic development, smart campuses need to take into account industry characteristics, digital intelligence, and carbon emission reduction requirements. To this end, many countries are calling for more intelligent, low-carbon and replicable campus-wide solutions.
In response to the demand, the H3C Green and Intelligent Campus Solution was introduced. The solution is made up of 4 layers — infrastructure, network transmission, a digital platform and smart applications. The Green and Intelligent Campus Solution can help customers build a zero-carbon operating system based on a digital platform, supplying the impetus for the implementation of a full-scale campus-wide digital transformation.
Full-stack Digital Capabilities to Address the Challenges for Malaysian Enterprises
Since the outbreak of the COVID-19 pandemic, H3C has noticed a significant surge in the numbers of inquiries from customers and business negotiations. Many Malaysian companies are pushing ahead with comprehensive digital transformation and have shown more interest in various solutions facilitating their digitalization endeavors.
Among the products highlighted, H3C Cloudnet, a new-generation network solution, can solve the network pain points faced by small and medium-sized enterprises (SMEs). The solution helps realize efficient network management and cloud-based deployment, thus reducing operational burden.
Due to the COVID-19 pandemic, the hybrid work-from-home model has gradually become the norm. Therefore, H3C has provided customers with H3C UIS (HCI) solution and VDI-supported Cloud Desktop solution, offering simple and convenient management, secure data, and efficient deployment for the work environment.
Meanwhile, H3C is constantly exploring scenario-based solutions that identify and address industrial pain points in Malaysia. For example, the Innovative Education solution helps by accurately understanding the business needs of Universiti Tunku Abdul Rahman (UTAR) in Malaysia, providing strong support for the digital transformation of the university.
24/7 Service to Fully Support the Digital Transformation in Diversified Scenarios
In addition to products and technologies, H3C's remarkable capacity to supply products and provide services across the globe also gives H3C a significant advantage to gain a foothold in Malaysia.
As one of the best partners for global digital transformation, the company has outstanding capacity for management and emergency response regarding supply chain and enjoys sound communication with upstream suppliers. Its end-to-end supply chain coordination system can provide the most stable support for the utilization of products and ensure perfect delivery of projects. Furthermore, reliable maintenance and support services are provided for the benefit of consumers.
Adhering to its "Win-Win-Win" strategy that aimed at promoting common development with partners and customers, H3C has made unremitting efforts to expand its business and maintain stable growth around the world and increased its number of certified global partners to more than 1,000 partners. H3C has also established spare parts centers in 24 countries and regions and is able to deliver services in 135 countries.
H3C is ready to further deepen the commercialization of research results, facilitate the development and integration of digital solutions and smart platforms in various scenarios across the ICT sector, and carry out win-win cooperation with local customers and partners in Malaysia.