IDC: H3C Retains Its Position as the Second Largest Vendor in China's Server Market
20-06-2022
According to the preliminary China Quarterly Server Tracker for Q1 2022 recently released by IDC, H3C retained its position as the second largest vendor in China's server market with a market share of 16.2%. H3C's x86 servers increased their share by 29.4% year on year, higher than the industry average, while its blade servers ranked first consecutively with a 49.0% market share.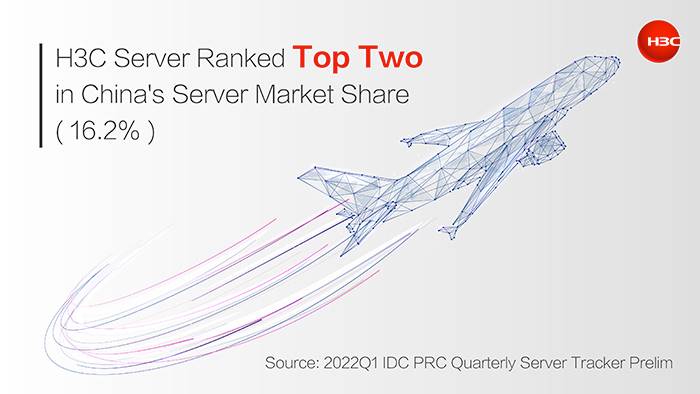 With the concept of AI-native, H3C has launched four intelligent IT platforms relating to multi-cloud computing, intelligent storage, intelligent management and artificial intelligence (AI), in a move to build an important base for the continuous upgrade of Cloud-Network-Edge-Terminal capabilities and "Digital Brain", allowing customers to improve their ability to explore the value of data, accelerate the agile innovation of upper-layer applications, and deepen the digital transformation across the industry.
So far this year, H3C has translated its forward-looking technology vision and profound R&D strengths into new advances to support the development of intelligent IT:
Technology Breakthrough
H3C UniServer R4900 G5 sets a new world record with 4,725 points in the SPECvirt_sc2013 benchmark test.
New Product Launches
Four new servers have been launched to further meet the demand for computing power across all scenarios: A liquid-cooled system designed to build a new generation of green data centers; a high-density storage-optimized two-socket server suitable for data-intensive scenarios to release the value of data; tower and rack servers aimed at accelerating the transformation of small and medium-sized enterprises (SMEs), meeting their needs for easy deployment, security, reliability and scalability.
Authoritative Certification
H3C has been recognized as an established vendor of large-scale AI systems by Forrester, a leading global market research company, making it one of the leading players with robust growth in the accelerated computing market.
Building an Ecosystem
H3C has signed strategic cooperation agreements with a number of upstream and downstream partners including NVIDIA and AMD to complete new product adaptations and draw a digital blueprint with a borderless ecology.
With the Cloud & AI Native strategy, H3C continues to deepen the innovation of intelligent digital platforms. Through AI-native IT infrastructure, H3C accelerates the integration of digital technology into business applications, laying a solid and powerful foundation for the digital transformation across all industries.