H3C CAS Sets New World Record in SPECvirt Test
20-06-2022
Recently, Standard Performance Evaluation Corporation (SPEC) announced the results of the latest SPECvirt_sc2013 virtualization benchmark performance test. H3C CAS (Cloud Automation System), based on the H3C UniServer R4900 G5 server, broke the record in the virtualization performance test for two-socket servers with a score of 4,819, topping the SPECvirt performance test list. H3C CAS Virtualization Platform has broken this record twice before, once in 2015 and once in 2018.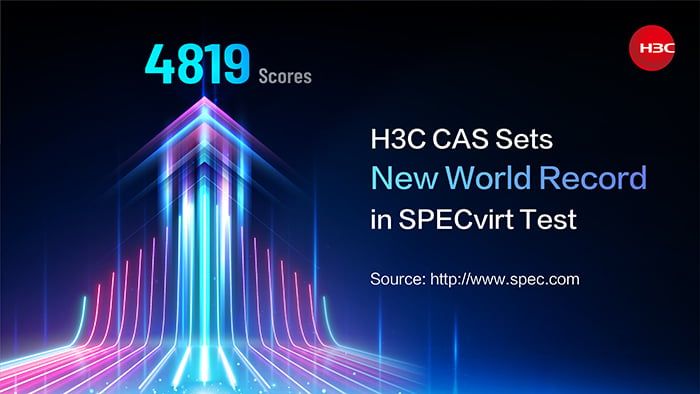 Founded in 1988, SPEC is a global authoritative consortium of leading computer hardware and software manufacturers formed to establish, maintain and endorse standardized benchmarks applicable to computer systems.
SPECvirt simulates the end-to-end performance of all system components under typical business load in data centers, and tests hardware, virtualization platform, virtual client operating system and upper layer application software. These tests closely meet the actual business needs of users, and their results are regarded as authoritative performance indicators for virtualization software selection by users in the finance and telecom industries. The SPECvirt_sc2013 benchmark test is used to measure the performance of virtualization platforms, where each group of virtual machines run their database, middleware, batch processing, mailbox, web services, simulating the performance of virtualization software under typical business load in data centers.

Three Capabilities Lead the Way to Full Computing Power Convergence
The rapid development of the digital economy has led to a continuous rise in computing power demands. With 13 years' practices, H3C CAS, has achieved a transformation in technology capability and market performance. CAS has maintained the largest share of China's virtualization market among domestic brands for six consecutive years (Source: CCW Research, China Server Virtualization Market and Technology Development Trend Research Report). To date, CAS has commercially deployed 300,000 CPUs and served more than 10,000 customers across various industries. H3C CAS has full computing power, which creates a solid foundation for its products and solutions such as hyper convergence, desktop cloud and the Unicloud platform.
One cloud with multiple cores converges multi-architecture computing power. H3C CAS supports both X86 and ARM architecture servers, converging multi-architecture computing power to boost business innovation. Unified management of service clusters with different architectures reduces the complexity of operation and maintenance (O&M). By fully adapting to mainstream operating systems, databases and middleware, the platform builds an open software and hardware ecosystem to accelerate industrial development.
Multi-mode computing builds an integrated computing platform. For multi-mode applications, CAS provides resources such as Bare Metal, virtual machines and container clusters to build an integrated computing platform. Relying on Bare Metal server management, it provides customers with high-performance computing power to meet the high security requirements in finance and other data-sensitive sectors. One-click deployment and upgraded container clusters provide cloud-native computing power, enabling flexible scheduling of resources and driving flexible business development.
Diversified computing power stimulates intelligent innovation. Heterogeneous arithmetic platforms and diverse intelligent scenarios boost demands for computing power. Through continuous technical innovations, H3C has become the exclusive KVM virtualization vendor in China that supports hot migration of virtual machines with vGPU. CAS converged intelligent acceleration card achieves zero-loss computing power and jitter-free services. It supports NVMe-oF docking storage and RDMA storage acceleration technology, significantly improving IO performance and offering the ultimate performance for business cloud innovations.
Two Powerful Tools Ensures Efficient and Reliable Computing Power
H3C UniServer R4900 G5 server played a crucial role for CAS virtualization software to break the world record.
With powerful hardware performance and reliable quality, H3C UniServer R4900 G5 fully supports various intelligent application loads such as virtualization, big data, high-performance computing and deep learning, helping create a new generation of data centers with low power consumption, high reliability, easy management and simple deployment. In general-purpose computing scenarios, R4900 G5 can achieve an 83% improvement in whole-machine performance to protect IT investments; reduce O&M costs by shaving off 10% in deployment and O&M time; and comprehensively protect customers' service security through a safe and reliable intelligent management platform.
Computing power is the core productivity in the era of digital economy, driving high-quality economic development. Virtualization technologies, as the cornerstone of cloud computing and data centers, play an irreplaceable role in the development of the digital economy. Guided by its Cloud & AI Native strategy, H3C plans to deepen its technical innovations and industrial practices, continuously accelerating the implementation of virtualization technology in various scenarios, and providing new momentum for the digital transformation in all sectors.