H3C Wins the Bid Package for China Telecom's 2021 Centralized Procurement Project of STN-B Products for its 5G Bearer Network Construction
26-05-2021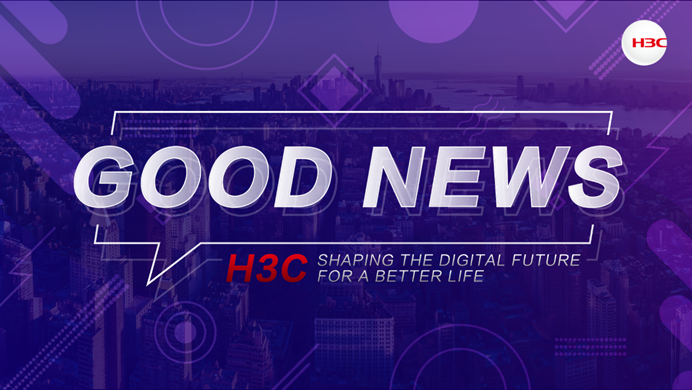 H3C recently won the bid package for China Telecom's 2021 centralized procurement project of STN (Smart Transport Network)-B products for its 5G bearer network construction, thanks to the high performance of its products and rich experiences.
It reflected China Telecom's recognition for H3C's technological innovation, solutions, and high-quality services regarding STN-B products, and highlighted H3C's major-supplier position for carriers.
STN is a bearer network established by China Telecom on the IPRAN (IP-based Radio Access Network) system by introducing new technologies such as SRv6 (Segment Routing over IPv6 dataplane) and FlexE (Flexible Ethernet), to expand 5G bearing capacity.
As early as in 2017, China Telecom kicked off researches on the architectures and technical specifications of 5G bearing networks to improve user experience. The STN is positioned by the carrier as an integrated bearing network that enables traditional mobile backhaul businesses under 3G, 4G and 5G networks, and integrates Ethernet Private Line, Direct Connect and cloud networks for government and enterprise customers.
H3C has always been committed to helping speed up the 5G construction of the carrier. It has not only actively taken part in the research and discussions on a lot of related specifications, but also launched innovative and stable 5G STN products, all of which passed a 2019 test for China Telecom's centralized procurement one-shot.
One year later in 2020, H3C was shortlisted for China Telecom's centralized procurement project of STN products with a large share, with its STN products deployed in the 5G bearer construction in 15 provinces across China.
Its winning the bid this time marks another milestone in the cooperation with China Telecom.
H3C has launched a series of core, convergence, and access routers catering to the needs of carriers in the 5G era. For example, its RX8800-08 router, which won the bidding, adopts programmable FlexE modules, AI self-diagnostic protection and leading orthogonal architecture equipment, thus able to meet carriers' technical requirements such as large-capacity T-level hardware platforms of 5G bearer networks, FlexE network slicing, Ethernet virtual private network (EVPN) and SRv6. Based on this, cloud-network integration is made possible with Software-Defined Networking (SDN) controllers.
As a leading provider of carrier-grade core network products and solutions, H3C will continuously progress in exploring 5G integrated bearer network solutions, and support carriers in building a new generation of 5G bearer networks.