H3C CEO Tony Yu: Marching Along the Path of Cloud & AI Native Towards Digital Native
16-04-2021
When the physical world is increasingly integrated with the digital world, how should humankind view and visualize the future digital era?
H3C recently gave its answer to the grand question widely discussed in the current era at its annual NAVIGATE 2021 Summit by unveiling its Cloud & AI (artificial intelligence) Native strategy and launching new flagship products and solutions.
Forward-Looking Viewpoints on Cloud & AI Native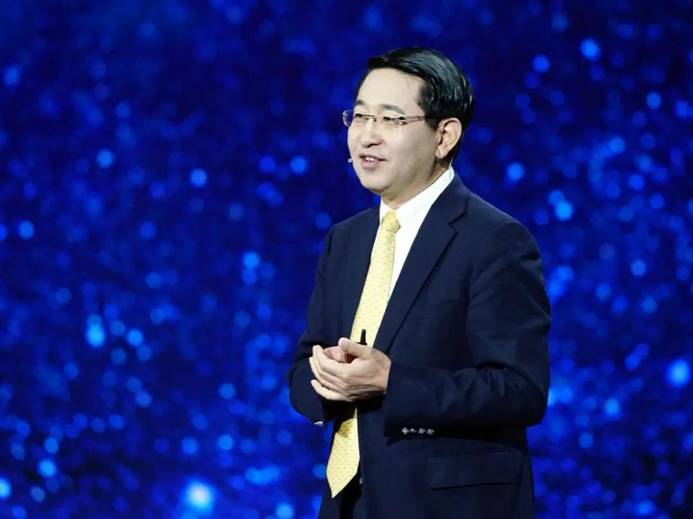 Tony Yu, CEO of H3C, delivered a speech titled "Smart Foresight for a Win-Win Future" at the keynote meeting of NAVIGATE 2021 Summit.
At the keynote meeting of the NAVIGATE 2021 Summit held on April 9, Tony Yu, CEO of H3C, announced the company's Cloud & AI Native strategy and comprehensively updated "Digital Brain 2021", and expounded on H3C's insights into the concept of digital native and reflection on the value of digital native via a keynote speech titled "Smart Foresight for a Win-Win Future."
The following are the highlights of Yu's keynote speech.
H3C Viewpoint No.1: We Are in an Era When Digital Technologies Define the World and Software Defines the Future.
In the era when digital technologies define the world and software defines the future, everything in the physical world can be recorded, presented, and stored through digital means. In the future, the functions of products and user experience in the workplace and everyday life will be realized mainly via software.
H3C Viewpoint No.2: Digital Native = Innate Digital Architecture and Capabilities
The change from traditional electricity meters to digital ones has mirrored the replacement of manual work by software, thanks to the advancement of digital technologies. Digital native is one of the most important attributes in digital electricity meters, which, with innate digital capabilities, are designed to record and transmit digital information about electricity consumption. Making an analogy between a digital electricity meter and an organization, H3C believes that the future will witness competition between traditional organizations, or non-digital native organizations, and digital native organizations, and that the two kinds of organizations will differ significantly in product services, management model, business model, and user experience.
H3C Viewpoint No.3: Digital Native Organizations Have Natural Competitive Advantages over Traditional Organizations (Non-Digital Native Organizations). Traditional Organizations Will Be No Match for Digital Native Organizations if They Fail to Become Digital Native Timely.
Every organization should constantly strive to become digital native, which is also one of the most important goals of digital transformation and revolution. Even those organizations that are already digital native need to upgrade their architectures continuously. As the highest-level organization, country also needs to stride towards digital native to make the most of digital technologies in state governance and development.
H3C Viewpoint No.4: Cloud & AI Native Featuring Innate Cloud & AI-Based Architecture and Capabilities Is a Key to Becoming Digital Native.
With the popularization of digitalization, more and more data will flow from the physical world into the digital world. The endless flow of data can be efficiently processed with the combination of software-based AI and cloud architecture, which makes H3C believe that cloud and AI form the base of the digital world. By processing, using, and outputting data, cloud and AI help unlock the value of data that are truly useful to the physical world.
Major New Releases Signal Upgraded Overall Strength
"Digital Brain 2021": Launched Based on Cloud & AI Native Strategy to Unleash the Value of Data Faster
In 2019, H3C first launched its Digital Brain Project to better facilitate clients' digital transformation and innovation efforts by helping them build their own digital brain systems with intelligent digital platforms. This year, as a major move developed under the framework of the Cloud & AI Native strategy, "Digital Brain 2021" has undergone comprehensive technological upgrading and is designed to unleash the value of data more efficiently. Over the past two years, the company helped deploy digital brain for more than 3,000 large state-owned enterprises and governments to speed up digital transformation.
UniCloud 3.0: Accelerate Digital Transformation of Business with CloudOS and Oasis Platforms
UniCloud 3.0 represents the most important upgrade in "Digital Brain 2021". UniCloud 3.0 has realized unified cloud architecture in various scenarios for public cloud, private cloud, and edge cloud through H3C's CloudOS platform, and is endowed with all the capabilities of homogenous hybrid cloud. The integrated Oasis platforms of UniCloud 3.0 can fully support cloud & AI native and provide natural cloud and AI platforms for applications and data, thus accelerating digital transformation of the business of clients by ensuring efficient data integration and operation and upgrading of applications.
Engiant: H3C's Self-Developed High-Performance Smart Network Processor
The launch of Engiant made H3C the first network operating system (NOS) vender to roll out a network processor with high-level language programming. H3C's Engiant 600 chip series produced using 16nm process technology has 256 cores and 18 billion transistors. The company is going to release its high-end core router family equipped with Engiant 600 series in the fourth quarter this year. The router family will include a full range of products, with the maximum single-slot data transfer rate reaching 2.4T. H3C's Engiant 800 chip series featuring 7nm process technology, more than 500 cores, and 40 billion transistors will be launched next year.
Enterprise-Class Commercial Terminals Marking H3C's Entry into PC Market
Based on its good grasp of such fields as business to business (B2B) and business to government (B2G), H3C rolled out a series of commercial terminal products, including notebook, desktop, and workstation. By launching these products, the company strives to make its business fully cover the fields of chip, cloud, networking, edge and terminal, and provide users with end-to-end solutions and ultimate experience.
H3C MagicHub: A New Generation of Smart Hub That Ushers in the Era of Cloud & AI Native-Powered Intelligent Teleconferencing System
As various Internet-based industries, including telecommuting, teleconferencing, and distance learning, are embracing a huge blue ocean market in the post-pandemic era, H3C entered the smart hub market with its advanced technologies. With built-in digital workspace solution H3C Workspace and conference management system, the smart hub enables users to log in via facial recognition and project meeting materials on screen. In addition, the smart hub is the first one in the industry that can support Wi-Fi 6 wireless connection, which guarantees fast Internet connection speed and low Internet lag for conferences.
Marching Towards a Bright Future Together with Partners
Although there are still many challenges in the year 2021, H3C sees golden opportunities, Yu said. After five years of efforts to expand market and business, H3C will start to pick up speed and march towards greater achievements this year. H3C and its partners will strive for a win-win future by further exploring the digital world with smart technologies and advancing in the physical world with smart foresight.