H3C Releases Ten Major New Products and Solutions at Annual NAVIGATE 2021 Summit
15-04-2021
H3C debuted ten major products and solutions at its ongoing annual NAVIGATE 2021 Summit that kicked off on April 9, endeavoring to unlock the value of data faster through Cloud and AI (artificial intelligence) Native technologies so as to empower clients to enter a new stage of the application of digital technologies and accelerate digital transformation.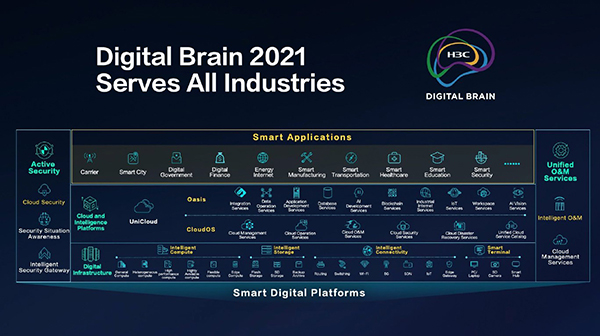 The architecture of H3C's "Digital Brain 2021"
Believing that the wide application of digital technologies will constantly push every organization towards an architecture featuring digital native, and that cloud and AI native represents innate cloud and AI-based architecture and capabilities and is a road that must be taken in order to realize digital native, H3C officially released its "Digital Brain 2021" as a major move under the company's new Cloud & AI Native strategy at the NAVIGATE 2021 Summit.
The new releases announced on April 9 are all important new products and upgraded solutions related to cloud and intelligence platform and digital infrastructure, which represent a key part of the "Digital Brain 2021".
Cloud and Intelligence Platform
No.1 UniCloud 3.0—CloudOS
With new IT equipment and advanced concepts, CloudOS can meet the requirements of clients' complex IT environment with distributed deployment, realize the goal of "one platform for management, one architecture for application, one network for Software Defined Network (SDN), and one strategy for security", and create homogenous hybrid cloud with unified architecture, unbounded combination, ultra-simple operation, and unified user experience.
No.2 UniCloud 3.0—Oasis Platform
Based on platforms for data operation, application development, and platforms integration, H3C Oasis Platform is able to improve efficiency in the processing of business data with mature data operation system, enhance the capability to launch services with mature application innovation engine, upgrade the integration ability of industries with mature ecological synergy kits, and bear smart applications of various industries.
No.3 Cloud Security 2.0
H3C cloud security service can flexibly match application scenarios such as public cloud, private cloud, hybrid cloud, and SD-WAN (Software-Defined Wide Area Network). The company's rich variety of cloud native security products can effectively satisfy the needs of different cloud scenarios for security and guarantee the security of cloud applications in their whole life cycles. H3C's cloud security management platform SecCloud OMP 2.0 has realized unified monitoring, operation, maintenance and management of cloud security services and products, and can meet individualized and diversified security requirements of various cloud scenarios and improve the efficiency in and reduce the cost of operation and maintenance.
Digital Infrastructure: Unified Experience from Data Center to Terminal Products
No.4 Cloud & AI Native Intelligent Connectivity Solution: AD-NET 6.0
AD-NET 6.0 is equipped with a unified digital base featuring universal coverage and flexible extensibility, and has realized sound integration of management, control, and intelligent analysis with cloud native micro-service architecture. The newly released intelligent analysis engine of the connectivity solution, SeerAnalyzer, can model for network control, operation and maintenance. The automatic control engine SeerEngine executes the modeling and handles the job of SDN controller. Together, SeerAnalyzer and SeerEngine can create an intelligent intent-based network with insights into applications and the capabilities to build digital twins and make independent contributions.
No.5 Intelligent Lossless Network Solution: AD-DC SeerFabric
Based on cloud-edge AI collaborative architecture, Application-Driven Data Center (AD-DC) SeerFabric can build lossless control models for different business scenarios through intelligent learning, and intelligently identify business scenarios and dynamically match model parameters. With the capability to realize accurate forwarding with ultra-bandwidth, low latency and zero packet loss and predictable network experience, the solution can serve digital transformation in a wide range of industries and fields including finance and high-performance computing.
No.6 Core and Backbone Router Based on Self-developed Network Processor
The new-generation core and backbone router H3C CR18000-16 based on the company's self-developed high-performance smart network processor ENGIANT is able to provide for users powerful forwarding capacity approximately equivalent to that provided by a whole cluster of routers in the past. Such extraordinary performance will significantly boost the smooth evolution of carriers and Internet backbone networks and effectively support the development of the 5G networks and cloud computing.
No.7 Comprehensively Upgraded H3C UniServer Server Family
With the help of 3rd-generation Intel Xeon Scalable Processors, H3C has comprehensively upgraded its UniServer server family. The standard rack-mounted servers have seen overall improvement in floating-point computation performance and integral type computation performance. The modular design of AI application optimization servers enables them to support various mainstream AI acceleration chips and meet the demand of various AI applications for customization. In addition, the whole cabinet system of Data Center S30000 designed to serve super large Data Centers can realize system deployment and help users move businesses online efficiently and quickly through integrated delivery, thus speeding up the realization of business value of Data Centers.
No.8 Unified Storage Data Lake Solution
The performance of H3C's newly launched NVMe all-flash X10828 storage system is several times that of ordinary full flash. NVMe all-flash X10828 and H3C's many other storage products, including hybrid-flash universal node, high-density node, optical jukebox and public cloud, together form the unified storage data lake solution. The solution can enable convergence and transparent flow of data between different storage nodes and protocols, and therefore realizes the unification of maximized performance and low total cost of ownership (TCO).
No.9 H3C MagicHub
As a new generation of smart hub, H3C MagicHub uses full lamination 4K display screen and is powered by innovative technologies that support such functions and features as 1mm high-precision touch control, AI tracking, AI intelligent viewfinding, Wi-Fi 6 wireless connection, 120-degree ultra-wide angle camera, and ultra-thin body ELED backlight. With built-in digital workspace solution H3C Workspace, the smart hub enables users to log in via facial recognition and use many kinds of video conferencing software, making both online and offline communication freer. Moreover, integrating rich intelligent features, H3C MagicHub can also record all the audio and visual information of conference, automatically generate minutes through AI-powered feature, and intelligently analyze data collected during meetings, and thus accelerate digital transformation of companies.
No.10 Commercial Terminal Products
H3C's newly released commercial terminal products include commercial notebook, commercial desktop, and commercial displayer. These enterprise-class terminals launched by the widely-acclaimed enterprise are expected to bring extraordinary experience to clients.
In the future, H3C's businesses will cover full-stack chip, cloud, networking, edge and terminal. Its products will be fully cloudized and with endogenous artificial intelligence, and its solutions will feature integrated intelligence and the capacity for comprehensively empowering users. By helping clients develop the capability to realize cloud and AI native, a necessity to the acceleration of digital transformation, H3C will better promote the digitalization of various industries.