Macau Tower surpasses visitors' network demands with H3C solutions
03-04-2014
Home

About Us

Profile

Success Stories

More Cases
Mr Billy Chan, IT Manager, Macau Tower Convention & Entertainment Centre, said: "H3C has increased our work efficiency while reducing our workload and maintenance costs with this network infrastructure upgrade. Importantly, the Macau Tower is able to maintain its first-class banquet and MICE venue that provides one-stop dining and entertainment that is world-class. Now we can add to that a truly digital-age network access service."
Background
The Macau Tower Convention & Entertainment Centre (Macau Tower) is a landmark in the Macau Special Administration Region. Measuring 338 meters from ground to the highest point, it is a member of the World Federation of Great Towers.
Opened in December 2001, the tower is the premier venue for meetings, incentives, conventions and exhibitions (MICE), playing host to numerous international and regional business and trade events as well as national celebrations in Macau. Macau Tower, delivering a choice of restaurants, theaters, shopping malls, bungy jumping and other adventure activities, confirms the Macanese icon's position as a one-stop work. With visitor numbers rising yearly, the Macau Tower turned to H3C for a solution to upgrade its network infrastructure requirements, including being able to provide high speed wired and wireless network access for all guests in any corner of the premise.
The Solution
H3C helped the Macau Tower deploy a total wired and wireless solution, using its S5120-SI series switch and 802.11n-based WA2610i wireless FIT access points. All access switches are connected to four H3C S5500-EI core switches located in two buildings in which two core switches are virtualized. H3C's Intelligent Resilient Framework 2 (IRF2) virtualization technology provides excellent reliability and multi-service support capability.
An H3C WX5004 wireless controller is connected to the S5500-EI core switch and works together with WA2610i access points to provide wireless access at a speed six times that of a traditional 802.11a/b/g network. The WA2610i features three built-in antennas and greatly enhances radio frequency signal management, user mobility and authentication so that a stable and secure wireless coverage is available throughout the tower.
H3C's Intelligent Management Centre (iMC) and Wireless Service Manager (WSM) management software tools are deployed to provide unified management of the wired and wireless networks such as device and traffic monitoring.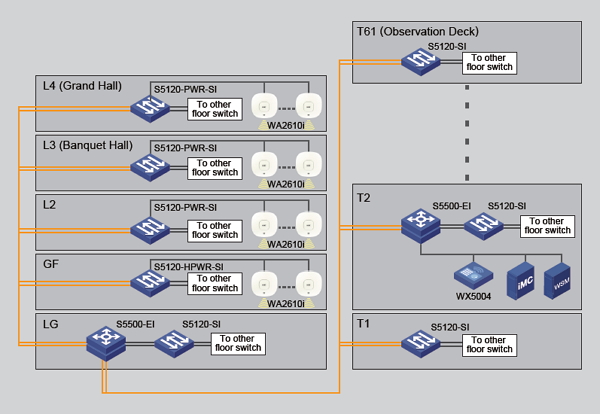 With thousands of external end-users accessing the network, theMacau Tower is naturally concerned about security. H3C took care of that with WSM, which provides WLAN intrusion detection and defence. The tool detects wireless attacks, rogue access and alerts administrators to vulnerabilities within the network. WSM generates historical reports, enabling operators to monitor their wireless network usage, performance and how roaming patterns have changed over months or years.
Why H3C?
As an international landmark that hosts major events with exciting tourist attractions to match, the Macau Tower needed a robust, reliable and secure network to support its large visitor numbers. H3C provided and demonstrated a clear and complete proof-of-concept to earn the tower management's confidence for its proposed networking solution.
While H3C's switching and wireless LAN devices and its IRF2 virtualization technology are designed to provide highly reliable, high performance networking bandwidth, its iMC and WSM tools centrally manage wired and wireless networks in a simple, scalable and importantly, secure manner.
In addition, H3C delivered the Macau Tower' network on time and within budget, backing the installation with outstanding technical support services that continued well beyond the project's official completion. More importantly, H3C worked with the Macau Tower to ensure a smooth, uninterrupted transition from its ageing switching to new solution that has prepared Macau Tower for meeting the increased demand for speedy communications from visitors.
The Benefits
H3C is helping the Macau Tower to save costs on its network infrastructure investments by implementing an easy-to-manage platform that conveniently performs centralized management of network devices. Mr Billy Chan, IT Manager, Macau Tower Convention & Entertainment Centre, said: "H3C's intelligent Management Center (iMC) simplifies network administration and reduces maintenance costs. iMC gives IT team a consolidated view of the network topology, status of all network devices, fault management, performance monitoring, and user authentication, all from a single platform."