H3C Powers Saint Paul School Macau's Vision for Immersive Learning Experience
25-04-2012
Home

About Us

Profile

Success Stories

More Cases
"Our solution was not driven by one-size-fits-all education platforms but by the pedagogical and communication issues we want to enhance. To achieve our objectives, we need a well architected infrastructure that will support both wireless and wired networks, securely and reliably for over 1000 concurrent student users. We are very pleased with the solution and support from H3C. We look forward to a long-term partnership with H3C to help guide us as new technologies and products become available," said Manel Machado, Director of Academic Technology, Saint Paul School Macau.
Background
Saint Paul School (Escola São Paulo) is a 15-year old Kindergarten through Secondary Roman Catholic diocesan school in Macau with a student body of nearly 3,000 students. Under the auspices of the Dominican Order, the school has developed a comprehensive long-term program called Empowering Students for an Open School (ESOS), aimed at enhancing current pedagogical strategies. In January of 2010, the school initiated a large-scale project called "Classroom 2012 Project" that leverages state-of-the-art technologies to realize part of the ESOS program goals.
The Challenge
The Classroom 2012 project aims to improve students' motivation and attitudes, to support different teaching and learning strategies, and to increase parental involvement. A number of pre-conditions needed to be met to achieve these objectives: the school must decouple itself from traditional single-sourced paper textbooks and move towards electronic based textbooks so that students will be able to reference information from multiple sources; there must also be a 1:1 tablet PC to student ratio so that each student can use their own tablet-pc at home and at school in a technology -rich learning environment; and finally, a robust networking infrastructure is needed to support the technologies used to change pedagogical strategies. Recognizing the depth-of-experience that H3C built supporting educational institutions with seamless unified communication, Saint Paul School sought H3C's assistance.
The Solution
H3C designed a new network infrastructure to encompass the various departments within the campus including the Library, Assembly Hall, Octagonal Pavillion, Kindergarten, Primary and Secondary Halls.
Because learning is no longer limited to the classroom, H3C deployed a carrier-class 10GE multi-service core switch that offers 99.999% reliability. The H3C S7510E(s) are used in the Kindergarten and Secondary Hall as a Chassis Core network providing 10 GE fibre connections to wiring closets.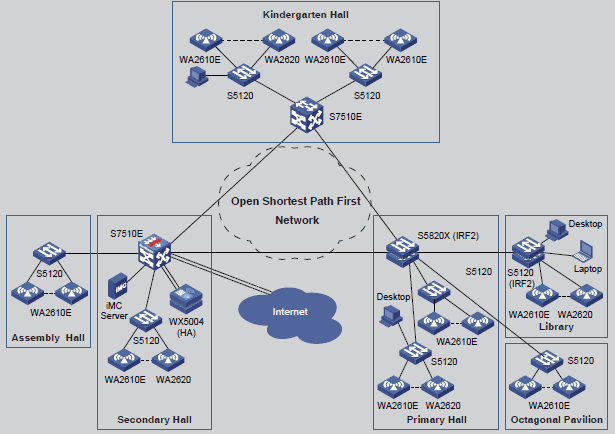 The S7510E Firewall Board module using chassis backplane connection enhances security features like in-built firewall, application identity and intelligent content filtering.
Each Hall is equipped with two Power over Ethernet (PoE) edge switches, S5120-EI/PWR, which are inter-connected in a resilient stack with H3C's flagship Intelligent Resilient Framework (IRF2) technology. Uplink from edge to core uses the inter-device 802.3ad link aggregation resulting in improved network availability and higher network performance.
Redundant WX5004 wireless controllers are connected to the S7510E via the two aggregated links to deliver IEEE802.11n wireless coverage. WA2620 and WA2610E access points (AP) are connected and powered by the H3C PoE switches, ensuring high reliability, intelligent channel switching and load-sharing among APs. H3C's Intelligent Management Centre (iMC) simplifies network administrator and reduces maintenance cost. The iMC shows the network topology, status of all network devices, fault management, performance monitoring, access user management and user authentication, all from a single pane of glass.
Why H3C?
Saint Paul School realizes that mission critical networking infrastructure of this size and complexity requires considerable technical expertise. The school chose H3C solution because H3C can meet the complex network requirements of Saint Paul School, and also because of the excellent ROI value.
H3C's technical expertise, professionalism and comprehensive pre- and post- sales support convinced the school that they could deliver on its objectives. H3C has a proven track record in implementing cutting-edge networking solutions that deliver longstanding value for schools.
The Benefits
More than 20x10GE connections and nearly 200 APs provide the high bandwidth that enables students and parents to access real time information in a stable and secure environment. Students no longer need to carry heavy textbooks to school as all learning resources are loaded onto e-tablets. The pilot program shows an increase in interactive and collaborative learning. This is the most advanced implementation of education technology of its kind in the region, stimulating different pedagogies that are benefiting students at both the Primary and Secondary grade levels. The school is already serving as a leading model for ICT implementation and educators from several South East Asian countries have visited to learn from the school's successes and challenges.