L'Arc Macau Bets on H3C for Network Infrastructure Excellence
10-12-2010
Home

About Us

Profile

Success Stories

More Cases
" After evaluating a number of vendors, we chose H3C, for a variety of reasons, including track record and the fact that it has achieved worldwide success and enjoys a significant share of the Mainland China market. H3C's strong local support and R&D capability also gives us complete peace of mind. "
Johnny Chan,
Managing Director of L'Arc Macau
Background
L'Arc Macau is the tallest hospitality and entertainment structure in Macau as well as one of the industry's most sophisticated users of information technology. Its new H3C-based network infrastructure provides it with a unified communication platform that combines wired and wireless network communications to meet its own requirements, as well as the ever-increasing communications needs of visitors.
The complex's casino demands a reliable and secure network infrastructure to support data transmission. The gaming systems also need to be networked, both for reliability and to support statistical analysis. L'Arc Macau selected H3C to build its network infrastructure and ensure that the information network on which its business depends, operates reliably securely, 24x7.
H3C provided the L'Arc Macau with a reliable and scalable solution to manage the large volume of data the casino generates. It enables L'Arc Macau to handle mission critical appliances without interrupting its business and also provides plenty of room to accommodate future developments.
The Solution
H3C has helped L'Arc Macau maintain and manage an endless stream of data and network traffic, reliably and securely. In the hotel portion of the complex an H3C centralized wireless management controller looks after more than 200 access points. This intelligent radio management can be expanded incrementally to accommodate large-scale wireless deployments, providing flexibility for growth in the future.
In the Casino itself, the network based on H3C's Intelligent Resilient Framework (IRF) technology supports Distributed Dynamic Routing (DDR), Distributed Device Management (DDM) and Distributed Link- Aggregation (DLA). This infrastructure provides the reliability and performance needed for regular network traffic as well as real-time data for statistical analysis.
Resilient links in active-active mode, combined with load balancing the traffic, maximizes network utilization. The H3C network also provides L'Arc Macau with sub-second failover to prevent interruption to any services due to link or equipment failure. This means that L'Arc Macau can handle mission critical appliances without interrupting its business and also accommodate future developments.
The H3C switches also provide networking security features that ensure high levels of protection throughout the entire L'Arc network infrastructure platform.
H3C's Intelligent Management Center (iMC) now covers the hotel and the casino. With this unified networking and management platform, the facility enjoys easy management and consistent security policies. iMC also provides advance fault management and facilities performance monitoring, which in-turn helps L'Arc Macau to minimize the manpower required to manage the network.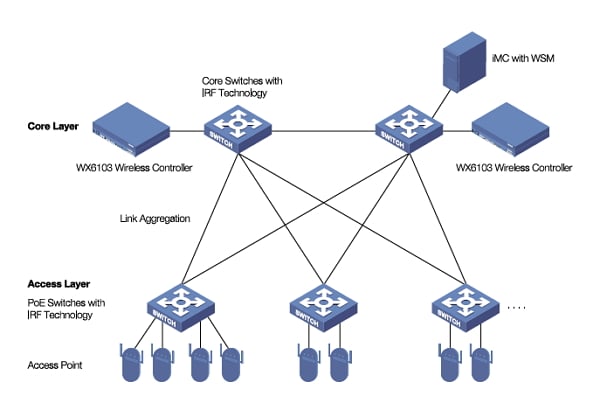 Why H3C
L'Arc Macau needed a robust, mission-critical capable network infrastructure that delivered highly strict reliability, durability, and cost-effectiveness. H3C was able to fulfill all of these requirements with ease. H3C's proven track record, industry leading technology and a strong local support and R&D capability gave L'Arc Macau total peace of mind.
A fully redundant network infrastructure and a desire to achieve seamless, 99.999% reliability was another key reason for selecting H3C. With H3C's IRF technology, network switches are stacked, increasing the performance and stability of the network to ensure services run smoothly without latency or performance issues.
Pre- and post-sales support was also important. H3C's professional service teams worked closely with partners to demonstrate the proof-of-concept design to L'Arc Macau which made the final decision easy.
The Benefits
Since the solution went live, L'Arc Macau has received positive feedback from the team managers in the Casino on the stability of the network systems, while users in the hotel are enjoying reliable network connection services.
The new networking system provides L'Arc Macau with a robust backbone and the confidence it needs to operate the tallest and arguably the most complex entertainment facility Macau. It has also enabled the company to implement many creative, interactive, multimedia entertainment facilities in different areas.