H3C Helps Pooi To Middle School to Create and Manage an Advanced, Multi-Dimensional Educational Environment
10-12-2010
Home

About Us

Profile

Success Stories

More Cases
" `Today, teaching focuses on motivation and the learning experience. The network provides a fun and interactive learning platform that enables students to develop their learning habits and innovative thinking. H3C's network solution has enabled Pooi To to create secure, reliable and high performance multimedia learning environments, allowing teachers and students to fully utilize the school's network – today and in the future – to explore new and interesting subjects.' "
Enian Tsang
The Headmaster of Pooi To Middle School
Background
Pooi To Middle School (Pooi To) was founded in 1888. The school prides itself on cultivating its students' thirst for learning, providing them with a combination of academic guidance and technology to create a genuinely multi-dimensional educational environment. However, this vision came under pressure recently when the school realized that its aging network was not up to the task of supporting a
variety of enhancements during an extensive campus refurbishment. The school turned to H3C to revamp its network and ensure secure and reliable performance for all wired links. In addition, the school was keen to roll out new wireless networking to enable to staff and students to freely exploit the richness of the digital world, and H3C obliged.
The Solution
H3C recognized that the key benefits to Pooi To Middle School is to provide a unified wired and wireless network solutions to enhance their network performance, security and manageability. H3C deployed its 10G multi-service core switch - S7510E in the preparation room by providing at least 6 x 10GE fibre connections to the GE Edge switch S5100C-EI installed in the Hub Room of each floor respectively.
The S7510E core switch is a carrier-class device that offers 99.999% reliability. In addition to providing high-performance, IPv4/IPv6 services, it also delivers at least 2.4Tbps of Backplane Capacity, 768Gbps of Switching Capacity and 492Mpps of Throughput. The dual main control units and a passive backplane provides Pooi To with high levels of network redundancy, enhancing daily operations.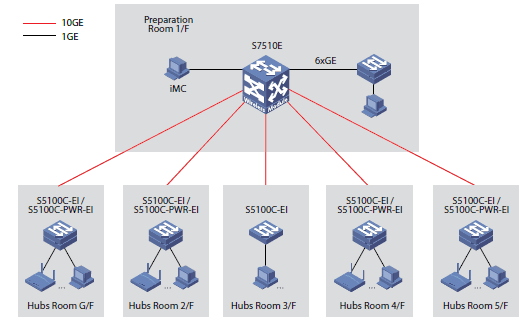 To provide wireless connectivity, H3C provided wireless controller plug-in cards for the H3C S7510E core switch, exploiting the 10GE backplane bus. A number of WA2110-AG FIT Access Points, distributed throughout the network, guarantee high Quality of Service (QoS) together with reliable wireless coverage.
The WA2110-AG FIT Access Points are connected and powered by H3C S5100-EI-PWRs located in the wiring closets on each floor. They greatly enhance RF signal management, user mobility and authentication so that stable and secure wireless coverage is available throughout the school.
Network management and maintenance were also a major consideration. In this case, the tasks are handled by H3C's Intelligent Management Centre (iMC), which provides unified control of both wired and wireless networks in a single platform. The iMC shows the network topology and status of all network devices, at the same time supporting panel management, fault management, performance monitoring, software version management, configuration file management, access user management and user authentication, all at the same time.
Why H3C
Pooi To Middle School chose H3C for its network upgrade project for a variety of reasons, including expertise as well as its familiarity with designing networks for schools. H3C provided the school with professional pre-sales and post-sales support, resulting in a smooth and timely deployment.
The school was also impressed with the user-friendly interface and easy-to-use network management tools that the H3C products rely on. H3C's solution also offered Pooi To an opportunity to create a new network infrastructure capable of accommodating future growth.
The Benefits
The new H3C unified wired and wireless network means that Pooi To Middle School now enjoys a reliable, secure, high performance network capable of meeting the escalating bandwidth needs of modern e-class materials and multi-media learning and e-discussion platforms.
The advanced, H3C S7510E switch at the core of Pooi To Middle School's network provided a virtualized architecture based on Intelligent Resilient Framework 2 (IRF2) technology. This guaranteed that future network expansion for Pooi To would be smooth and seamless.
The school needs to identify students in order to allocate access to different levels of online activities and learning materials. The H3C wireless solution offers the school a way to authenticate student identities on the network and provide them with secure access to appropriate web pages for on-line, anytime, anywhere learning.
In addition, with the help of H3C's Intelligent Management Centre (iMC), the school network administrator can easily manage the wired and wireless networks in one platform, simplifying the task and saving on maintenance costs.