H3C Creates National Backbone Network for Postal Savings Bank of China
02-11-2009
Home

About Us

Profile

Success Stories

More Cases
Background
Postal Savings Bank of China is the fifth-largest commercial bank in China. As postal finances and services grow, the performance and functions of postal backbone transmission networks are, and will continue to be, increasingly challenged. To ensure business continuity and improve customer service and satisfaction, the State Postal Bureau of China realized it needed to rebuild its inter-provincial postal backbone transmission networks. Currently, these transmission networks include postal comprehensive networks, postal finance networks for disaster recovery, and financial IP networks and comprehensive IP networks that are set up on the transmission networks. The IP networks are strictly isolated from each other.
Requirement
Postal Savings Bank of China wanted to separate its IP postal comprehensive networks from its IP postal financial networks. To do this, it needed to build backbone networks that would enable both networks to run from two centers: a national center and a disaster recovery center; the backbone would also have to regulate the overall network structure. This would lay a foundation for subsequent development. A solution required network deployment divided into the following stages:
· Adjust the backbone network structure between the national center and the disaster recovery center in the headquarters;
· Construct and manage 31 provincial backbone transmission networks countrywide;
· Plan necessary IP addresses for the national backbone transmission networks;
· Plan security management for the nationwide networks; and
· Plan nationwide network management, as well as operation and maintenance management.
H3C Solution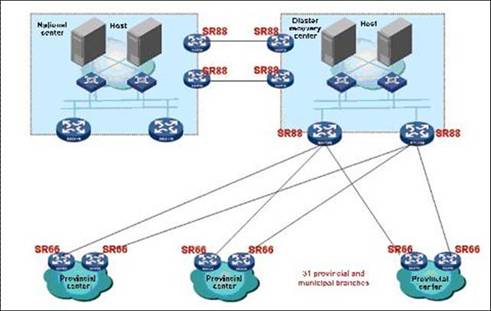 H3C created a custom-tailored solution for Postal Savings Bank of China, constructing a high-performance, highly reliable and secure backbone network that would satisfy the bank's business development needs for at least five years. The following H3C devices contributed to the solution:
6 SR8808 high-end, 10GE routers which interconnect the national center with the disaster recovery center, and connect the disaster recovery center with convergence routers in each province;

62 SR6608 and SR6616 core routers that are used as upstream routers on 31 provincial and municipal Level 1 networks; and

12 S7506E modular core switches deployed in the national center and disaster recovery center.
Technical Highlight
Devices on each provincial network are connected to both the national center and disaster recovery center in dual-homing mode to enable greater disaster recovery, greatly improving the reliability of the backbone networks;

H3C SR8800 high-end, 10GE routers provide industry-leading performance, reliability and service features;

All routers include Quality of service (QoS) features such as support for 200ms buffering and large queues on ports to ensure the transmission quality on backbone networks.

Bidirectional forwarding detection (BFD) hardware link detection significantly reduces link status detection time and route convergence time, ensuring the backbone network meets Postal Savings Bank of China's three-minute convergence requirements.

Border Gateway Protocol (BGP) is deployed across the entire network to regulate the network structure.
Benefits
Construction of the financial backbone networks standardized the backbone network structure, facilitated operation and maintenance management, enhanced risk management, guaranteed business continuity and increased protection of mission-critical data. As a result, disaster recovery capability was greatly increased, readily meeting financial industry regulation requirements.