H3C Helps Southwest Jiaotong University Build China's Largest Wireless Campus Network
12-06-2009
Home

About Us

Profile

Success Stories

More Cases
The Client
Founded in 1896, Southwest Jiaotong University has the distinction of not only being one of China's oldest institutions of higher learning; it is one of the first universities selected for China's "211 Project." As a member of this initiative, Southwest Jiaotong University joined an elite cadre of schools responsible for teaching four-fifths of the country's doctoral students and two-thirds of its graduate students.
The Requirement
To offer such advanced education, schools in this group must provide students with the best scientific and technical equipment, the most up-to-date teaching methodology and ensure "anywhere, anytime" access to their campus network. A traditional wired network would not be able to satisfy the robust demands of such intensive instruction—including multimedia teaching and remote classes—so Southwest Jiaotong University chose to build and deploy a wireless network for its three campuses. After six months of testing equipment and solutions from a dozen global vendors, Southwest Jiaotong University chose H3C's integrated wired/wireless mobile network solution.
The Solution
The university's campus network uses H3C® Fit access points (APs) to provide seamless, wireless connectivity for campuses in Jiuli, Xipu and Emei; it employs over 700 indoor and outdoor APs, as well as multiple high-capacity, high-end access controllers (ACs) and Power over Ethernet (PoE)-enabled switches. Southwest Jiaotong University's campus network is currently the largest wireless campus network in China.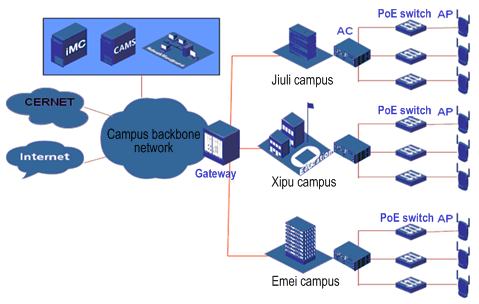 The Benefits
H3C's integrated wired/wireless mobile network solution optimized the university's existing infrastructure. By building the new campus network on the school's original wired network, H3C's technology enabled the wired/wireless integration of extant and new technology.
The campus network now provides secure wireless access for users through a unified hardware platform, unified network management, unified user management and unified application management. It is fully integrated with the authentication system of the original wired network and also supports integrated wired/wireless authentication and accounting. Therefore, the same user is charged under different modes when roaming between two networks.
H3C's IMC intelligent network management center provides a graphic management tool as well as integrated management capabilities for network administrators; it facilitates the simultaneous management of both the wired and wireless network, reducing stress on IT resources. Additionally, PoE-enabled switches provide power for the APs, and manage and control them centrally, further implementing integrated management.
H3C's integrated mobile network solution is highly upgradeable, supports a number of the latest technological protocols—including IPv6, 802.11n and WLAN Authentication and Privacy Infrastructure (WAPI)—and provides various wireless value-added applications solutions such as portal page pushing, wireless monitoring and Voice over WLAN . Such robust support future-proofs Southwest Jiaotong University's network against obsolescence and ensures it will be upgradable and expandable in the future to provide even more wireless value-added applications. Finally, H3C's integrated networking solution provides end-to-end quality of service (QoS) to guarantee that video and voice streams receive priority during transmission to ensure this data is delivered jitter-free.