H3C Builds Unified Mobile Network for National Grand Theatre
12-06-2009
Home

About Us

Profile

Success Stories

More Cases
The Client
Located west of the Great Hall of the People, China's National Grand Theater is a titanium-and-glass modern architectural masterpiece. Surrounded by an artificial lake, this instantly recognizable ovoid building is not only the country's premiere performance art center; it is also a symbol of China embracing the future at the beginning of a new millennium. This contemporary colossus contains an opera house, music hall and drama hall, as well as public spaces including plazas, shopping areas and restaurants.
The Requirement
As a showpiece of modern design and function, National Grand Theater requires a highly available, highly reliable network for its ticketing system, intelligent building automation system and to provide Internet access for public and private areas.
Wireless connectivity was the natural solution to preserve the aesthetic appeal of National Grand Theater's detailed, intricate design—to ensure networking cables would not interfere with the serenity and beauty of the site—and to address issues raised by the center's complex, cast-concrete underground construction, which degraded signal quality of mobile phones and PASs (personal access system).
H3C Solution
In response to these diverse challenges, H3C designed an integrated wired/wireless Fit Access Point (AP) solution consisting of S9500 Plug-in Access Controllers (ACs) and WA2110 APs. Using these as a base, the resultant wireless network would be able to simultaneously support a wide range of services, including IP telephony, wireless positioning, wireless monitoring and wireless multimedia playing.
To ensure the reliability and availability of the network, H3C's solution provided carrier-class redundancy: the S9500 AC card has the same high-reliability features of H3C® S9500 Series 10-gigabit core switches. Furthermore, each AP establishes a management tunnel and registers with two ACs at a time; once the communication between an AP and the active AC is interrupted, the AP immediately switches traffic to the standby AC. Additionally, the AC cards of two S9500 Series switches can be configured to work in a load-sharing mode through the command-line interface (CLI). In this scenario, should an AC card become faulty, the other AC card immediately takes over its work managing all network APs.
To provide services such as VoIP, wireless monitoring and wireless multimedia playing at National Grand Theater, H3C's solution delivered the following features and benefits:
Access rates up to 108 Mbps ensure the reliability and stability of real-time services;
Fast handoff of 50 ms ensures voice and monitoring quality is not affected while roaming;
Wi-Fi Multimedia™ (WMM®) provides end-to-end quality of service (QoS) to prevent real-time services from being affected in instances of limited network bandwidth; and
Multicast support reduces the count of data replication and occupied bandwidth to optimize multimedia playing.
Faced with a complex network architecture, H3C provided a wireless LAN (WLAN) with RFID to deliver advanced wireless positioning, enabling mobile terminals such as mobile PCs, PDAs and Wi-Fi® mobile phones to be deployed throughout the network rather than through separately installed clients. Among the many other benefits it delivers, such a solution ultimately improves the maintenance efficiency of the theater significantly.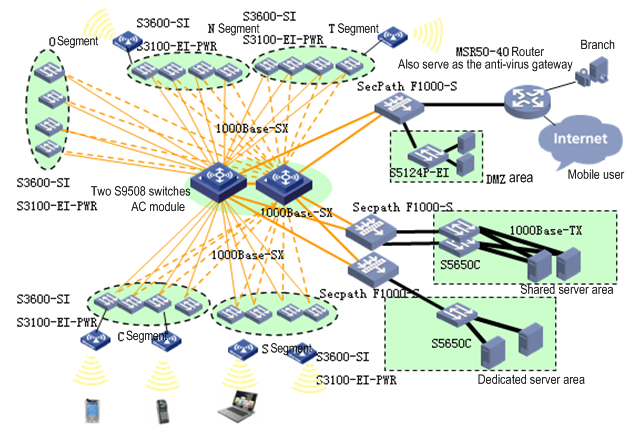 National Grand Theater's network includes core switches, convergence switches, access switches, firewalls, VPN gateways, ACs, APs and voice gateways, all of which are distributed in different areas of the theater. In order to facilitate the management of widely distributed wired and wireless network components, H3C's solution employs the IMC intelligent network management platform, software that centrally manages devices, users and services. Additionally, H3C's Fit AP solution implements intelligent RF management through the ACs, which adjust the working channels and transmission power of the APs according to network status, reducing the strain on network maintenance resources significantly. Finally, the plug-and-play APs require no configuration, delivering two benefits:
Prevent network configurations from being stolen should APs be lost, improving network security; and
Expedite equipment replacement in case APs become faulty.
Since the network carries interior office administration, voice and monitoring services, and provides Internet access for the public and mass media, robust networking security is essential. H3C's solution safeguards data traffic through a number of applications:
Illegal AP detection;
Wireless Endpoint Admission Defense (EAD);
Media access control (MAC) address filtering;
802.1x authentication;
802.11i security mechanism;
WLAN standard; and
WLAN Authentication and Privacy Infrastructure (WAPI) authentication.

The Benefit

Based on its thorough and complete understanding of the complex issues, unique requirements and high standards surrounding National Grand Theater's networking needs, H3C delivered an integrated wired/wireless solution that provides outstanding levels of reliability, security, performance and scalability. It not only ensures trouble-free fulfillment of National Grand Theater's daily business operations, it also facilitates network management, alleviating strain on IT resources.