Pui Ching Primary School First to Adopt H3C's EPON Solution to Optimize Network Efficiency
01-04-2009
Home

About Us

Profile

Success Stories

More Cases
Background
Pui Ching Primary School (Pui Ching) was founded in 1889 and has since continuously provided quality education to its students. Pui Ching is actively enhancing its teaching medium using information technology such as HD TV for distance learning. Pui Ching worked with H3C to design a school network that improves the speed, reliability and breadth of its multimedia teaching tools, in doing so it became the first school in Hong Kong to adopt an Ethernet Passive Optical Network (EPON) solution. The new network had to ensure consistent, high quality HD TV throughout its campus network and provide future-proofed bandwidth capacity.
Technology Solution
To provide a highly scalable network that could handle the bandwidth and performance demands of HD TV and other high traffic applications, H3C realized that a 10GE network was more suitable to meet Pui Ching's bandwidth demands and future network expansion. H3C deployed its H3C S7506R multi-service routing switch as the core switch and its H3C S5100- 26/50C-EI Layer 2 Intelligent and Resilient switches at the network's edge to support Gigabit Ethernet throughout the whole campus.
EPON technology is used for direct Fiber-to-the-Building (FTTB) connections and is based on the IEEE 802.3ah standard. The 4-port Gigabit Passive Optical Line Interface module installed in the S7506R provides an optical line connection for up to 10 kilometers. This module connects to the ONUs located at the headmaster office, conference room and Computer Centre using time division multiplexing (TDM). This offers a maximum of 1Gbps individual optical fiber ensuring maximum bandwidth for data and video traffic.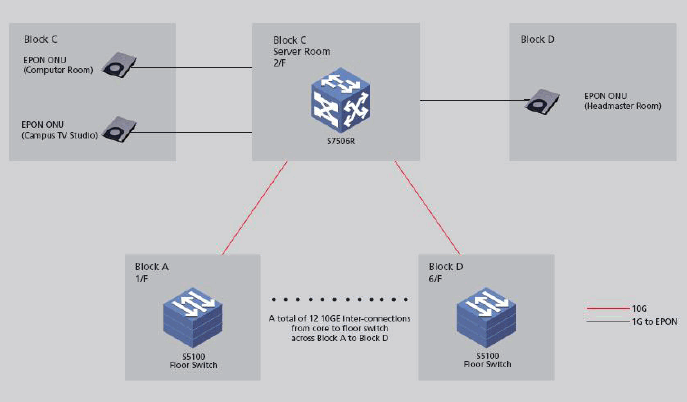 The H3C S7506R core switch was installed in Block C and features fast performance, and high port density on 10GE. The S7506R is ideal to handle Pui Ching's heavy HD TV traffic. Each 10GE wire-speed interface module provides flexible 4 x 10GE connections to the edge switches in Blocks A-D. The passive chassis design, redundant main control units, and 2+1 power supplies offer high availability and reliability. The H3C S5100C-EI switch provides full wirespeed switching capable of 10GE connections. This networking solution provides abundant endto- end QoS policies that deliver the best quality voice and data transmissions.
Why H3C?
H3C was best able to meet Pui Ching's needs and provide for future network development due to its familiarity with the school's network design. By suggesting the EPON solution, H3C demonstrated its ability to offer cutting edge solutions that predict the future needs of its customers and the latest trends in the market like video conferencing, audio transfer, mobile learning and digital 3D model software applications. H3C's reputation for providing excellent pre- and post-sales support was also a positive factor in Pui Ching's decision. Pui Ching was also impressed by the cost-effectiveness of the H3C solution and its commitment to delivering the best cost-performance ratio in the industry.
Benefits
The H3C solution allows Pui Ching to further expand its campus network as its data and bandwidth needs change. The network is ideally situated to unify the existing school network and the network in Pui Ching's newest building to create a ring network. The increase in data transfer speeds and stability can help the school digitalize its administrative work, set up an intranet to increase interaction between teachers and students, and prepare for future use of mobile learning and digital 3D modeling software. Students can conduct joint video conferencing learning projects, and enjoy online Putonghua courses and real-time debates with students from Mainland China. H3C has also added 600 access points allowing for extension of the school network and any future network upgrades. Using H3C's simple interface and pre-configured switches, Pui Ching can realize additional cost savings in reduced maintenance costs while enjoying greater stability and network uptime with less oversight.
"Thanks to H3C, we are able to deliver full HD TV without sacrificing the ability to run other bandwidth-intensive applications over the network. The EPON solution has given us greater performance and reliability for critical areas allowing us to better educate our students." – Lee See-yuen, Headmaster, Pui Ching Primary School