H3C Wins 70% Share in Bid for China Mobile's 2022-2023 Data Center Managed Switch Centralized Procurement Tender
28-07-2022
H3C has further consolidated its position as a mainstream supplier of cloud and network products in the carrier market after winning a 70% share of the contracts for China Mobile's 2022-2023 centralized procurement of managed switches for data center.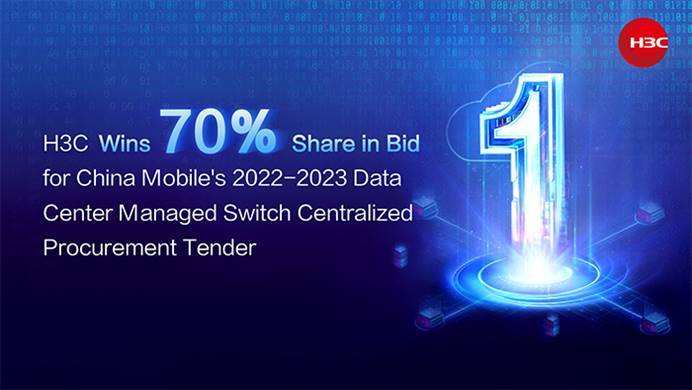 Largest Share - Stronger Position in Switch Market
As a competitive supplier of data center switches, H3C is an established industry leader. It was ranked No.1 in China's data center switch market in terms of market share by InternationalData Corporation (IDC).
The bid-winning switch model for China Mobile is S5130S-54S-HI-G. It is H3C's independently developed managed network switch that supports high-density Gigabit Ethernet (GE) ports, 10GE ports, and numerous other ports type, which can satisfy the needs of different positions in network. Besides, it also features multiple authentication methods and encryption techniques, making it a safe and reliable choice.
The switch is designed with carrier-class high reliability, reaching 99.999%. Moreover, it also features a rich variety of security functions such as monitoring and control of memory and CPU usage as well as automatically activating protection mechanism when the threshold is reached.
Propelling New Information Infrastructure Construction to Power the Digital Economy
China Mobile is accelerating the construction of new information infrastructure centered on computing power network through the in-depth integration of ABCDNETS (AI, blockchain, cloud, data, network, edge, terminal and security). As a key part of the infrastructure, data center is of great significance.
Designed specifically for data centers, H3C's managed switches are playing a key role in China Mobile's initiatives. They have been widely deployed in many of the carrier's projects, including network cloud and IT private cloud projects.
In addition to increasing its presence in data centers, H3C has carried out extensive cooperation with China Mobile in other fields, leveraging its strengths in intelligent cloud and network, virtual broadband remote access server(vBRAS), and other core technologies and standards, computing power network and deterministic networking. H3C is working closely with China Mobile to build a computing power network with unified IP to that will lay a solid foundation for future development of the digital economy.
In the era of the digital economy, infrastructure featuring integration of computing power network will be a key force driving China Mobile's endeavor to promote the application of digital technologies.
H3C aims to continue helping China Mobile to build safe and green infrastructure that integrates computing power network. This includes developing its Cloud & AI Native strategy, and leveraging its full-stack ICT capabilities in fields such as cloud, network, AI and security. At the same time, based on its experience in empowering the digital transformation of enterprises in across various industries, H3C will make significant contributions to the overall integration and development of China Mobile's business in all CHBN markets (Customer Market, Home Market, Business Market and New Market).