H3C CAS 10 Years: CAS Presses Accelerator Key for H3C's Growth
20-07-2021
In a fast-changing world, how could enterprises embrace changes and grow?
As a witness to and driver of digital economy, H3C found an answer in its Cloud Automation System (CAS), the company's self-developed virtualization platform for the next-generation cloud data center.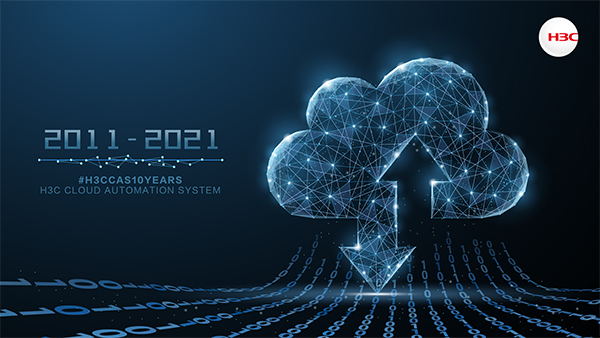 Building a Solid Foundation for Business Growth
Stable and reliable IT services represent a shared desire of different industries while pursuing breakthroughs. H3C has explored CAS virtualization solutions and applied them in its own practice of moving businesses onto cloud platforms to constantly improve the performance of its products. By discovering potential stability problems in virtual machines (VMs) and releasing corresponding patches in updated versions of CAS products, the company's IT team and CAS products development team managed to improve the stability of systems effectively.
After years of unremitting efforts, H3C has realized all-round optimization of more than two million lines of code for its CAS virtualization solutions, elevating the reliability of its products to a brand new level. At present, H3C's important R&D work, such as code development and system testing, as well as the business systems of its human resources department and financial department are all running on the CAS virtualization platform. The platform not only enables the H3C to switch to VMs in seconds, but makes it possible to move the company's key R&D tasks to cloud platform, which helps avoid the impact of source code leakage and ensure data security to the greatest possible extent.
Besides guaranteeing the stable performance of business systems, H3C CAS also has the IT service capabilities for business expansion. From network equipment manufacturing to the development of products covering the whole industrial chain, the virtualization platform has played a part in almost every stage of H3C's development. Many of its ongoing programs, including server R&D and network security verification, are running smoothly with the support of powerful VM resources offered by H3C CAS.
H3C CAS enabled the company to successfully transfer its business capabilities during the establishment of its second headquarters in Beijing. With cloud rainbow functions of H3C CAS, the company seamlessly transferred more than 3,000 VMs bearing business applications from the data center of its first headquarters in Hangzhou to its cloud data center in Beijing in less than a month. Today, the number of VMs deployed in H3C has surpassed 20,000, providing effective support for its business network covering various cities in the country.
Ushering in New Pattern of Changes in Technologies Related to Cloud Platforms
In response to new changes in the information and communications technology (ICT) sector, H3C CAS has provided dedicated software versions for different levels of computing power and realized unified management for different equipment and systems, serving as a bridge connecting new computing power to cloud data centers of enterprises.
Catering perfectly for the construction of container cluster, the latest version of H3C CAS enables container to operate smoothly on virtualization platform. In practical application, users can easily realize arrangement and invocation of container resources through the open interfaces provided by H3C CAS, thus moving faster to becoming cloud-native.
The successful practice of H3C has fully verified the technological strength of its CAS virtualization solutions, offering a reliable guarantee for business expansion and technological innovation based on H3C CAS.
On its way forward to furthering digital transformation, H3C is going to constantly push ahead the implementation of its Cloud & AI Native strategy and expand the business scenarios of H3C CAS. In so doing, it will further improve the digital strength of leading enterprises in various industries and help them achieve long-lasting success.