H3C Wins Two Major Awards in Fintech for Distributed Storage and UIS HCI Solution for Financial Services
18-01-2021
H3C's distributed storage solution for financial services and HCI (Hyper Converged Infrastructure) product UIS (Unified Infrastructure System) have recently won two major awards in the field of financial technology (fintech) for their outstanding contributions in promoting financial informatization applications and improvements in financial services.
Receiving unanimous recognition of a jury made up of leading experts from technology departments of many banks, H3C was granted the "2020 Fintech Product Innovation Outstanding Contributor" Award for its distributed storage solution for financial services at the 2020 China Fintech Annual Conference. At the same time at the 2020 China International Financial Exhibition, H3C also received the "Outstanding Fintech Solution" Award of the 2020 Golden Tripod Awards for its UIS HCI solution.
H3C's distributed storage solution for financial services feature independent and controllable storage infrastructure and can effectively solve problems hindering massive data storage and high-speed access for financial institutions.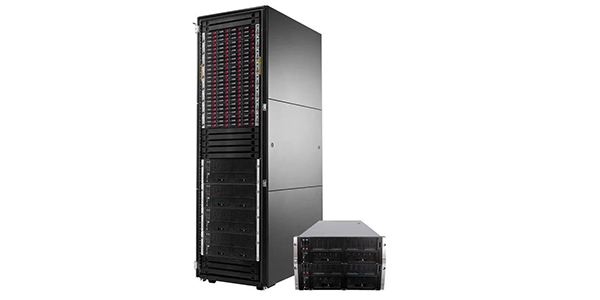 H3C UniStor X10000 G3 unified, distributed storage
While improving the scalability for future financial businesses, H3C's distributed storage solution is able to effectively improve the manageability, reliability and availability of massive data as well as the capacity and performance of data storage, better satisfying the demands of financial services.
H3C's financial distributed storage products have been widely used in financial institutions such as the Bank of China, helping customers achieve high-speed access to massive data, reduce the total cost of ownership, and further improve the efficiency of data storage.
H3C UIS HCI solution has been put into commercial use for eight years. The solution has ranked top two in the HCI market for five consecutive years, according to the reports of International Data Corporation (IDC). Its latest UIS HCI 7.0 is the first-ever HCI product in the industry characterized by center-edge unified architecture, cloud native applications and overall acceleration at the front and back ends.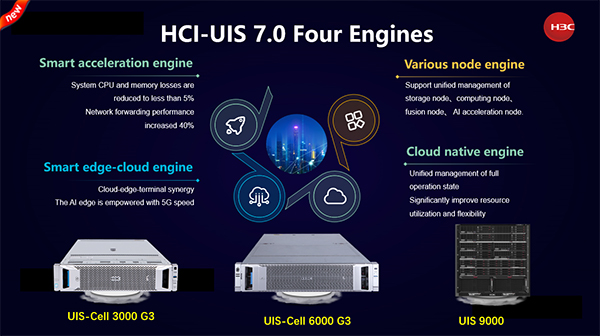 UIS HCI 7.0
So far the UIS HCI solution has served over 10,000 customers, and been widely used in financial institutions including the China National Clearing Center under the People's Bank of China and Beijing Rural Commercial Bank, which has winning high acclaim from the customers.
Based on its "AI in ALL" strategy and concrete practice of the "Digital Brain Project 2020", H3C, an enabler of digital finance, strives to help more financial institutions to innovate digital services, drive the evolution of the financial industry from digitization to intellectualization, and speed up the development of digital finance and solutions.