Speeding up Turkish digital transformation
[Ankara, Turkey, November 5, 2020] H3C, a leader in digital solutions, officially kicked off H3C Digital Tour in Turkey this Wednesday. This event promoted engagement between H3C and its customers as well as ecosystem partners in Turkey, and further advanced the implementation of international smart digital strategies. The recent year has witnessed a rapid growth in the global digital market as digital technology reshapes the global economic landscape and business models. This Digital Tour allows H3C to share its vision to drive its clients to achieve a higher level of digital transformation.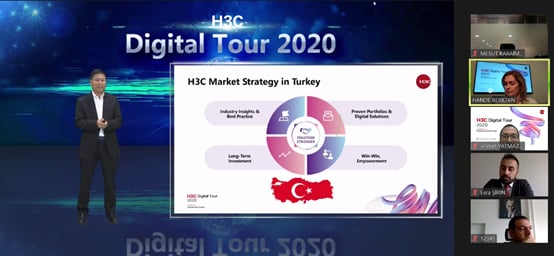 Gary Huang, President of the International Business and Senior Vice President of H3C at the Digital Tour online event
"H3C has been actively expanding in international markets since 2019, among which Turkey is one important market. Rooted in the local market and close to customers' needs, we've reached a wide range of cooperation with many clients and partners across various industries, deeply involved in the country's digitalization," said Gary Huang, President of the International Business and Senior Vice President of H3C.
"International business is becoming increasingly important for us, and we hope the series of this online event will provide us the opportunity to introduce H3C products and technologies as well as our business insight advantages, industrial application and localized strategies for the local market," added Gary.
Turkey was chosen as the first stop of the H3C Digital Tour project for its strategic importance. Turkey's medical industry, education, government, and other institutions are experiencing the trend of shifting towards digital services in response to COVID-19, and the demands for supporting digital network construction are rapidly increasing.
Since launching in the Turkish market, H3C has been supporting Turkey in accelerating its digital transformation progress across different sectors, such as governmental sectors, as well as telecommunications and educational institutes.
"We are excited that we have extended our partnerships with over 60 local certified partners and service partners, as well as more than 80 certified service engineers and experts, and successfully implemented more than 100 projects," said Felix Zhao, Country General Manager of H3C Turkey who delivered a speech themed "In Turkey for Turkey."
"Turkey will become a model for the international digital economy development, and H3C will continue to help our clients to drive digitization, improving its business efficiency and reducing digital construction, operation and maintenance costs," said Felix.
The Digital Tour where H3C shared in-depth market insights, market outlook and digital opportunities in Turkey, has received positive feedback, with many attendees showing interests in how H3C's industry expertise may boost their own digital capability as well as the Turkish digital economy.
Following this event, The H3C Digital Tour will subsequently be hosted in other key markets including the Philippines on November 12. H3C is committed to supporting more clients to accelerate digital transformation and boost business agility amid the international changing market conditions.