H3C Endeavors to Boost Smart Manufacturing in China
16-10-2020
In an effort to promote intelligent upgrades for China's manufacturing sector and speed up the deployment of industrial Internet, H3C has, based on its "Digital Brain Project 2020", developed complete solutions to smart manufacturing, made efforts to facilitate integrated development of 5G network and industrial Internet, and established a technical alliance of industrial Internet.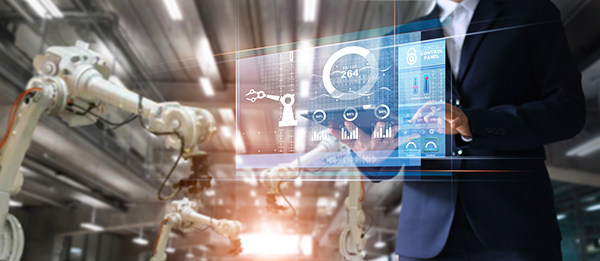 Innovation in and development of industrial Internet depends not only on such technologies that are closely linked with digital transformation as 5G technology, Internet of Things (IoT), Big Data, cloud computing, and intelligent connectivity, but the combination of digital technology and traditional manufacturing technologies.
In the face of new opportunities brought about by the development of industrial Internet, H3C has been committed to building the digital foundation of industrial Internet, accelerating the application and deployment of digital technology in industrial development, helping establish hierarchical management models that cover execution, business, and operation for smart factories, and creating operating systems that help companies to visualize, quantify, optimize, and predict performance and make effective decisions.
This year, H3C will focus its efforts on the five major solutions to industrial Internet, namely 5G-based smart factory, industrial Cyber Physical System (CPS) all-in-one machine, Workspace, industrial identification analysis and digital transformation of industrial enterprises.
The company has also been working on introducing new technologies and abilities to the planning and construction of industrial Internet, in a bid to create new-generation platforms that are more innovative and practical for smart manufacturing.
H3C devotes itself to deepening cooperation with its industrial partners to stimulate the potential of digital technology for advancing industrial transformation, so as to create more model projects of solutions to the integration of 5G technology and industrial Internet.
H3C Solutions at YMTC
H3C has provided IaaS solutions to all the operation systems of Yangtze Memory Technologies Co., Ltd. (YMTC), covering operation and administration, research and development, production, and park management.
Besides, H3C has also fostered the deployment and application of innovative products in YMTC, such as HANA all-in-one machine and high-performance server etc.
H3C solutions are providing comprehensive guarantee of smooth running of each link in YMTC, helping the company establish a world-leading smart manufacturing base for chips.
H3C Solutions at Unigroup Cloud Engine
H3C's all-round technical capacity for services in such fields as cloud computing, Big Data, intelligent connectivity has helped Unigroup Cloud Engine to launch industrial cloud, establish a highly efficient, stable, safe, and controllable industrial Internet platform, and offer comprehensive cloud services and end-to-end system solutions to industrial enterprises.
Based on in-depth understanding of the business model and needs of Unigroup Industrial Cloud, H3C helps expand client's market through profound technology accumulation and impeccable services, thus injecting new driving forces into the transformation and upgrading of traditional manufacturing.
H3C Solutions at Haier
H3C's future-oriented solutions to the networks of smart factories have facilitated the efforts of Haier's interconnected air conditioner factory in Jiaozhou, Shandong Province, to speed up intelligent upgrades with the latest ideas for industrial design, manufacturing, and sale.
H3C has established through custom-tailored services sound networks for the smart factory and helped realize integration of IoT in workshop, information communication network, and after-sale service network.
Today, H3C is providing in-depth services for the construction of the ecosystem of the interconnected factory, with relevant services and products seeing successful application in deployment of network solutions in the factory.
Moreover, H3C has offered localization services and sophisticated training mechanism for Haier to guarantee smooth operation of the air conditioner factory.