H3C Attends SDN/NFV/AI Conference 2020, Shares Solutions to 5G Industrial Private Network
30-09-2020
H3C, as the president unit and one of the initiators, attended the China SDN/NFV/AI Conference 2020 hosted by the SDN/NFV/AI Standards and Industry Promotion Committee which kicked off in Beijing recently.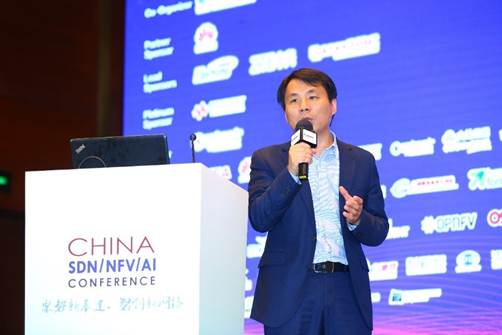 Chen Feng, Technical Director of H3C Carrier Department delivered a speech at the event
Chen Feng, Technical Director of H3C Carrier Department, delivered a speech at the conference, sharing the H3C's 5G industrial private network solutions and elaborating on its core values for Government and Enterprise Customers.
Chen said security, independence and flexibility are the core factors that government and enterprise customers value the most.
5G private network can not only help customers achieve superior network performance and process data generated by businesses, users, and industry terminals locally, but also enable them to gain independent and secured control of their own businesses and networks, he noted, saying that's why many government and enterprise customers take localized 5G private network architecture as their first choice in the cooperation with carriers.
While introducing H3C's latest solutions to and progress in 5G private network, he mentioned that the company's distributed cloud platforms could provide cloud resource pools for 5G private network of different industries in prefecture-level cities and realize unified management, operation and maintenance of cloud platforms, as well as the flexible allocation of resource pools.
H3C 5G cloud small cell solution plays a vital role in 5G private network, and the open User Plane Function (UPF) is able to divert traffic locally for 5G private network and achieve real-time and safe local processing of business data, according to Chen.
He noted that H3C's customized, lightweight, and virtualized core network ensures that all services and data are operated safely and locally under the 5G private network.
With the advanced industrial Internet of Things (IoT) platform UNIPower V2.0, H3C can provide cloud services covering the entire process of industrial production and operation, and thus form a complete network and platform to guarantee the application of 5G intelligent manufacturing, he added.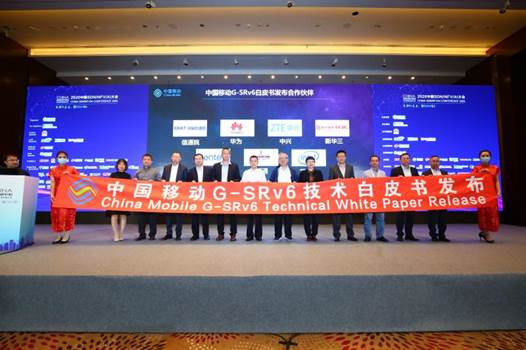 Bi Shouwen, Vice President of H3C at the release ceremony
During the conference, China Mobile released the G-SRv6 Technical White Paper. H3C, a strategic partner of the carrier, participated in the joint release ceremony.
SRv6 combined with 400G has become a priority technology for 5G bearer networks, said Bi Shouwen, Vice President of H3C, at the release ceremony.
The company has introduced the new generation S12500R Series Switch Routers, which support SRv6-based intelligent bearer networks, as well as a batch of core, aggregation, and access routers to meet the needs of carriers for 5G bearer networks.
As a basis of digital economy construction, 5G will continue to improve and evolve in the future, said Xu Yongjian, director of mobile communication product line at H3C, during a panel discussions of the conference.
Xu added that the company, as a trusted core value partner of carriers, will keep devoting itself to the R&D and innovative applications of products and solutions in the 5G field and help carriers realize cloud-network convergence.
Guided by "AI in ALL" strategy and "Digital Brain Project 2020", H3C will continue to lead the intelligent evolution of networks under the concept of "intelligent connectivity", promote the industrial chain to be opener, help carriers reduce network construction costs, effectively integrate networks with industries, and facilitate the digital transformation for government departments and enterprises.