H3C-assisted Smart City Project and Cloud-Data-Intelligence Integration Project Win 2020 IDC China Digital Transformation Awards
25-09-2020
Recently, IDC China announced the list of Top Winners of 2020 IDC China Digital Transformation Awards (DX Awards). Chengdu Hi-tech Industrial Development Zone (CDHT) and the West China Hospital of Sichuan University (WCH) are named as Information Visionary of 2020 IDC China Digital Transformation Awards respectively with a smart city project and a cloud-data-intelligence integration project.
Both of them have operated data and information as key assets, used data to improve decision-making, collaboration and competitive advantages, and turned data insights into actual values, according to a panel of experts for the awards.
Since 2017, H3C has helped many leading companies win IDC DX Awards by providing innovative digital transformation solutions such as Ping An Financial Cloud Platform, China National Offshore Oil Cloud Platform, 2018 Haier Interconnected Factory Network Solution, and the Yangtze River Cloud Platform of Hubei Radio & Television Station. The award winning showcases that H3C has been highly recognized for its product and technology advantages in digital transformation, the overall capacity for providing digital solutions, and the practical application and implementation results in the field.
Smart City Project of Chengdu Hi-tech Industrial Development Zone: A New Benchmark for Digital Governance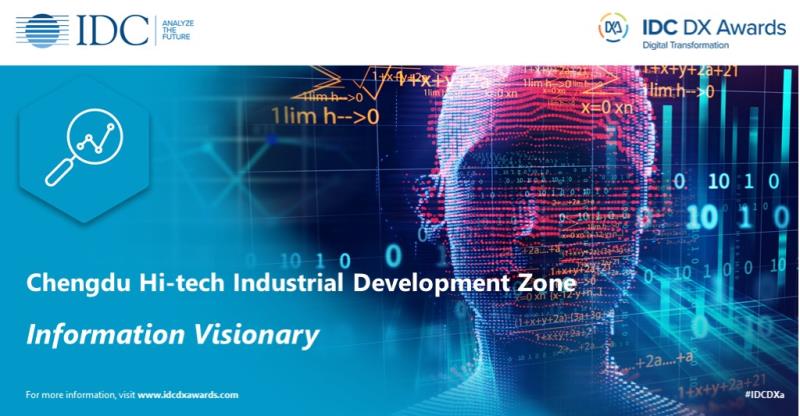 As smart city construction picks up speed with the development of China's "New Infrastructure" initiative, H3C and CDHT have jointly built a smart city governance system featuring all-weather and all-time online monitoring, analysis and prediction, and emergency operations.
Shouxintong, one of the government administration platforms rolled out by the zone, explores the in-depth application of credit in government services. By tracking down the credit standings of residents and enterprises recorded by various government departments, the platform will open up a "The Green Channel" to government services for those with adequate credit standings, thus shortening the time and simplifying the procedures for administration.
H3C has also established a Big Data full life-cycle platform for the zone, which has removed the data barriers among 36 departments in the region, collected and processed 500 million items of data, and facilitated the data exchanges among various departments.
Cloud-Data-Intelligence Integration Project of the West China Hospital of Sichuan University: A New Model of Smart Healthcare
Together with H3C, WCH has applied cutting-edge technologies such as cloud computing, Big Data and AI to build a Big Data-based medical cloud platform.
Such a platform has provided strong digital support for traditional production business, clinical medicine, scientific research analysis and other operation systems of the hospital, and integrated nine application scenarios including the cloud management platform, medical partnership intelligent management index analysis platform, scientific research workstation, and clinical Big Data search engine.
It could support the work of more than 1,000 researchers, with the highest service day outpatient and emergency visits of more than 20,000, which could meet the medical information needs for now and even the next 3 to 5 years.
Guided by "AI in ALL" strategy and "Digital Brain Project 2020", H3C, the leader in digital solutions, has continuously made efforts in key areas such as smart cities and smart healthcare, and helped clients from various industries to achieve a higher level of digital transformation and respond to changes in the intelligent era.