H3C Announces Strategic Partnership with VST ECS Thailand
16-09-2020
[Bangkok, Thailand, September 15, 2020] H3C and top distributor VST ECS (Thailand) Co., Ltd. launches a strategic partnership during an online partner event themed at "Shaping the Digital Future for a Better Life" this Tuesday. VST ECS (Thailand), established in Thailand in 1988, is a leading ICT distributor in Thailand accessing through various channels across the country, which provides and represents a comprehensive range of leading-edge ICT products.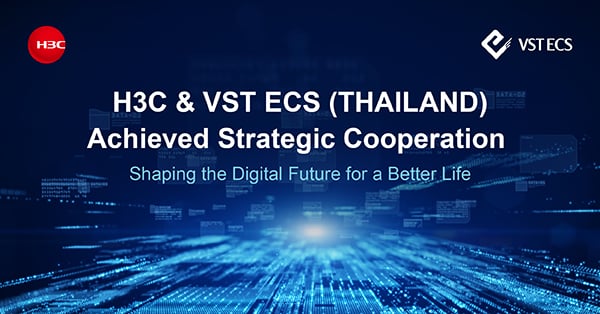 With the advent of technologies such as Artificial Intelligence (AI), Big Data, Cloud Computing, 5G, and Internet of things (IoT), every Industry in Thailand is looking for ways to improve their business by harnessing the power of these modern technologies. As a result, the survival of Thai enterprises relies on their ability to adapt to the digitalization of their business operations. Furthermore, the necessity for digital transformation has become even more crucial at this moment.
"Despite the current challenges, H3C has achieved a very good performance in the international businesses, who plays a very important role in the booming ICT construction of the global markets. We can anticipate that H3C will play a more and more important role in the near future," said Gary Huang, President of International Business and Senior Vice President of H3C.
H3C, as a leader in digital solutions, has participated in the informatization construction of major industries for 17 years, through which process, the company has a deep understanding on the digital transformation needs of key industries such as education, healthcare, government and enterprise, etc.,. With its strong technology research and development capabilities as well as innovation abilities, H3C integrates advanced technologies such as AI, Big Data, Cloud computing, 5G and IoT into major industry scenarios and innovations.
"We are glad to cooperate with VST ECS (Thailand) and authorize it to become our official distributor for the Thailand market. During the past two years, H3C has achieved great developments in various industries in Thailand. Through the partnership with VST ECS (Thailand), a professional distributor excelling in ICT products, logistics management and other value-added services, we believe that H3C will continuously sustain its growth together with more partners," Gary noted.
Since H3C embarked on its expansion into and opened up the global markets, the company has always been sticking to its "Partner First" and "Win-Win-Win" strategy. By providing better market channel coverage, better customer services, and more product and solution selection, it aims at becoming the Top 3 ICT player in Thailand market.
In the digital era, Thailand is speeding up its transition towards Industry 4.0 by building more digital infrastructure. H3C is committed to becoming the most trusted partner for Thai enterprise innovation and digital transformation, providing comprehensive digital products and solutions to help customers fully enhance their digital levels and share the new future of digital economy, offering unprecedented opportunity for all.