H3C Wins Championship of 2020 International AIOps Challenge
28-08-2020
The 2020 International AIOps (AI for IT Operations) Challenge recently kicked off in Hangzhou, Zhejiang Province. Jointly held by Tsinghua University, China Computer Federation and a carrier, the 2020 International AIOps Challenge drew participation of 541 contestants from 141 teams, and 6 teams made it to the final after 5 months of fierce competition. H3C's competing team H3C AI Institute finally won acclaimed by the judges and business experts, and won the championship of the challenge.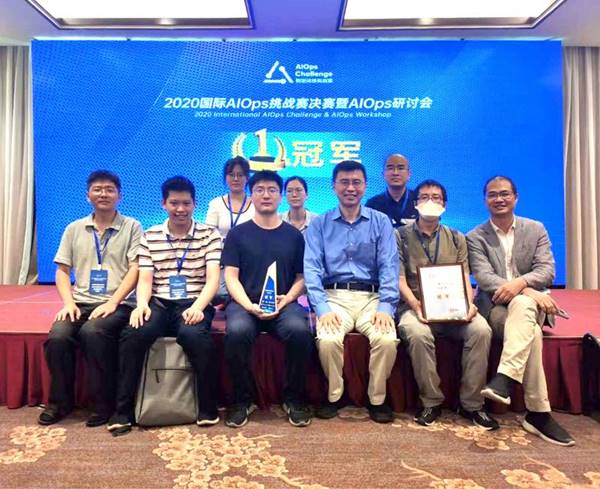 The fault diagnosis and root cause spotting for microservice application system, a hotspot issue in ops, was selected as the topic of the 2020 International AIOps Challenge. All data used were generated by the carrier in staging environment, so as to ensure authentic scenarios for the contestants.
Starting from actual application, H3C AI Institute adopted generalization model prediction and innovative algorithm to correspond multiple sets of system indexes, thus largely improve its efficiency in processing raw data sets. Besides, through evaluation forms for constructors' performance of throwing exceptions, the team realized rapid recognition of faults' root causes and substantially reduced the occupation of computational resources. Based on this, the H3C AI Institute was leading in multiple key indexes in the competition, such as the accuracy of troubleshooting, as well as performance and efficiency.
Ao Xiangqiao, team leader of the H3C competing team and president of the H3C AI Institute, shared his experience on the topic "The Last Kilometer of AIOps" after the competition. He said the relatively low accuracy of algorithms to spot faults was a prevalent problem of AIOps, and the differences between enterprises' IT framework services also present users a dilemma between accuracy and performance in the implementation of AIOps.
The industry needs to continuously upgrade and innovate algorithms, improve automation plans and methods, and drive the implementation of frontier AIOps algorithms through scenarization, so as to improve the efficiency of fault analysis, localization and troubleshooting.
H3C will keep implementing its "AI in ALL" strategy, improve the risk control capability and service efficiency of its IT operation and maintenance with AI technologies, and promote its automation and smartization, so as to facilitate the digital transformation of industries.