H3C Launches Brand-new UniServer R6900 G5 Server
07-08-2020
Recently, H3C launched brand-new UniServer R6900 G5 Server. Through technical innovation of the products in terms of efficiency, reliability, agility and security, the server provides a powerful driving force for the intelligent innovation and core business transformation of enterprises, and facilitates the digital transformation of user business.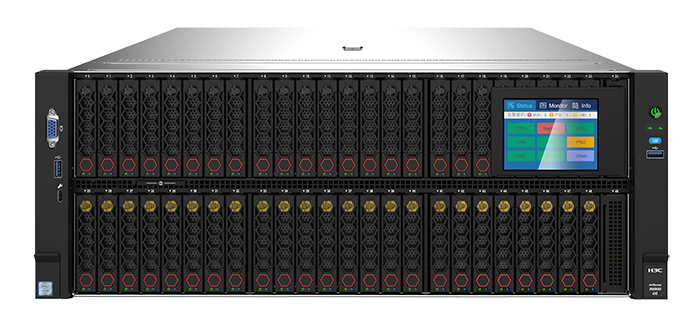 H3C UniServer R6900 G5 Server
With its features of high efficiency, reliability, agility, and security, H3C UniServer R6900 G5 Server demonstrates outstanding performance in different scenarios, effectively empowering core business innovation.
The database is one of the core business systems of enterprises, which stored crucial business data. The application of H3C UniServer R6900 G5 Server can achieve higher system performance and improve efficiency of database operation. In addition, it effectively guarantees the stable operation of the database with highly reliable services and responds to the needs of customers at any time. Through a brand-new security design, the server builds a comprehensive data security system across the physical layer, firmware layer, and application layer, further reducing business risks. For customer core business systems such as billing, payment, clearing, and ERP, H3C UniServer R6900 G5 Server also plays a powerful role for its technical features of agility and reliability, enabling it to become an increasingly indispensable part of business systems.
In terms of server consolidation, H3C UniServer R6900 G5 Server can provide richer computing resources and smaller granular resource partitions for virtualization. What's more, the server can be secured from external threats under the Cloud Era by a comprehensive security protection system. It, therefore can help enterprises to achieve the integration of multiple business systems on the same server, which will further accelerate the deployment of larger-scale virtual machine systems, thereby utilizing IT resources and reducing business costs.
Speaking on new technology innovation applications, with the accelerated application of memory computing in scenarios such as medical treatment, scientific research, and e-commerce, the demand for information transmission speed and latency of the server has been increased rapidly. As a 4-socket server product, H3C UniServer R6900 G5 Server can provide more memory resources than dual-socket servers, breaking through the performance bottleneck of memory computing.
The powerful performance of H3C UniServer R6900 G5 Server enables the load of larger-scale computing models, which better improves the processing capabilities of large-scale data models, accelerates inference and training, and comprehensively improves the application speed of AI. In the area of high-performance computing, H3C UniServer R6900 G5 Server fully meets the deployment requirements of large-scale computing nodes, and accelerates the scientific research speed in new materials research, high-energy physics, seismic calculation, and petroleum exploration.
With new features such as high efficiency, reliability, agility, and security, H3C UniServer R6900 G5 Server plays a decisive role in the core business system. As a leader in digital solutions and an enabler of new infrastructure project, H3C will continue to implement the intelligent strategy and Digital Brain Project 2020. Together with its partners, H3C will provide more intelligent products and solutions for various industries and empower enterprises in their digital transformation.