H3C's new CSR report: Making the world better with digital solutions
09-07-2020
H3C, an industry leader in the provision of digital solutions, released its 2019-2020 Corporate Social Responsibility Report on July 8th, outlining the company's strong influence in digital transformation, philanthropic efforts and positive social engagement.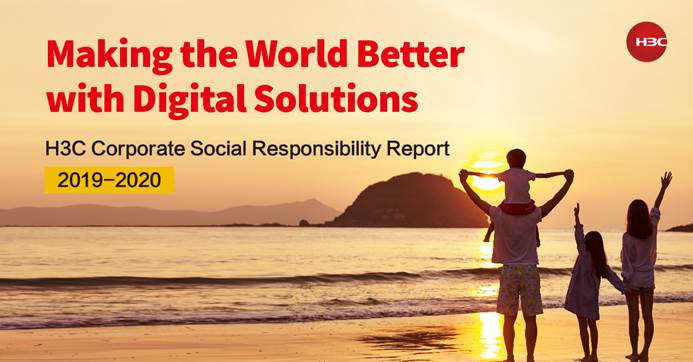 The report showcases H3C's contribution to the fight against the coronavirus pandemic through the application of digital technologies and innovative solutions. It raced against time to donate Network and IT security system to Huoshenshan and Leishenshan makeshift hospitals in Wuhan, epicenter of the pandemic, quickly assembled a dedicated task force to ensure the sound performance of the system, and ensured stability and efficiency all through the process. H3C also shared its top-notch hardware and software solutions with mobile cabin hospitals in Wuhan free of charge to improve their work efficiency while also expanding digital support to similar initiatives across the country.
Tony Yu, President and CEO of H3C, said the leading provider of digital solutions has lived true to its vision of "Shaping the Digital Future for a Better Life". Through innovative endeavors, it will certainly play a more and more pivotal role in benefiting governance, individuals and enterprises, said Yu.
Regarding CSR an integral part of corporate development and culture, H3C is committed to business ethics, fairness, integrity, equal treatment of staff and tolerance of diversity. Yang Xi, the company's Vice President and Chief Marketing Officer, said if an enterprise were viewed as an individual, H3C can be seen as a good, highly responsible person and a flagbearer of good deeds.
The CSR report records H3C's commitment to sustainable development practices both externally and internally. Environmentally friendly measures have been widely applied through every facet of the company's day-to-day business including in manufacturing and construction. The company's application of Cloud Computing, Big Data, Artificial Intelligence (AI) and Internet of Things (IoT) has also improved people's living environment in Inner Mongolia Autonomous Region, Tianjin City, Xi'an City, Sichuan Province and Tibet Autonomous Region.
On the educational front, H3C has continued to pool resources to facilitate the integration of digital technologies and education. Its programs have brought quality educational resources to less advantaged elementary school students in Yantai City of Shandong Province and Guangyuan City in Sichuan Province.
The industry leader has also redoubled efforts to drive the digital transformation of enterprises and create social values with its upgraded Digital Brain Project launched in 2019. The program gives priority to helping companies become agile and effectively respond to new challenges and uncertainties amid the pandemic.
The CSR report outlines how H3C will continue its efforts in the smart city drive, promote digital healthcare to benefit more people, introduce digital solutions in schools and improve digital transformation in supply chains to achieve a win-win situation with all stakeholders.
"Through integration in the eco-system, we plan to blaze a new path along with more partners, make digitalization a powerful driving force for the progress of civilization, promote the overall development of society, and add a more humanistic touch in our business," said Yang.
Download H3C 2019-2020 Corporate Social Responsibility Report (in Chinese version only) by scanning the QR Code here: