H3C wins big share of China Mobile's 2020 centralized procurement of PC server products
11-06-2020
H3C recently obtains tender with a big share in 2020 centralized procurement of PC server products of China Mobile. China Mobile plans to purchase more than 138,000 servers in this project. H3C, with its multi-platform server products, has won six of a total of seven bid packages, acquiring the largest number of bid packages among the finalists. The total number of servers won by H3C exceeds 33,600, accounting for 24% of the total purchase at the worth of 1.865 billion yuan.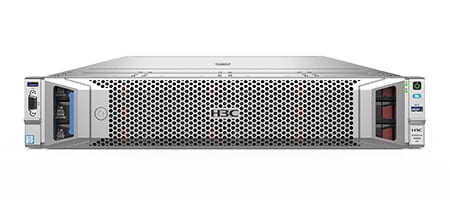 H3C UniServer R4900 G3
The tender award marks the industry-leading position of H3C with strengths of product diversification, wide application coverage, cutting-edge technologies, and high value, which are fully acclaimed and recognized by carriers.
The server purchase by China Mobile is for the construction of private cloud resource pool and mobile cloud. The bid-winning H3C servers cover various models, which are among the best of the bid packages.
One of the core shortlisted servers, H3C's self-developed flagship UniServer R4900 G3, is particularly noteworthy since it can achieve an increase of up to 71% in performance and an increase of 27% in cores, which further enhances the scalability and configuration flexibility for modern Data Centers. H3C UniServer R4900 G3 provides extensive and comprehensive support for virtualized big data workloads, can help carriers adapt and respond to market changes quickly and fully meet the needs of scale-out expansion of Data Centers.
In addition to the top ranking in this project, H3C also garners several bids in multiple product domains of the carrier market recently.
To illustrate, H3C won the bid for China Mobile's centralized procurement project of Artificial Intelligence general purpose computing devices, which will facilitate China Mobile's construction of AI platforms. The shortlist on China Mobile's centralized cloud resource pool construction project (Phase II) of distributed block-level storage, also shows that H3C's self-developed distributed storage has taken another step forward in the core business system of Top carriers. Furthermore, H3C acquired the biggest share of 70% in 2019-2020 centralized purchase of 10T High-End Router of China Mobile.