H3C Publishes Report on Artificial Intelligence Development, Outlining New Opportunities for AI Reform
14-05-2020
H3C published Report on Artificial Intelligence Development during the NAVIGATE 2020 summit this April. Stemming from various perspectives, including ICT infrastructure reform, AI and smart application ecosystems building, and AI commercialization acceleration, the report conducts a review of China's current AI development situation and gives an analysis on new trends, challenges, and opportunities in the future of AI development. Therefore, it provides deep insights into the future AI-driven digital world.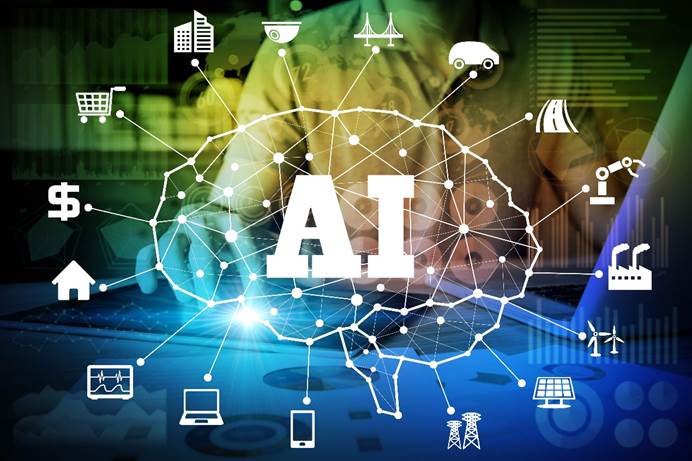 AI Accelerates the Reform and Innovation of the Digital Industry
AI is crucial as it relates to seizing the initiative in the global technological competition, and an important strategic resource for promoting the leapfrog development of technology, the optimization and upgrades of industries, and the overall advances in productivity growth. It has a huge potential in generating new momentum for economic development and creating new forms of intelligent economies. This year, the accelerated promotion of "New Infrastructure" is opening a new window on the technological reform and innovation and industry application for AI.
Reinforcing Technological Foundations and Driving AI Reform and Innovation
Currently, ICT technologies play a key supporting role for the industry implementation of AI. Infrastructure innovations such as heterogeneous computing, lossless network flow control technologies, and MDS clusters provide higher computing power, which makes cloud-edge-terminal collaboration an important means of AI application deployment. This paves the way for more AI application scenarios that have strict requirements and improves their application effects.
So far, H3C has integrated numerous AI technologies in its self-developed products. For example, SeerNetwork Architecture (SNA) can carry out automated service deployments and risk forecasts based on user intent or network status analysis, thus enabling networks to become more intelligent. At the same time, in the delivery of smart capabilities, H3C can not only provide the software and hardware infrastructure of AI computing, but also possess comprehensive AI industry solutions.
Accelerating Industry Integration and Highlighting Business Value
It is H3C's belief that, through the reform of production modes, AI and automated technologies will replace 40–50% of jobs in the future, while increasing efficiencies. For instance, in industry sectors, AI will largely empower industry production processes and remodel human-machine interactions, thereby generating tremendous increases in production efficiency and quality. In terms of lifestyles, smart home assistants will foster more comfortable and safer home environments for people. In addition, intelligent healthcare can alleviate problems such as healthcare resource shortage and the demanding workloads of healthcare personnel that people face today. As for living environment improvement, AI can help prevent natural disasters, carry out lean production, and safeguard social stability.
At the NAVIGATE 2020, H3C announced a new intelligence strategy of 2020. Through innovation in intelligent digital platforms, it will make products and solutions more intelligent as well as a wide range of clients' businesses and operations in enterprise management, industry sectors, community security, government administration, healthcare and education sector.
In enterprise management, H3C launched the Digital Brain for Enterprises to help enterprises set up intelligent operation centers, remote-access work environments, and on-site work environments. In industry sectors, H3C also engages with the development and implementation of the Industrial Internet, leveraging the advantages of machine vision to provide complete edge computing, IaaS-layer, PaaS-layer, and visual business application layer capabilities. In the field of community security, H3C combines AI technologies with powerful ICT infrastructure to create the next-generation smart community security solution, and make various functional modules of community management accessible and effective for use.
Additionally, for government administration, H3C's smart government administration solution creates a future-oriented "smart government administration system" based on big data, therefore increasing the smartness of urban management scenarios such as municipal administration, environmental protection, and transportation. When it comes to healthcare, H3C combines AI technologies with powerful ICT infrastructure to roll out the next-generation smart healthcare solution, thus achieving consultation autonomation, healthcare process transparency, and management standardization and datafication. While in the education sector, the people-oriented H3C smart campus solution provides comprehensive services for scenarios such as smart admissions, smart training, smart education, smart management, and smart appraisals.
As a leader in digital solutions, H3C will tap on opportunities for collaborative development of the ICT industry and AI. The collaboration will holistically promote the cross-level distribution of AI, to further increase the comprehensive strength of enterprises. In addition, it will keep up with the trend of cloud-network-terminal collaboration to build a nimble and efficient digital IT system, thus enabling "Intelligence+" to penetrate deeply into all industries and drive future reform.
For more about Report on Artificial Intelligence Development, please refer to: http://www.h3c.com/cn/pub/minisite/202005/ai_book/default.htm